Rubio Rips Into Trump and Bush as Foreign Policy Neophytes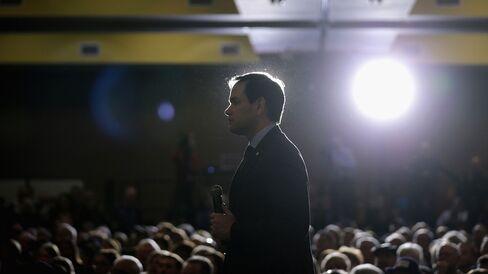 Senator says Trump, Bush, Cruz lack foreign-policy heft

Fifth-place finish in New Hampshire prompts change in tone
Knocked from the top tier of Republicans by a weak showing in New Hampshire, Florida Senator Marco Rubio on Thursday turned aggressive, calling out three of his rivals by name as foreign-policy neophytes.
It was a sharp change of direction for Rubio, who almost never mentions his opponents on the campaign trail -- and a sign that his team views South Carolina's Feb. 20 presidential primary as critical to Rubio's future as a candidate.
Rubio told an audience of retirees near Hilton Head that former Florida Governor Jeb Bush, Senator Ted Cruz of Texas and real-estate billionaire Donald Trump don't have the foreign-policy experience to lead the nation in a complex and dangerous world.
QuickTake How the U.S. Elects Its Presidents
"Negotiating a hotel deal in another country is not foreign policy experience," Rubio said of Trump. "Jeb Bush has no foreign policy experience, period."
Of Cruz, he said, "the only budget he's ever voted for in his years in Washington was a budget sponsored by Rand Paul that bragged about cutting defense spending."
Rubio also told the crowd of about 300 people at Sun City Hilton Head on Thursday morning -- a day after Bush's visit to the retirement community --that Cruz's vow to eliminate the IRS was "not true," and that the Texas senator's tax proposal was "sneaky."
New Hampshire Effect
Rubio's newly aggressive stance is being put on display two days after he finished behind Trump, Ohio Governor John Kasich, Cruz and Bush in the first-in-the-nation primary in New Hampshire. A third-place finish in Iowa vaulted Rubio to the head of the pack of establishment challengers to Trump and Cruz and made him a target for the rest of the field.
Rubio, 44, blamed his fall to fifth place in New Hampshire on his performance during the last debate during the primary. Rubio repeated the same talking point four times and New Jersey Governor Chris Christie pounced. Pundits and some of the other candidates' campaigns mocked Rubio as robotic, and a liberal political-action committee sent people in robot costumes to his events in New Hampshire and South Carolina.
Pushing Back
Rubio is already getting some push back. On Thursday, Bush campaign manager Danny Diaz said in a memo obtained by Bloomberg Politics that Rubio's team "feels like it has something to prove and seeks to further a reputation for employing questionable tactics in South Carolina." He was reacting to a pro-Rubio super-PAC mailer in New Hampshire that was interpreted as attacking the Bush family .
Rubio responded by saying he has "tremendous respect" for the Bush family and that he can't control what the super-Pac does. "I haven't seen any attack on his family," he said. "If I had, I'd repudiate it."
On his campaign plane from New Hampshire to South Carolina, a state known for a rough-and-tumble brand of politics, Rubio said he wouldn't attack rivals in personal terms but would be more assertive in pointing out their differences. The candidates return to the debate stage in South Carolina Saturday.
Since arriving in the Palmetto State Wednesday morning, Rubio has switched up his stump speech to highlight his opposition to abortion and begun to point out differences with other Republicans.
Fewer Candidates
In a lunch meeting with reporters at a Cracker Barrel restaurant near Sun City Hilton Head, Rubio said the shrinking field -- in addition to Christie, former Hewlett Packard Chief Executive Carly Fiorina exited the race Wednesday -- makes it easier to contrast the records and positions of candidates. Rubio said he disagrees with Kasich's decision to accept Medicaid funding to expand health-care for low-income Ohioans under Obamacare.
Rubio declined to predict whether his more assertive tone would push him back into the top tier of candidates.
"I'm not predicting anything," he told reporters over coffee and blueberry pancakes. "Everything that's been predicted has been wrong. We're prepared to go to the end."
After the Sun City forum, 73-year-old retiree Ursula Mitrook, said Rubio's youth and energy contrasted with Bush, whom she saw the day before.
"Rubio grew up in a normal family," Mitrook said in an interview after Rubio's speech, in which he emphasized his working-class, Cuban immigrant roots. "I liked Bush too, but he comes from a privileged family. I don't think they can grasp what normal people deal with."
Before it's here, it's on the Bloomberg Terminal.
LEARN MORE