Obama Raises Millions for Democrats in California Cash Swing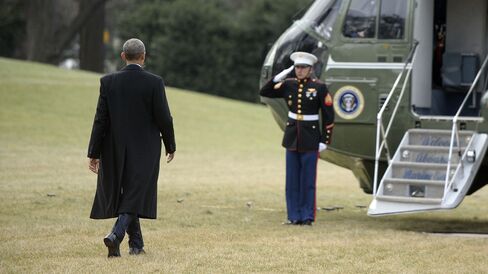 President forgoes traditional post-budget tour for fundraising

Obama determined not to see his legacy erased by successor
President Barack Obama is expected to raise millions of dollars for Democrats at a string of fundraisers in California on Thursday as he turns his efforts to ensuring that he is succeeded by someone from his own party.
Obama has typically followed the release of the annual budget with a tour of the country to sell his policies directly to the American people. Not this year. After sending a $4.1 trillion fiscal 2017 budget to Congress on Feb. 9, Obama hopped on Air Force One for a stop in Springfield, Illinois, where he reflected on his political career and lamented the political discourse. On Thursday he was traveling the length of California to solicit checks from top Democratic donors.
"The incredible success we have had together is not a reason for complacency," Obama said at a fundraising brunch for the Democratic National Committee at the home of venture capitalist Steve Westly, in Atherton, California, south of San Francisco. "It's actually a spur to further action. We know that our job isn't finished."
Obama's efforts come on a day when Hillary Clinton and Bernie Sanders, the last two candidates standing in the 2016 Democratic primary field, square off in a debate in Milwaukee, Wisconsin, to be nationally televised on PBS. The Democrat primary has taken on an air of uncertainty after Sanders's unexpectedly strong victory over Clinton in New Hampshire's first-in-the-nation primary.
Hundreds of donors contributed as much as $33,400 each to attend one of Obama's four events in Silicon Valley and Southern California. About 450 people attended the brunch, according to a DNC aide who asked not to be identified because the events are private.
Campaign Jolt
Obama's decision to forgo a budget roll-out tour in favor of a fast-paced fundraising swing highlights how his focus is shifting to the election that will determine his successor. Anti-establishment candidates who have decried the role of money in politics have upended the campaign.
Billionaire real-estate developer Donald Trump handily won the Republican primary in New Hampshire, while Sanders's 22-point thumping of Clinton, Obama's former secretary of state, jolted her campaign and caused consternation among the kinds of high-dollar donors Obama courted on Thursday. The Sanders campaign said it raised more than $5.2 million in the 18 hours following the New Hampshire win, mostly through small online donations.
While Obama has said he won't publicly endorse a candidate in the primary election, several of his former aides have said the president prefers Clinton over Sanders, a self-identified democratic socialist who has represented Vermont in the Senate and the House as an an independent.
'Most Expensive'
Obama's fundraising efforts are aimed at the general election, where he is intent on defeating Republicans who have promised to erase his legacy, said Susan MacManus, who teaches political science at the University of South Florida in Tampa.
"It's critical because this election is going to be the most expensive in history," MacManus said in a telephone interview. "And the last thing Obama wants to see is a Congress and president that erode the accomplishments that he's accumulated."
After leaving Silicon Valley, Obama planned to visit Southern California for a fundraiser at the home of entertainment lawyer Aaron Rosenberg and television producer Danny Rose,, and another at the home of entertainment lawyer Sam Fischer and his wife, Leah.
Obama's fundraising schedule is likely to accelerate as Congress will do little legislating this year, MacManus said. Even as an outgoing president, Obama is still one of the few Democrats that can raise millions of dollars in a day.
"A lot of big donors at these events are people who haven't yet had their picture taken with the president," she said. "Time is short with this president because he's about to leave office, so that should help him."
Before it's here, it's on the Bloomberg Terminal.
LEARN MORE