Money Men
Home Depot Co-Founder Backs Kasich, Saying 'He Can Win'
While the Home Depot co-founder says he will try to help the Ohio governor attract new donors, he says he has sworn off giving to super-PACs.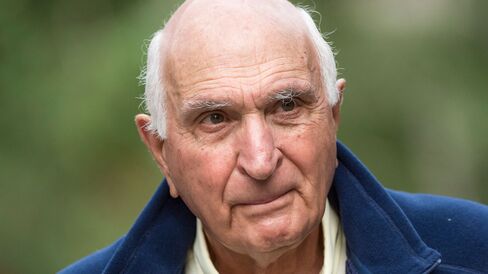 On the day that his early favorite, Chris Christie, dropped out of the presidential race, the donor and fundraiser Kenneth Langone declared he was taking a "well-deserved vacation" from politics and heading out for a round at the Seminole Golf Club in Florida.
One day later, he was calling the vacation "short-lived" and saying he was throwing all his support behind Ohio Governor John Kasich in the Republican primary. The Home Depot co-founder said he changed his mind about getting back off the bench after a couple of conversations he had Thursday morning, but this time, he's steering-clear of super-PAC-sized donations.
"I had some people who know Kasich very well, and who were very persuasive, and they convinced me, A, he will be a great president—that's more important than anything—and B, he can win," Langone said, adding he's known the candidate since he served on the House Budget Committee.
Langone said he's already given the maximum amount to Kasich's campaign—by federal law, contributions are capped at $2,700 per race—and will help with rounding up more donors. But he won't be giving to Kasich's super-PAC, which can take contributions of unlimited size. "I don't give to super-PACs anymore," Langone said in a telephone interview.
Langone said such organizations aren't transparent enough to justify the big checks they ask for. "I need to know who's getting paid. The stuff I want to know they won't tell me—who's getting the advertising," Langone said. "The money that goes to the campaign, every dollar is accounted for."
In May and June of last year, Langone gave a total of $250,000 to America Leads, the super-PAC supporting Christie.
Since Christie dropped out of the race Wednesday after a disappointing showing in the New Hampshire primary, rivals have been circling his top donors. These include Steven Cohen, the billionaire Connecticut investor, who gave $4 million to America Leads, and Seth Klarman, of the Boston hedge fund Baupost Group, who gave $200,000. Jeb Bush's campaign had tasked top supporter Woody Johnson to target Langone and other top Christie fundraisers, Politico reported yesterday.
Before it's here, it's on the Bloomberg Terminal.
LEARN MORE