In Christie's Home State, Budget and Bad Roads Among First Jobs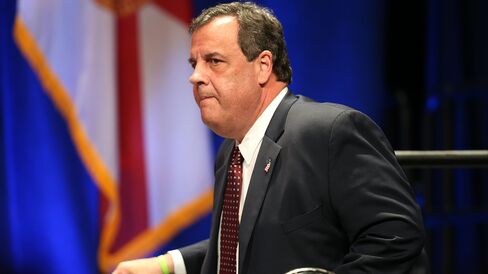 Presidential bid dashed, unpopular governor returns to Jersey

'A lot of bad stuff out there' as Democrats push spending
Fresh off ending his struggling presidential campaign, Governor Chris Christie returns to a New Jersey short on cash for pensions and transportation and minus the political base that once made him a darling of the Republican Party. He has 23 months to revive the state and his reputation.
As Republican presidential frontrunner Donald Trump and the rest of the field court South Carolina voters for that Feb. 20 primary, Christie is back in the Garden State following a disappointing sixth-place finish in New Hampshire. After a year spent largely out of state chasing his national ambitions, the governor returns to a job that voters say he has neglected just in time to deliver his seventh annual budget message.
Christie, who's opposed raising taxes, faces pressure to find money for transportation in a state where mass-transit breakdowns are frequent and highways congested. He also confronts an $83 billion pension liability that is growing and has led to a record nine credit-rating downgrades since he took office. Democratic leaders emboldened by Christie's misfortunes say he has to relax the more conservative approach he adopted while running for president if he's going to solve New Jersey's fiscal problems.
"He has to recognize that the standard GOP talking points about taxes and job creators -- he's got to throw that out the window and face reality in New Jersey," Assemblyman John Wisniewski, a potential 2017 Democratic candidate for governor, said by telephone.
Christie has lowered business taxes, cut regulatory hurdles and awarded corporate tax incentives in an effort to create and keep jobs. Democrats who control the legislature say he isn't doing enough.
New Jersey's unemployment rate fell to 5.1 percent in December, down from a peak of 9.8 percent when Christie took office in January 2010. Still, it hasn't regained all the jobs it lost during the past recession, unlike its neighbors and the U.S. as a whole.
Come July 1, the state will have exhausted its $8 billion capital budget for roads and mass transit, and no replacement plan is in place. A higher gasoline levy, with proceeds going to the state's Transportation Trust Fund, has support among Democrats who control the legislature.
"We have a TTF that needs to be fixed," said Senate President Steve Sweeney, a Democrat from West Deptford. "We have a pension system that has to be funded. We have to fund programs that are important to the most vulnerable."
At a September meeting of the New Jersey Commerce and Industry Association, Christie said that Democrats "put nothing on my desk to deal with the Transportation Trust Fund," and he stressed his commitment to what he called tax fairness, with the elimination of estate and inheritance taxes as a starting point.
In recent weeks, as Christie, 53, focused on meeting voters in Iowa and New Hampshire, Democrats stepped up an anti-poverty campaign, seeking more taxpayer funding for nutrition; a $15-an-hour minimum wage, almost double the current rate; and paid time off for sick employees. Another Democratic initiative seeks a constitutional amendment to require the annual pension payment, a budget item that Christie has reduced as revenue came up short.
"On pension and health benefits, we have embraced a plan for reform, while the legislature pursues a fiscally disastrous and wrongheaded constitutional amendment that is a taxpayer sellout and public-employee union giveaway to the tune of $3 billion a year," Joelle Farrell, a Christie spokeswoman, said in an e-mail.
Tom Bracken, a veteran banker who is president and chief executive of the New Jersey Chamber of Commerce, called the Democrats' initiatives "a lot of bad stuff out there from the standpoint of business' ability to be competitive."
"Just the mention of these things hurt us," Bracken said by telephone. "It is so anti-growth, coming from people who are demanding growth."
As recently as Jan. 12, in his annual agenda-setting speech in Trenton, Christie said New Jersey was "back from the economic brink" because of his leadership. He derided Democrats' governance, referring to their alliance with organized labor as "your union bosses."
A Fairleigh Dickinson University poll released that day showed that only a third of voters approved of his job performance. In November 2012, as Christie led New Jersey's recovery from its costliest natural disaster, his approval hit 77 percent, buoying his national appeal as a take-charge leader.
When he ran for re-election in November 2013, he beat his Democratic challenger, state Senator Barbara Buono, by 22 percentage points. Two months later, Christie's popularity began to slide after e-mails revealed that an aide and an ally arranged traffic jams in September 2013 at the George Washington Bridge in Fort Lee, where the Democratic mayor didn't endorse the governor for re-election.
While the governor has denied any role in the bridge plot, the scandal hurt his approval ratings and hovered over his presidential campaign.
Now back home, "a large portion of the public doesn't believe what he says and doesn't want to hear what he says," said Peter Woolley, a professor of politics at Fairleigh Dickinson University in Madison, New Jersey. "That's a result primary because of Bridgegate but also because of the neglect of the past year. He faces some towering fiscal problems."
Before it's here, it's on the Bloomberg Terminal.
LEARN MORE