Setbacks
'Not After the Debate': How Rubio's Campaign Stalled in New Hampshire
Saturday's poor debate performance did untold damage to his standing in New Hampshire, according to pro-Rubio activists and volunteers.
Less than one minute into his concession speech in New Hampshire, Marco Rubio fessed up.
"I know many people are disappointed. I'm disappointed with tonight. I want you to understand something. Our disappointment tonight is not on you. It's on me. It's on me," he told supporters at his watch party at the Radisson ballroom in downtown Manchester. "I did not do well on Saturday night, so listen to this: That will never happen again."
The crowd erupted in cheers and applause.
The admission was a stark departure from the past few days on the campaign trail, when Rubio and his surrogates spent days spinning the debate as a non-issue for his prospects in the Granite State. But as the results trickled in, it was no longer deniable, and acknowledging the lackluster debate performance was exactly what his supporters needed to hear as their candidate was placing a dismal fifth in the Granite State—behind blowout winner Donald Trump, runner-up John Kasich, Ted Cruz, and Jeb Bush.
Rubio's self-inflicted wounds at the Saturday debate at the hands of Chris Christie—when he responded to the New Jersey governor's assertion that he's a callow talking-points machine by swiftly and repeatedly reverting to his talking points—did untold damage to his standing in New Hampshire, according to pro-Rubio activists and volunteers here.
Will Morris, a 21-year-old student at Villanova University, cut classes for one week to knock on doors and make calls for the Rubio campaign. In his mind, the debate crushed Rubio in New Hampshire.
"I'd call voters and ask them, 'Are you supporting Marco?' and many people said, "Not after the debate,'" Morris said. "It fed exactly into the narrative that he's young and inexperienced, nothing more than 25-second speeches."
Morris said many voters told him they were considering Rubio but defected to Kasich after the debate. As a result, Morris said he's pleased and reassured that Rubio "owned the debate snafu."
Glum looks filled the faces of Rubio fans at the watch party as the evening wore on and the networks awarded Trump the gold and Kasich the silver. They traveled from states like Virginia, New York, Vermont, and Massachusetts to celebrate with their candidate. About a dozen who spoke to Bloomberg Politics said they had hoped for a second-place Rubio finish; all singled out the candidate's debate performance as the crucial gut-punch.
"I believe that was it. All the signs were that he had momentum," said Kurt Wright, a representative in the Vermont General Assembly. He worried that Rubio's stumble undercut a core rationale for his candidacy: that he was best-positioned to defeat Hillary Clinton, who remains the favorite for the Democratic nomination despite a resounding loss to U.S. Senator Bernie Sanders on Tuesday.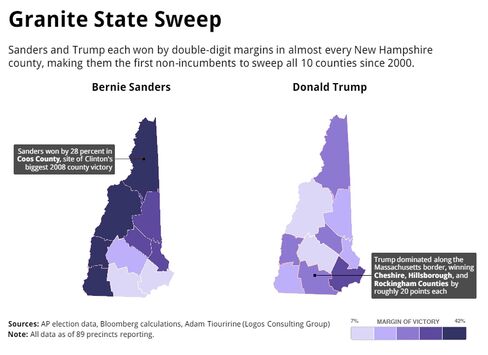 While disappointed, they weren't ready to give up, and sounded reassured by Rubio's speech. But the anxiety was palpable amid the Florida senator's narrowing path to the nomination—no Republican in the modern primary era dating back to the 1970s has won the presidential nomination after losing in both Iowa and New Hampshire.
"A lot of it, as he said tonight, is on him," Wright said. "I think he has to do very well in South Carolina to remain a credible candidate."
"We were hoping he had a shot at second. That didn't happen," said Justin Crisafulli, 20, a student at the University of Albany, who remained convinced that Rubio would win the nomination. "I think he's going to get first or second in South Carolina and Nevada."
Ironically, Christie didn't help himself either—he finished sixth place, several percentage points behind Rubio, and said he'd return to New Jersey and reassess his prospects. The feud began some six weeks ago when a pro-Rubio super-PAC, responding to a Christie surge in the state, began airing attack ads on TV against the governor. Since then the two have been locked in a hammer-and-tongs fight.
"I'm surprised. I'm disappointed," said 64-year-old Raul Blanchet, who voted for Rubio in the morning in his home town of Hollis. "I think the debate brought him down. If this was a pro-wrestling match, Christie got blood out of Marco Rubio."
In retrospect, Rubio may also have overplayed his hand in Iowa.
The Floridian delivered what sounded a lot like a victory speech after an unexpectedly strong third-place finish in the caucuses behind Trump and Cruz, hoping a burst of momentum would propel him forward in New Hampshire. One day later, Rubio deputy campaign manager Rich Beeson even suggested on a conference call with donors that other candidates outside the top three in Iowa (read: Bush, Kasich, and Christie) shouldn't stay in the race, according to Politico.
Rubio was all the buzz. Endorsements poured in, and some political analysts pronounced him the savior of the Republican Party. Then the debate happened, and Christie quashed the long-awaited Rubio moment.
Blanchet expressed dismay with the New Jersey governor.
"He's hurt potentially the most viable Republican," Blanchet said. "But this is going to go all the way to the convention," he added, predicting a contested convention for the nomination. "I think Rubio will come back."
Republican elites aren't ready to give up on the Floridian.
"Rubio is going to have to reset, and change the narrative," said Katie Packer Gage, the deputy campaign manager for Mitt Romney's 2012 campaign. "He is immensely smart and gifted and he needs to remind people of that. I would get him a day of rest, and talk about the next two contests. Very different electorates from New Hampshire."
Before it's here, it's on the Bloomberg Terminal.
LEARN MORE