Senators Seek to Increase U.S. Sanctions Against North Korea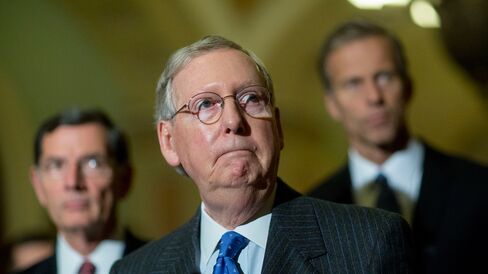 Action comes days after regime launched long-range rocket

Vote may bring Cruz and Rubio back from presidential campaign
Senate Republicans and Democrats alike urged lawmakers to authorize new U.S. sanctions against North Korea on Wednesday, days after the country launched a long-range rocket.
Majority Leader Mitch McConnell, a Kentucky Republican, and Minority Leader Harry Reid, a Nevada Democrat, said Congress needs to act after the Pyongyang regime's rocket launch on Sunday, which the U.S. says violated a United Nations ban on North Korea's use of ballistic missile technology.
The Senate plans to vote Wednesday on its amended version of H.R. 757, which would create new sanctions against individuals, companies and foreign governments that contribute to North Korea's nuclear program and ballistic missile development, send luxury goods, or aid censorship or human rights abuses. The House passed its earlier version 418-2 on Jan. 12.
"Everyone in the Senate agrees that North Korea's aggression cannot go unanswered," Reid said on the Senate floor Wednesday. "I hope my colleagues will join me in passing this legislation immediately, and send a message to Kim Jong Un that his reckless behavior will not go unanswered."
Underscoring the bill's importance, two Republican senators involved in a bruising fight for their party's presidential nomination -- Marco Rubio of Florida and Ted Cruz of Texas -- planned to return from the campaign to Capitol Hill for the vote.
"The Senate has an opportunity to pass bipartisan legislation that would add to our nation's ability to hold North Korea accountable for its growing aggression," McConnell said on the Senate floor. "I urge my colleagues to vote yes."
QuickTake: North Korea's Nukes
The House vote last month followed a nuclear test by North Korea on Jan. 6. The Senate version was amended by the Foreign Relations Committee to authorize $10 million a year from fiscal 2017 through 2021 to broadcast radio to North Korea, provide humanitarian aid to refugees and migrants from the regime, and to carry out sanctions, according to Stacy Z. O'Mara, an analyst with Bloomberg Government.
The measure would let the president waive the sanctions for periods as long as a year.
The long-range rocket launch also drew condemnation from China and Russia. Representatives of the UN Security Council met soon after the launch and vowed to adopt new restrictions on North Korea.
Richard Nephew, principal deputy coordinator for sanctions policy against Iran at the State Department, said last month that Congress should hold off on legislation to give the UN time to act. Passing a bill in Congress might discourage Chinese officials from supporting UN action against North Korea "because the Americans are going to do what they want anyway," he said.
The White House has not said whether the president would sign the bill, but it has not publicly threatened a veto.
Thaad Defense System
It's unclear whether China would be more willing to accept UN sanctions, in part to fend off renewed U.S.-South Korean talks over the potential deployment of the Thaad missile-defense system on the peninsula. While the U.S. and South Korea say a deployment of Thaad, made by Lockheed Martin Corp., would be aimed solely at North Korea, neighboring China would consider it a threat to its own missiles as well.
U.S. Defense Intelligence Agency Director Vincent Stewart said in testimony prepared for a Senate Armed Services committee hearing Tuesday that North Korea's rocket launch used technology "that would be applicable to North Korea's other long-range missile programs."
The Pyongyang regime's efforts to develop a road-mobile intercontinental ballistic missile and a submarine-launched ballistic missile "highlight its commitment to diversifying its missile forces and nuclear delivery options," Stewart said.
Before it's here, it's on the Bloomberg Terminal.
LEARN MORE