Southern Strategy
Republicans Take White House Fight to South Carolina After Trump Win
The campaigns are entering an electoral arena where mean-spiritedness and racial undertones aren't uncommon.
The Republican presidential race moved to South Carolina on Wednesday after Donald Trump's commanding victory in New Hampshire, with other candidates attacking each other and the billionaire front-runner in a fight that will test the state's near-perfect record for picking eventual Republican winners.
Florida Senator Marco Rubio told reporters that former Governor Jeb Bush spent a "historic" amount of money in New Hampshire promoting himself and attacking Rubio with little to show for it. Bush said Ohio Governor John Kasich had "nothing going on down here" in South Carolina and had "a one-state strategy." Kasich, who tried to portray himself as above the fray of negative attacks in New Hampshire, said the Bush campaign's forecasted assault on him over his military funding record was "silly."
"I know we can't just go through this like falling off the turnip truck and saying that everything is going to be positive, because I'm going to have to respond to some of this stuff," Kasich said on CNN.
The campaigns, whose final snowy days in New Hampshire degenerated into name-calling, counter-charges and even vulgarity, are entering an electoral arena where mean-spiritedness and racial undertones aren't uncommon. With Kasich and Bush emboldened to fight on after top-four finishes Tuesday, and Rubio trying to rebound from a disappointing fifth-place finish, the fighting among the establishment-friendly candidates could help ease Trump's path to victory in South Carolina after mainstream party voters failed for two contests to coalesce around an alternative.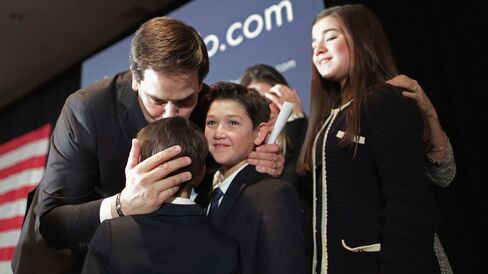 Bush vowed to campaign as a national security-focused alternative to Trump, and a campaign memo promised assaults against both Kasich and Rubio. He's drawing on his family's political network in South Carolina, where his ex-president brother is expected to campaign for him.
"I like Donald," Rubio said on a plane from Manchester, New Hampshire, to Greenville, South Carolina. But, he said, he believes there's a "hard ceiling" on Trump's support nationally, and he'll rebut attacks more assertively. His poor debate performance "was one moment in time. It's captured a lot of attention. I created that situation for myself. It isn't going to happen again. I'm not overly concerned about it."
Trump's message: Bring it on. "I'm ready for whatever they're going to throw at me," Trump said on CNN. "It's going to be a pretty close race for second." Even before voters went to the polls in New Hampshire, Trump launched a television ad in South Carolina attacking Texas Senator Ted Cruz for taking "sweetheart loans from Wall Street banks" and failed to "disclose it as required by law."
First Stop
At his first event in South Carolina since polls closed in New Hampshire, Rubio switched up his stump speech to stress his opposition to abortion and took two shots at Cruz: Rubio said that he did more against Obamacare than make a "22-hour speech" and that Cruz voted for a federal budget that cut military spending.
"Rubio is more the military guy and Cruz is more the hard-core evangelical guy," said Paul Jansen, 61, a Republican activist who lives in Inman, South Carolina. "Trump, and I hate to say this, may be more rational. Coming from New York City, he is more qualified to deal with the ethnic tensions in the Middle East."
Jansen said Republicans in his community are divided among the three, with Kasich and Bush failing to make impressions there.
"I don't expect Kasich to have much appeal for people in South Carolina," he said. "People like him, but they aren't enthused about him."
Democratic Race
Fighting is likely to be most intense among the Republicans initially. Their voters head to the polls on Feb. 20, the same day Democrats hold their caucuses in Nevada. One week later, Democrats vote in South Carolina.
The most recent Palmetto State polling suggests Trump and Clinton are the leaders within their respective parties. U.S. Senator Bernie Sanders of Vermont, a self-described democratic socialist, dealt Clinton a double-digit defeat on Tuesday, but Clinton is seen having an advantage over Sanders among the African-American and Hispanic voters who will factor prominently into the South Carolina and Nevada contests.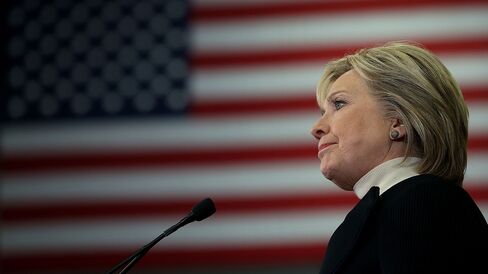 Clinton unveiled a televised ad on Tuesday making a direct appeal to the black voters who will play a key role in a state that was shaken last summer by the massacre of nine people at a church in Charleston.
Riding high from Tuesday's victory, Sanders campaign manager Jeff Weaver said on CNN, "Hopefully the Clinton campaign will get its campaign back on track and we can talk about the issues facing America." African-American civic leader and liberal commentator Al Sharpton said he met with Sanders on Wednesday morning at Sylvia's restaurant in Harlem.
The South Carolina campaign represents the first test of the candidates in a diverse state and in the solidly Republican southern U.S. Compared with New Hampshire, where 91 percent of the population is non-Hispanic white, South Carolina is roughly 64 percent non-Hispanic white, 28 percent black and 5 percent Hispanic.
Blacks accounted for 55 percent of the South Carolina Democratic vote in 2008, when Clinton and then-Senator Barack Obama fiercely competed in the state's primary. An NBC News/Wall Street Journal/Marist poll in mid-January showed Clinton leading Senator Bernie Sanders in South Carolina among all demographics, with her 74 percent to 17 percent advantage among blacks helping boost her overall 37-point lead.
The coastal battlefield is also a place with a religious makeup more akin to Iowa than New Hampshire, an advantage for Cruz, who managed to beat Trump in Iowa by winning a third of the white, born-again Christian vote. Cruz, however, can't count on their support in South Carolina to be as uniform as it was in Iowa, Republican strategists said.
11 Days
Compared to the eight days between the Iowa caucuses and the New Hampshire primary, the gap of 11 days until South Carolina's Republican voting will mean New Hampshire's outcome will have a longer shelf life and make it harder to paste over whatever labels are stuck on the candidates there.
For the moment, the Republican race in South Carolina is Trump's to lose, according to the NBC News/Wall Street Journal/Marist poll. It showed the real estate mogul at 36 percent, followed by Cruz at 20 percent and Rubio at 14 percent.
"I think Trump has hit his cap at 35 percent," said Katon Dawson, a former South Carolina Republican Party chairman. "The question is if he can turn them out that day, instead of seeing them go fishing." Assessing the local forces, Dawson said, "Cruz probably has the best ground game. They have spent the money and the time and they seem to have the volunteers."
Trump predicted he'll have "tremendous success" in South Carolina after learning about the importance of turning out voters in New Hampshire.
"I think the ground game was very strong, and we really focused on it after Iowa," Trump said Wednesday on CNN. "The ground game was something I was not very familiar with."
South Carolina is, in many ways, a microcosm of the national GOP electorate, with heavier Tea Party leanings. There are evangelical voters in the northwest section of the state near Bob Jones University and elsewhere, pockets of wealth around Charleston and Hilton Head, and a strong active and retired military presence in the central and southern sections.
"In South Carolina, we have huge numbers of religious and evangelical voters, but the evangelicals here behave as voters and not church-goers," said Scott Huffmon, a political science professor who directs a statewide poll for Winthrop University in Rock Hill, South Carolina. "They rarely vote as a bloc behind a single candidate."
In the 2012 primary, exit polls showed white evangelical voters represented almost two-thirds of the Republican electorate.
"I think they'll be spread out among the top three, Trump, Cruz and Rubio," said Glenn McCall, South Carolina's Republican national committeeman.
A South Carolina victory for a Republican would generate helpful momentum before the party's Nevada caucuses three days later, and into March, when more than 30 states and territories hold nominating contests. The single biggest day will be March 1, when southern states hold six of the 13 primaries and caucuses.
Picking Winners
The contests in South Carolina will play out in an economic environment that's dramatically improved from four years ago, when the state's unemployment rate was approaching 10 percent at the time of the primary. The rate was down to 5.5 percent in December, above the national figure of 4.9 percent in January and still high enough to rank in the bottom quarter of states.
Renowned for its beaches, boiled peanuts, hand-woven baskets and barbecue, South Carolina has also been known for picking winners. Since 1980, the winner of the state's Republican primary went on to become the nominee every time, with one exception. The outlier was in 2012, when a pair of strong debate performances just ahead of the primary lifted Newt Gingrich to a first-place finish over eventual nominee Mitt Romney.
The current field will get that chance on Saturday evening, when the candidates debate in Greenville, South Carolina. "I think you could see someone make a major move at the debate on the 13th," Dawson said. "You have a whole week to change some numbers before the primary."
"South Carolina usually corrects the mistakes from the first two states," joked Dawson.
Scott, Haley
Up to half of the state's voters are undecided, Dawson said, adding that he places himself in that group. "I'm torn between Cruz and Rubio and I do this for a living," he said.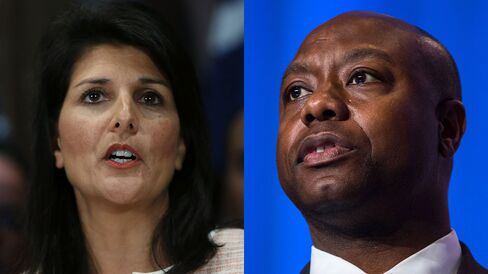 South Carolina's top elected officials are also split. U.S. Senator Tim Scott has endorsed Rubio. Lindsey Graham, the senior senator and a former presidential candidate, is backing Bush. Congressmen have divided their backing among Cruz and Rubio. Trump has the backing of South Carolina's lieutenant governor, Henry McMaster, long considered an establishment Republican.
Adding intrigue is potential conflict between Trump and second-term Governor Nikki Haley, a hugely popular figure among South Carolina's GOP voters. She has been critical of the billionaire's hard-line stance on immigration and has decried what she called the "angriest voices" in her party.
Haley, who endorsed Romney four years ago, is often mentioned as a potential vice presidential running mate. Her spokesman didn't respond to a request for an interview.
"If she chooses to endorse, it will definitely be top news and will carry a lot of weight in the state," McCall said.
—With assistance from Tim Jones in South Carolina; Ben Brody and Michael C. Bender in New Hampshire; Angela Greiling Keane in Washington; and James Nash in South Carolina.
Before it's here, it's on the Bloomberg Terminal.
LEARN MORE