New Hampshire Bucks the Establishment to Back Trump and Sanders
The results underscore the pessimistic mood of the electorate.
New Hampshire voters in both parties sent another rebuke to establishment presidential candidates in Tuesday's first-in-the-nation primaries by embracing a billionaire and a socialist, Donald Trump and Bernie Sanders, who both spoke to voter anger about rising income inequality and a gridlocked Washington.
The biggest loser of the night was Hillary Clinton, who won the state in 2008. On Tuesday, Sanders beat her by almost 22 percentage points, the Associated Press said with 95 percent of precincts reporting on Wednesday. Sanders forced Clinton into retooling her message, with aides saying she will do more to acknowledge voter anger with the status quo while embracing black voters, anti-gun groups and mothers.
"Together we have sent the message that will echo from Wall Street to Washington, from Maine to California, and that is that the government of our great country belongs to all of the people and not just a handful of wealthy campaign contributors and their super-PACs," Sanders said in his victory speech in Concord, ahead of an expected swing to New York City on Wednesday to meet with African-American civic leader and liberal commentator Al Sharpton.
On the Republican side, the emergence of Ohio Governor John Kasich, who finished second to Trump, muddled the attempt by the party's mainstream to coalesce behind an alternative to the real estate mogul. The fight now moves to South Carolina, which holds the next Republican contest on Feb. 20, with former Florida Governor Jeb Bush among those vowing to continue.
Bush, who exceeded expectations with his finish, said Wednesday on CNN that the New Hampshire results "reset the race" and he's "going to keep fighting."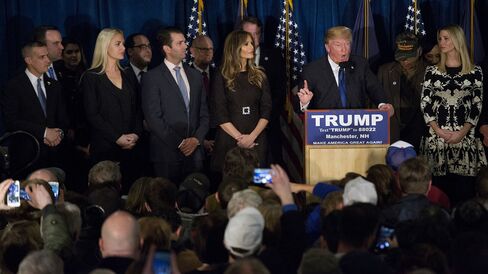 Trump won the Republican race by garnering 35 percent of the vote, with Kasich at 16 percent, Texas Senator Ted Cruz at 12, and Bush at 11 percent, followed closely by Florida Senator Marco Rubio.
New Jersey Governor Chris Christie, who staked his fortunes on New Hampshire, trailed with 7 percent in sixth place, the Associated Press said Wednesday with 94 percent of precincts reporting. He said during his primary night event in Nashua that he will go home to New Jersey to watch the final results and make a decision about his campaign instead of continuing on to South Carolina.
"We're going to take a deep breath and see what the final results are tonight because that matters," Christie told supporters on Tuesday night in Nashua. "By tomorrow morning and tomorrow afternoon we should know."
Trump re-assumed his front-runner status in the Republican nominating contest after finishing second in the Feb. 1 Iowa caucuses to Cruz, despite leading state and national polls for months.
"We learned a lot about ground games in one week, let me tell you that," Trump said as he addressed a victory rally, a reference to criticism he lacked the sufficient organization to prevail in Iowa. "We're going to make our country so strong again."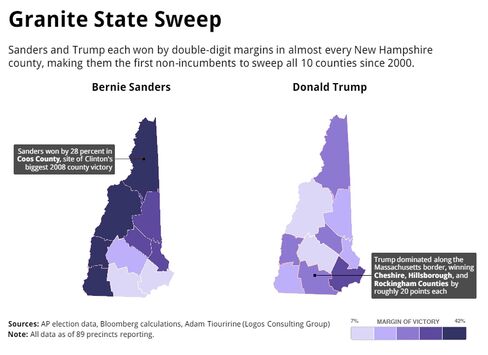 Kasich had said he would be done in the race if he got "smoked" in New Hampshire. But Kasich was able to connect with voters despite an anti-establishment mood among the electorate by touting his experience as a two-term governor and 18-year member of Congress, a record of sound fiscal management in Washington and Ohio, and a willingness to help the less fortunate.
"There's magic in the air with this campaign," Kasich said in Concord, adding that it's an opportunity to change America and "leave no one behind."
Kasich credited his political organization in the state. He was the only candidate other than Arizona Senator John McCain to hold more than 100 town-hall events with voters in the Granite State, said Kasich strategist John Weaver, who worked for McCain in 2000.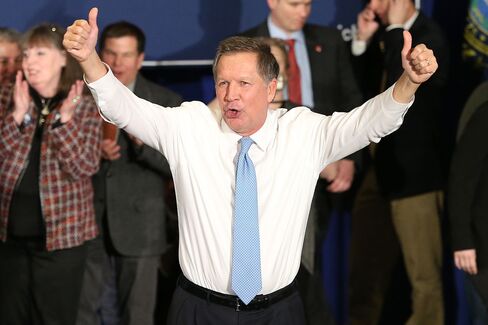 Rubio, who came to New Hampshire with momentum after a better-than-expected third-place finish in Iowa, blamed a shaky debate performance on Saturday night for his disappointing finish in the Granite State and vowed "that will never happen again."
Rubio, in an interview Wednesday on Fox, took responsibility for his finish and said he's looking ahead to South Carolina.
"I felt bad, our supporters worked very hard," Rubio said. "We finished shorter than we wanted to. That's on me."
New Hampshire historically serves to narrow crowded presidential fields, like this year's Republican contest, but the volatile nature of the race could prolong the nominating fight in both parties, as well as provide a possible path for third party candidates. Former New York Mayor Michael Bloomberg, for instance, told the Financial Times this week that he is "looking at all options" about a possible White House bid. Bloomberg is the founder and majority owner of Bloomberg News parent Bloomberg LP.
Sanders's victory in the first-in-the-nation primary, after his razor-thin loss to Clinton in the Iowa caucuses on Feb. 1, means the party could be headed for a long and competitive nominating fight.
In a statement released right as polls closed, Clinton campaign manager Robby Mook said splitting the first two contests with Sanders was "an outcome we've long anticipated." The campaign is focusing now on contests in Nevada and South Carolina and states that better reflect the diversity of the party, "and we feel very good about our prospects for success," Mook said.
"The nomination will very likely be won in March, not February, and we believe that Hillary Clinton is well positioned to build a strong—potentially insurmountable—delegate lead next month," he said.
While her campaign tried to dismiss Sanders's pre-vote lead in New Hampshire as the home-field advantage of a New England candidate, polling showed that Clinton had lost support since 2008 among women—especially young women—as well as blue-collar workers and those earning less than $50,000 a year. It showed why Sanders's message of a rigged economy benefiting the wealthy is resonating.
Following denials from Clinton herself that a staff shake-up was in the works, NBC reported late Tuesday that the campaign was expected to hire former Obama re-election deputy campaign manager Jen O'Malley Dillon in order to help "retool messaging and strategy."
Clinton congratulated Sanders on his victory in her concession speech in Hooksett and vowed to battle on, saying she knows how to get results that voters are demanding.
"Now we take this campaign to the entire country, and we're going to fight for every vote in every state," Clinton said. "Here's what I promise, I will work harder than anyone to actually make the changes that make your lives better."
—With assistance from Jennifer Epstein, Ben Brody, Margaret Newkirk, Kevin Cirilli, Esmé E. Deprez, and James Nash in New Hampshire and Angela Greiling Keane and Kasia Klimasinska in Washington.
Before it's here, it's on the Bloomberg Terminal.
LEARN MORE