Christie Reevaluates Bid After Poor New Hampshire Showing
New Jersey governor finished sixth in New Hampshire primary

Christie had pinned his hopes on strong New Hamshire results
New Jersey Governor Chris Christie said he's returning home to reevaluate his Republican presidential campaign after a sixth-place finish in New Hampshire's first-in-the-nation primary left his standing in doubt headed into the next round of contests.
Christie, 53, who staked his fortunes on the Granite State, told supporters gathered in a Nashua ballroom Tuesday night that he planned to watch the results from New Jersey and would determine the best path forward. As recently as Monday, he'd said the plan was to charge forward to the next primary Feb. 20 in South Carolina.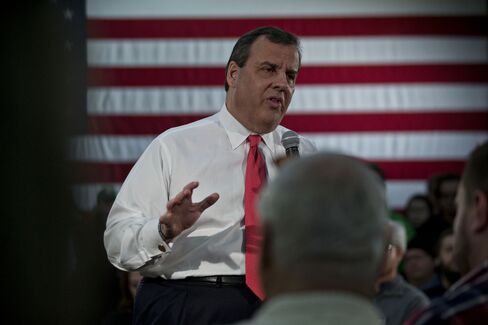 "We've decided that we're going to go home to New Jersey tomorrow and we're going to take a deep breath and see what the final results are tonight because that matters," Christie said. "By tomorrow morning and tomorrow afternoon we should know."
In a year when voters in New Hampshire chose outsiders like real-estate mogul Donald Trumpas their Republican standard-bearer and Vermont Senator Bernie Sanders on the Democratic side, Christie's pitch as a proven governor and federal prosecutor didn't catch on. From the start of the campaign, Christie wasn't able to reignite the level of passion that led business and political leaders to try and convince him to run against President Barack Obama four years ago.
Trump carried the New Hampshire primary with Ohio Governor John Kasich finishing second. Sanders defeated Hillary Clinton in the Democratic race.
Christie's advisers Michael DuHaime and Bill Palatucci didn't immediately return calls seeking comment.
Travel Booked
Christie's blistering attacks on Florida Senator Marco Rubio in the party's final debate before the Tuesday primary earned him some last-minute plaudits, but he was unable to translate that into votes. In recent stops at bowling alleys and pizza parlors, Christie attempted to tone down expectations and said he'd already booked travel to South Carolina.
Christian Trinidade, a 48-year-old sales engineer from Chelmsford, Massachusetts, was among those in the sparsely attended Nashua ballroom Tuesday watching the results on a large white screen. He had spent the day manning a phone bank for Christie's campaign. He said while making calls, he heard from many Trump supporters.
"There was no huge lead when I was making phone calls" among the candidates who aren't Trump, he said. "A solid amount of people were with Trump, but everybody else was pretty fractured."
Following a town hall meeting Sunday in Exeter, new Hampshire, Christie told reporters he had no plans to drop out of the nomination fight even if he lost.
"It depends on how you define losing and I haven't defined it yet," he said. "I don't think anybody's ready to settle yet."
Crowded Field
Christie's departure would make him the latest in the list of hopefuls to exit the crowded field. Following disappointing showings in Iowa, Kentucky Senator Rand Paul, Senator Lindsey Graham of South Carolina and former Pennsylvania Senator Rick Santorum left the field. Louisiana Governor Bobby Jindal and former New York Governor George Pataki bowed out before voting even began when their candidacies failed to gain traction.
Patrick Murray, director of a Monmouth University polling institute, said Christie will face an even tougher contest in states such as South Carolina that aren't as friendly to a Republican perceived as coming from the moderate wing of the party.
"He doesn't have the money or ability to carry on," Murray said in an interview. "There's not a constituency for him in the future states like there was in New Hampshire. He needs to avoid an embarrassment."
Before it's here, it's on the Bloomberg Terminal.
LEARN MORE