Obama Targets Drug Costs in Health Section of Final Budget
President Barack Obama proposed $375 billion in spending cuts to U.S. health programs in his fiscal 2017 budget, including deep reductions to rates the U.S. pays drugmakers for their products, and changes to how doctors and hospitals care for patients.
The proposals are part of the $4.1 trillion budget that the Obama administration is proposing, which starts Oct. 1. Some items -- like cuts to drug spending under Medicare -- have been proposed before. With a Republican-controlled Congress, it's unlikely that many, or any, of them will become law. The proposed savings would be realized over 10 years.
About $140 billion of the spending reductions are tied to proposed changes in Medicare's drug coverage. The budget calls for giving the Health and Human Services secretary authority to negotiate prices for biologic drugs and other expensive medicine, a proposal also made in past years. The government is specifically prohibited from haggling with drugmakers in Medicare's drug benefit program. Another proposal would give HHS broad authority to require drugmakers to disclose information on their costs, such as for research and development.
There are also suggested savings from patients who are in Medicare and also poor enough to be covered by Medicaid -- so called dual-eligibles. For those patients, the U.S. would pay Medicaid's lower rates for drugs. Drugmakers would be also required to increase the rebate they give to Medicare patients once their individual spending reaches a certain level. Under another proposed program, the administration would push insurers that offer prescription drug coverage to do a better job of managing the care of their members who have particularly high pharmaceutical costs.
One proposal that could advance is to increase Medicaid payments for some new abuse-deterrent formulations of pain medications in order to encourage companies to make them. Prescription painkiller abuse has become a major issue during the presidential campaign and with lawmakers in Congress, who have called for action to slow recreational use of the drugs. The administration said the proposed change in the budget comes from a correction to a rebate formula that was part of the Affordable Care Act.
Other Cuts
In Medicaid, the state and federal health program for the poor, the budget proposes to limit states' drug costs by allowing them to join together to collectively negotiate with manufactures over payments for high-cost pharmaceuticals.
Much of U.S. health spending is mandatory, and goes toward the Medicare and Medicaid programs. CMS said that Medicare will account for about half of its $1.14 trillion in outlays next year, while Medicaid is about a third.
The health budget also includes $77.9 billion of discretionary spending. That's down from $84.6 billion a year earlier, in part due to how the government accounts for some changes to mandatory spending.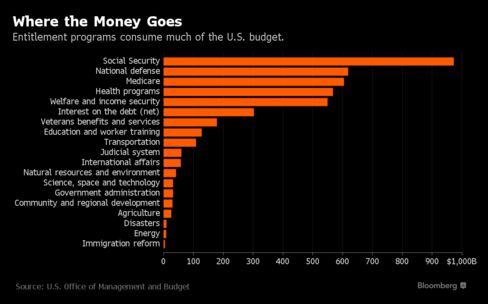 Other Medicare savings proposals include:
Encouraging doctors to treat Medicare patients more efficiently, and improve coordination among hospitals and nursing homes, saving $180 billion over a decade
Changes to deductibles and copays in Medicare Part B, beginning in 2020, saving $54 billion over a decade

Using competitive bidding to set payment rates in the private Medicare Advantage program, saving $77 billion over a decade
The cuts to Medicare Advantage would "undermine the care and programs that are proven to work and improve beneficiaries' health," Marilyn Tavenner, chief executive officer of industry group America's Health Insurance Plans, said in a statement.
The Obama administration has already previewed a number of health-related initiatives, such as an adjustment to thresholds for the Affordable Care Act's so-called Cadillac tax on high-cost health plans, and a proposal to extend federal support for new states that decide to expand Medicaid under the ACA. Changes to the excise tax, which doesn't take effect until 2020, would cost about $1.3 billion over the next decade.
Before it's here, it's on the Bloomberg Terminal.
LEARN MORE