The presidential hopefuls made their final pleas for votes in today's New Hampshire primary, where expected strong turnout may do little to winnow a crowded Republican field led by billionaire businessman Donald Trump.
Trump stopped short of predicting victory after seeing his weeks-long polling lead in Iowa last week evaporate and falling to second place there. "I just want to do well. I want to win, even if it's by one vote," he told Fox News in Manchester, where his campaign workers were visited by daughter Ivanka, and volunteers from Amish country, the Netherlands, and Australia munched on pizza.
Trump sought to cast himself as ready to hold office, never mind his off-color banter about Ted Cruz with a person in the audience at his Election Eve rally who called Cruz a vulgar name. "When you're president, or if you're about to be president, you would act differently," he told NBC News, according to a network transcript.
One of Trump's main rivals, Florida Senator Marco Rubio, was dogged by protesters dressed as robots while visiting polling sites, an apparent reference to his repetitive answers in Saturday night's debate. The Democratic-allied super-PAC American Bridge took credit for the protest. Rubio was undeterred, telling reporters he didn't think the debate damaged his campaign.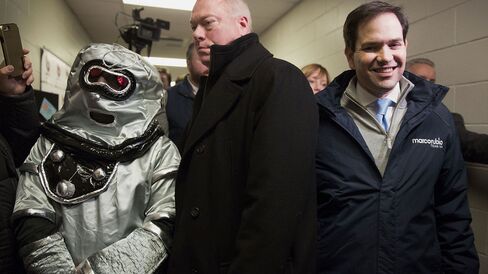 "We have great energy and great support," Rubio said in Bedford. "We're looking forward to tonight and moving on to South Carolina."
Rubio hopes for at least a second-place finish behind Trump, but easily could drift further back due to the fluid nature of a race where nearly half of Republican voters tell pollsters they haven't settled on a candidate.
An Emerson College poll out Monday showed Trump firmly in the lead with 31 percent of likely GOP primary voters, and a tight cluster of candidates all within five points of each other behind him. Former Florida Governor Jeb Bush has 16 percent, Ohio Governor John Kasich has 13 percent, Rubio has 12 percent and Cruz has 11 percent.
On the Democratic side, Hillary Clinton made clear she already was looking beyond what could be a tough night in New Hampshire, where some polls show her trailing neighboring Vermont Senator Bernie Sanders by double digits. Clinton announced she's going to Nevada, site of the party's Feb. 20 caucuses, on Saturday and Sunday.
The Emerson poll has Sanders leading Clinton, 54 percent to 42 percent.
Tickets Out
Clinton's campaign dispatched her husband, former President Bill Clinton, to a polling place this morning at Portsmouth Middle School, where he ran into a man holding a Kasich sign.
"I like Kasich," said Clinton.
"I think he'd make a good president," said the man. "Can we change your vote?"
"I don't think so," Clinton said.
New Hampshire historically weeds out weaker-performing candidates, but the volatile nature of the race this year could take the nominating fight in both parties well into the spring. At least a half-dozen Republicans are expected to carry their campaign to the next contest, on Feb. 20 in South Carolina.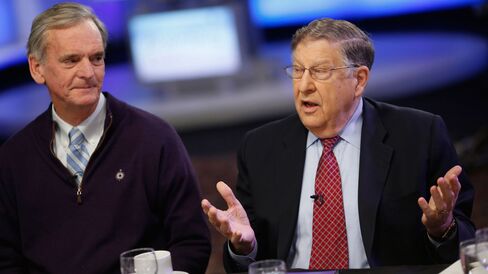 "If somebody runs that table it's over, but I don't see anybody running that table," said former New Hampshire Senator Judd Gregg, a Republican, at a Bloomberg Politics breakfast briefing in Manchester on Tuesday. Former Governor John H. Sununu, an outspoken Trump critic, said a national convention this summer "that starts undecided is quite possible."
The Democratic fight could drag on too. Sanders holds a commanding lead over Clinton in New Hampshire after losing to her in Iowa by less than a percentage point. Clinton is still the prohibitive favorite to win the Democratic nomination but Sanders's team says it will fight to the end in upcoming contests across the Midwest and South.
Voting started just after midnight in three small towns in New Hampshire that can set their own hours, and most polls in the rest of the state close at 7 p.m. Eastern time. In one of those communities, Dixville Notch, Kasich came out on top with three votes, followed by Trump with two; Sanders won all four Democratic votes, according to the Associated Press. In Hart's Location, it was also Kasich and Sanders, and in Millsfield, Clinton and Cruz won, according to Politico.
A variety of factors could make for a topsy-turvy Election Day. New Hampshire Secretary of State Bill Gardner is predicting that 282,000 Republican and 268,000 Democratic ballots will be cast, which would top the turnout from 2008, the last time there was no incumbent president running in the primaries. High turnout is thought to favor Sanders and Trump, who have energized new voters and brought them into the process for the first time.
In addition, a quirk in New Hampshire law allows for independent voters—ones who don't belong to any political party—to show up and vote in either primary. About 44 percent of registered voters, or 389,000, are undeclared, and they are leaning toward Sanders, Trump and Kasich, who some polls put in second place.
Republican 'Combat'
Trump enjoys a 16 percentage-point lead in the RealClearPolitics average but his final tally ultimately may not be that large, depending on how many of his supporters actually get out to vote, said Steve Duprey, New Hampshire's Republican national committeeman who is neutral in the race. Trump's surprise second-place loss in Iowa was blamed in part on the ability of the winner, Cruz, to better mobilize his support.
Rubio appeared to emerge with momentum from a strong third-place finish in Iowa but a shaky debate performance Saturday night emboldened his rivals and created a competitive fight with three governors: Kasich, Christie, and Bush. Those four are fighting to be the candidate of the so-called establishment voters and are clustered in a pack just behind Trump, along with Cruz.
There's an old political maxim that there are only three tickets out of New Hampshire, but that conventional wisdom has been upended this year. All three governors had staked their campaigns on performing well in New Hampshire, but if they finish close to each other, even the ones finishing third or fourth among that group can claim they essentially tied for second and move on to South Carolina's Feb. 20 contest, Duprey said. It's difficult to predict an order, he said.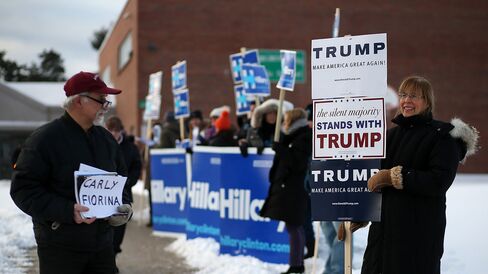 "It's just so hotly contested, and there are so many good candidates who have run aggressive, hard campaigns," Duprey said. "It's almost like neighborhood-to-neighborhood combat here."
Gregg, who endorsed Bush last year, said Kasich was "clearly going to exceed expectations in New Hampshire." Kasich projected calm on Tuesday as he talked about his faith. "Before I went to the debate, we didn't do a lot of preparation. I said, 'Lord, you took me up to the top of the mountain, I'm gonna have to walk down. Don't let me walk alone.' And he didn't. He helped me out. How do you like that?" Kasich said on MSNBC.
Cruz suggested he was looking past the results in New Hampshire, saying his campaign "never viewed any of these states as a must win." Asked whether he can finish in second, Cruz told reporters on Monday that he expected to finish strong in South Carolina and then a group of southern states on March 1.
As he campaigned in New Hampshire, his lawyers dealt with a lawsuit challenging the Canadian-born senator's eligibility to serve as president -- an issue Trump helped thrust into the spotlight ahead of the Iowa vote. Cruz will file a motion to dismiss the case by Feb. 22, according to a filing on Monday in federal court in Houston.
Bush has the funding and organization to continue in South Carolina, and Christie said he is arranging events in South Carolina and that as many as five candidates could move on to compete there.
Adding to the uncertainty about the finish is the large number of voters who hadn't committed to a candidate. A CNN/WMUR New Hampshire primary poll released Sunday showed that only 45 percent of likely Republican primary voters said they had definitely decided who they will support, with 25 percent leaning toward a candidate, and 30 percent still trying to decide.
Also on Monday, the Financial Times reported former New York City Mayor Michael Bloomberg said he is "looking at all the options" on a potential presidential run, his first public comments since the New York Times reported on his deliberations about an independent bid last month. He is the founder and majority owner of Bloomberg News parent Bloomberg LP. A representative for the former mayor, Marc La Vorgna, declined to comment.
Trump said he'd welcome the former mayor to the race. "I think I'll call him later and say: do it," he said on MSNBC on Tuesday.
Sanders Advantage
On the Democratic side, Clinton's campaign has been trying to manage expectations in New Hampshire with the RealClearPolitics average of recent state polls showing Sanders with a lead of almost 13 percentage points, despite her razor-thin victory in Iowa last week.
Sanders's lead has narrowed in recent polls and Clinton is not conceding the race. Yet her supporters have been emphasizing Sanders' home-field advantage as a New England candidate and suggesting that a close defeat would still be a victory as she heads to South Carolina and other early voting states where she is leading.
Sanders would position his better-than-expected performance in Iowa and an expected New Hampshire victory as giving momentum to his message of a rigged economy benefiting the wealthy, an argument for why he should continue a competitive and prolonged primary fight.
"If a lot of folks come out to vote, we're gonna do just fine," Sanders said on MSNBC on Tuesday. "And it looks like there is gonna be a large voter turnout. That's what democracy is about and what we're looking forward to today."
—With assistance from Michael C. Bender, Terrence Dopp, Ben Brody, Madeline McMahon, James Nash, and Emily Greenhouse in Manchester, New Hampshire; Kasia Klimasinska in Washington; and Erik Larson in New York.
Before it's here, it's on the Bloomberg Terminal.
LEARN MORE