Retail Politics
This New Hampshire Woman Has Seen All the Presidential Candidates Speak in 2016 (Except Ben Carson)
Catherine Johnson has owned an ice rink, helped Hurricane Katrina victims, and been in a movie with Leonardo DiCaprio—but she says traveling the 2016 New Hampshire campaign trail beats all.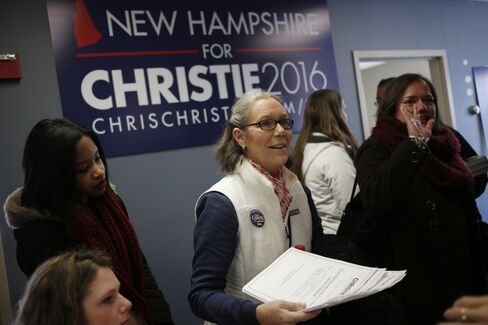 In a state known for its pride in holding the nation's first primary election and the access it affords ordinary citizens to the presidential candidates, Catherine Johnson stands out.
This year, she's logged 5,000 miles, alone, behind the wheel of her 10-year-old blue Volvo station wagon on New Hampshire's back roads on a quest to see all of the presidential candidates—from both parties—in person. With the exception of Ben Carson, who she says just hasn't been around much, she's succeeded on what she likes to call her "journey."
In January, Johnson quit her job at a nonprofit over what she deemed unfair treatment of a fellow employee, and suddenly found herself with a lot of free time. For a single woman in her 50s sharing a home with her mother, that newfound freedom meant an opportunity to get out on the trail, and not look back.
Though the Granite State is celebrating the 100th anniversary of hosting the first primary of the U.S. presidential cycle, Johnson had never thrown herself into the political process, and quickly discovered that how much she enjoyed it.
"I love to go and listen and observe," said Johnson, a 56-year-old independent voter who also has worked as a professional organizer, figure-skating coach, ice-rink owner, and thrift-store proprietor.
"My vote's worth something. There's never been a time when I didn't vote. But this year is different, and the more I've been out there, the more I see just how cool this is," Johnson said at Village Pizza in the quaint town of Newport.
An avid kayaker who also did a stint in Los Angeles as an extra in movies and T.V.—with appearances on Glee and Modern Family, and in the film J. Edgar with Leonardo DiCaprio—Johnson said she attended 43 town halls before deciding last month to back Chris Christie. She has volunteered at 18 of Christie's events since then.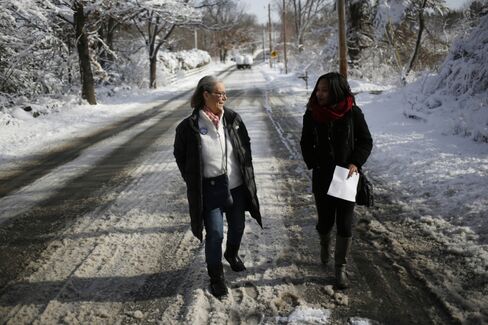 "I just think that the Republican Party has changed so much that I don't fit in with it anymore because I'm moderate. I don't love guns; I don't get guns—and I'm pro-choice," she said. "With Governor Christie, even if I disagree with him on something, I think he respects my position and I respect his."
The rest of the presidential field, however, has left her with doubts.
She said "once was enough" for seeing Senator Ted Cruz. Donald Trump has too much bluster and being a billionaire "doesn't mean you're competent to be president of the United States." And she didn't think other Republicans did enough to fully answer questions, compared to Christie. (Christie and Ohio Governor John Kasich have spent the most time in the state of all candidates, according to an NECN candidate tracker.)
On the Democratic side, she said Hillary Clinton "is probably one of the most accomplished women" of her time, but that her use of a private e-mail server raises too many questions.
"That was stupid, and for someone who knew she was going to run for president? I really like her, but we are so much more intelligent than politicians give us credit for," Johnson said.
As for Sanders, she says he's "a rebel," and she has respect for him as a senator from a neighboring state. But she thinks that his calls for tuition-free higher education, curbing the power of Wall Street, and universal health care are unrealistic.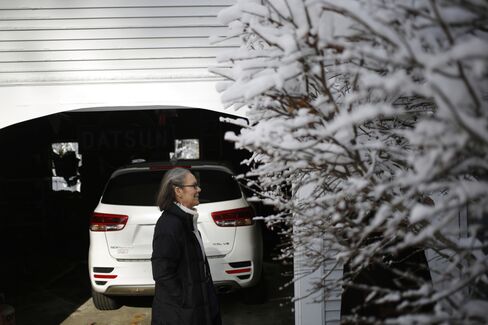 "Don't you wish that we could have a revolution and that everything would be OK again?" said Johnson, the mother of a 24-year-old daughter, Sarah Donahue, who will soon start her doctorate studies in health care. "I think its great that he's getting my daughter's generation involved. It's great, but he gives these kids false hope. How's he going to get universal health care?"
Johnson's journey supports the theory that, in many ways, New Hampshire is this election's battleground for establishment-minded hopefuls.
According to the New Hampshire Secretary of State's office, the state has 383,834 voters who haven't declared a party affiliation, compared to 260,896 registered Republicans and 229,202 Democrats. Of those undecided voters, 46 percent intend to vote in the Republican primary, a CNN/WMUR poll released Thursday found.
Johnson, who studied journalism and communications at the University of New Hampshire, grew up in Hanover, in the shadow of Dartmouth College. She is daughter of a judge who graduated from the school, as did nearly all of her family members.
But it's this year's foray into her home state's vaunted retail politics that have given her a sense of what is perhaps most significant about New Hampshire.
"This is changing my life," she said. "This has been my most amazing journey. What have I learned? I learned I really love politics. I always knew I liked it, but I really love it. This environment has given me an opportunity to do what I really love to do."
Before it's here, it's on the Bloomberg Terminal.
LEARN MORE