Second-Place Trump Buffs Winning Image in South Carolina
In between his second-place finish in Iowa and the New Hampshire primary, his fans in the South stand firm.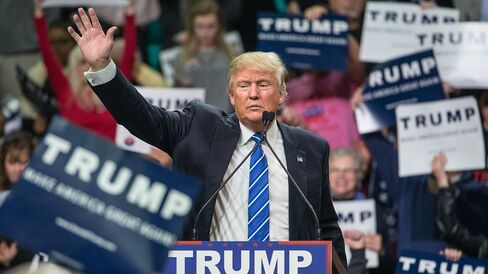 South Carolina resident John Dean doesn't care that Donald Trump is no longer, for the moment, a winner.
"You can't finish first all the time," said Dean, a manager for a household moving company who arrived four hours early to attend Trump's Friday evening rally in Florence, South Carolina. "You can lose some battles, as long as you win the wars."
Besides, Dean said, he doesn't respect caucuses like those in Iowa, where Trump finished second to U.S. Senator Ted Cruz of Texas on Monday night. Primaries, he argued, are more democratic because "everyone can speak" with their vote and turnout tends to be greater than in caucuses.
Dean was typical of most of those interviewed before and after Trump's rally at the Florence Civic Center, an arena with a capacity of 10,000 that was roughly three-quarters full.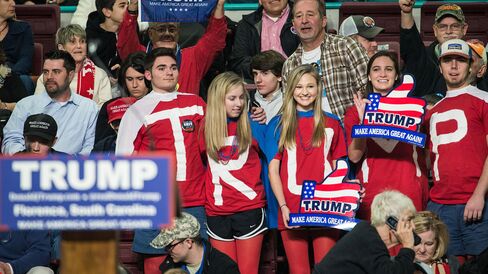 Trump's critics, meanwhile, say the Iowa results showed that he failed to build a robust campaign infrastructure and focused too much on mega-rallies. The second-place finish in Iowa also made less likely the prospects of him winning the nomination sooner rather than, potentially, later.
"Overall, he's a winner and he's going to show that in the election," said Phil Potter, who works in real estate in the Florence area. "I don't think that Iowa will harm him at all."
Like Dean and Potter, rally attendee Janie Fratus said she doesn't pay much attention to Iowa or its caucuses.
"It's not a real thing anyway," said the retired textile plant worker from Cheraw, South Carolina. "It was just to see where they stand."
Four days before voting takes place in New Hampshire, Trump flew south. South Carolina's Feb. 20 primary is shaping up to be another competitive one between Trump, Cruz and U.S. Senator Marco Rubio of Florida. Even former Governor Jeb Bush of Florida, who has struggled to re-establish his top-tier status in the race, is planning a big push in the state drawing on his family's political network there.
The evening rally was Trump's only public event Friday, after he cancelled an earlier New Hampshire stop because of snow. His campaign said he'd be in New Hampshire on Saturday and would hold events each day through Tuesday's primary.
Still, even as he faces two primaries in the next two weeks, Iowa was still clearly still on Trump's mind Friday night.
"I think we should have come in first, to be honest with you," the real estate mogul said. "A lot of things happened there."
Those "things" included what he argued was a second-place behind a "double candidate," a reference to Cruz and messages some of his supporters sent out just ahead of the caucuses that incorrectly suggested retired neurosurgeon Ben Carson was dropping out of the race.
"I don't think I did come in second," he said. "I think I came in first."
After discussing Iowa's results for two minutes, he said he was moving on. "Honestly, it doesn't matter," he said. "My total focus now is on New Hampshire, and then next week, my total focus is going to be right here in South Carolina."
In a nod to South Carolina's strong religious traditions, Trump made note of some of the churches he saw on his drive to the rally from the airport. "You have the most beautiful churches I've seen," he said. "I almost wanted to just go in and pray, but I think I'd be late and you wouldn't like that, OK?"
Trump still leads the field in national polls. A survey released Friday by Quinnipiac University showed him with the support of 31 percent of Republican voters, followed by 22 percent for Cruz and 19 percent for Rubio.
South Carolina Lt. Gov. Henry McMaster, who endorsed Trump late last month, compared the billionaire to a Republican icon during his introduction.
"We've had great ones come through, but we've never seen anything like this," he said. "This is where Ronald Reagan won the election because the people in South Carolina turned out on that Saturday, the first primary in the South, and voted for that man and that changed the course of history for the better."
Other than his typical "low-energy" shots at former Florida Governor Jeb Bush, Trump generally avoided direct criticism of his Republican rivals. Democratic presidential candidates Hillary Clinton and Senator Bernie Sanders of Vermont weren't so lucky. "If we go with a Hillary or this character Bernie, or any of these people, I'm telling you, we're going to be so deep, we're going to be in so much trouble, it's never going to come back."
Before it's here, it's on the Bloomberg Terminal.
LEARN MORE