Whitman, a Christie Backer, Says Bush Would Be Better Than Trump
Coming to Bush's defense, the tech exec undercuts Trump, Carly Fiorina, and maybe even Marco Rubio in the process.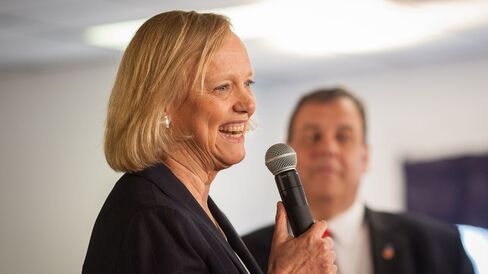 Last year, as Donald Trump catapulted ever higher in the polls, he spoke aboard a decommissioned battleship in San Pedro, California, and vowed to fix veterans' health care. "We're gonna create a whole new system," Trump said. "We're gonna take the system apart, and if they're not doing the job, the veterans are going to go to private doctors, private hospitals," which then would be reimbursed.
Trump is a businessman, always eager to find the market solution—and he's not the only untraditional candidate in the Republican presidential field. There's also a doctor, Ben Carson, and another (former) executive, Carly Fiorina. On the stump, Fiorina makes constant reference to "unlocking potential," as if she were leading a corporate-empowerment retreat.
Many fed-up voters have been seduced. At a rally last week in Iowa City, Shelley Zangerle, a 54-year-old nursing assistant, explained that she'd never engaged in politics, but that something about Trump moved her to action. "He's not afraid to say anything," she said, "We need a businessman—not a politician."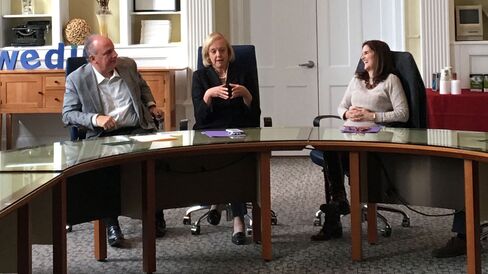 But on Thursday in Manchester, New Hampshire, Meg Whitman, the CEO of Hewlett Packard Enterprise Co. and chair of HP Inc., sought to dispel the notion that politics and business were a snug fit.
"You know how everyone in the campaign says, 'I'd like to run the government more like a business?'" she asked a crowd of twenty-some people at a so-called "business roundtable" in the brick offices of a"digital and experiential" marketing firm called Wedü.
Well, she said, scrunching up her face and using a mock whisper, "It actually doesn't run like a business."
"You can't actually fire people, in the government," she said. "You can't make leadership changes. You have to work with people that are there. You know, if you were the governor, you can't fire the Democratic member of the state assembly."
The Republican governor Whitman seemed to have in mind was New Jersey Governor Chris Christie, for whom she was campaigning. "As you all know, leadership and management is a skill," she said. She praised Christie's intelligence, his "spine of steel" and his "heart of gold."
"We should be really, really glad that people want to do this," she said, "that people want to run for office—whether it's secretary of education, state senate, dog-catcher, president of the United States—because it is one tough business."
Whitman speaks from experience. In 2010, she ran unsuccessfully for governor of California, after years as CEO of eBay. She called it by far the hardest thing she had ever done, hard on herself and on her family. "Turning around Hewlett-Packard was like bouncing a basketball with one hand," she said, "relative to running for governor."
"Lots of things are institutional," she said. "I look at a balance sheet and I immediately—I got it, I just know it. And that instinct is developed over many years. Everything is interconnected. What you decide to do is connected to Syria is actually connected to Israel is connected to Iran which is actually connected to here—and unless you understand that, along with the domestic policy," she paused, "I think it's too much."
Whitman ran for governor the same year, in the same state, that Fiorina ran for U.S. Senate. Whitman is inevitably asked for her thoughts on Fiorina, the former CEO of Hewlett-Packard Co. and the only female Republican presidential candidate.
"I know Carly very, very well," Whitman said. "First of all, the 'women and CEO' community is miniscule. We all know each other."
"She's an extraordinarily talented person. Incredibly good on her feet," Whitman said. But she said she had come to understand a point she once heard voters make: "It is really hard to have your first political office, your first elected office, be president of the United States."
"I mean honestly, people actually gave me that criticism when I was running for governor: What do you know about being governor of being California? California, if it was a country, would be the seventh largest country in the world—like, don't you think it would've been a good idea to warm up as a congressman, or in the state senate or state assembly?"
The race for the presidency, she said, "this just takes it to a whole new level."
Nor is Whitman impressed with Trump, the other businessperson who lacks experience in government. "It's been hard to make a name for yourself unless you're willing to do outrageous things, like Donald Trump is," she said. "This isn't a game show—this is history being made here." Whatever your commitment to market fundamentalism, Whitman seemed to say, there is such a thing as being too much of an outsider. The market will not always offer a solution.
In fact, she ventured to defend Jeb Bush, a Christie rival competing for the establishment mantle in the Feb. 9 primary. It was the same day that Christie denied his campaign was coordinating with Bush's to undermine Marco Rubio, the fresh-faced senator from Florida rising in the New Hampshire polls.
"Once you get a narrative stuck, it's hard to unstick," she said. "I will not forgive Donald Trump for calling Jeb Bush the low-energy candidate, OK? He may not be the high-energy candidate but—but Jeb Bush is actually a really pretty smart, accomplished guy who would actually be an OK president of the United States." She did not take a breath. "He would be a better president than Donald Trump."
Before it's here, it's on the Bloomberg Terminal.
LEARN MORE