Trump Turns to New Hampshire Town Halls Post-Iowa, With a Twist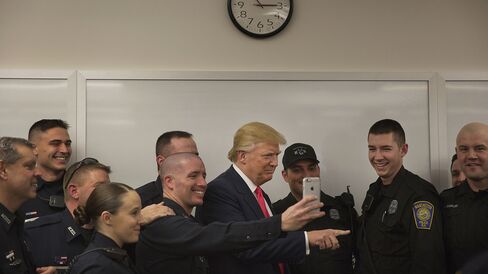 Billionaire makes rare effort to take audience questions

Trump-style rallies not the norm in second presidential state
Donald Trump made a name for himself with his ability to draw massive crowds to rallies, a feat his presidential rivals could only dream of. Now, his campaign is thinking small.
Trump's tour through New Hampshire on Thursday included three town halls that gave voters the chance to pose questions to the Republican candidate directly. He also visited with a local police department and a property-management company.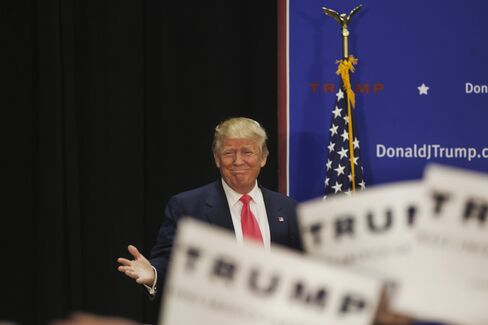 That's a shift away from the stadiums and other large venues that have dominated Trump's calendar until now. It comes as the billionaire businessman is fighting to regain the mantle of unstoppable front-runner after his surprise second-place finish in Iowa, where he led Texas Senator Ted Cruz in several pre-caucus polls.
"This is our version of retail politics," said Fred Doucette, co-chairman of Trump's New Hampshire campaign and a local state representative. "It's tougher for us to do the smaller events because he draws such large crowds and we don't want to turn people away. We're trying to reach out to as many people as we can in whatever way we can, and that includes finding those opportunities for more people to connect with him one on one."
As in Iowa, residents of the Granite State have come to expect more intimate contact. Candidates typically spend months touring the state of 1.3 million, visiting coffee shops, office parks and Elks lodges in a bid to be seen by as many voters as possible. On Thursday night, Trump's campaign added another town hall for Friday morning before a larger rally in South Carolina. After that, he'll return to New Hampshire until the Feb. 9 primary.
Christie's Approach
Town halls are a staple for all of Trump's competitors vying for the Republican nomination. None more so than New Jersey Governor Chris Christie, another tough-talker who has perfected the art: He removes his suit coat and snakes in and out of the crowd, microphone-in-hand, delivering his answers within feet of his questioners. The setting is personal, with no more than a couple hundred people in attendance. He held 64 town halls, in addition to more than 130 in his home state since becoming governor in 2010.
But like with much of his campaign, Trump does things a little differently.
Truth is, Trump's town halls Thursday in Exeter and Portsmouth looked a lot like his rallies. He stood on stage, behind a podium, suit coat on. The only difference was he took questions from the crowd. It was a fusion of Christie's signature style and his own.
A third town hall, that was taped midday and aired Thursday night on CNN, was more traditional. Set at a casual restaurant in Manchester, voters sat at tables surrounding him and moderator Anderson Cooper.
Trump isn't entirely new to the town hall format. Prior to this week, he'd held six since May, according to a tally by Massachusetts-based television news station NECN.
"He's done very little retail campaigning," said Roger Stone, a former Trump adviser who still supports his candidacy. "His celebrity status allows for that. So, in a sense, he's very efficient. But at the same time, you can't win a presidential election by just having massive rallies."
"I've known him 39 years and this is the hardest I've ever seen him work," Stone said. "He would always tell you, 'I'm not a hard worker -- I'm a smart worker.' But right now? He's working extremely, extremely hard."
Private Meetings
Trump advisers say his private schedule includes meetings with local influencers who can then sway townspeople to vote for him.
In between town halls Thursday, Trump spoke to a packed room of about 35 officers at the Manchester Police Department for about five minutes before posing with them for photos.
"Everybody knows he can pack a crowd of thousands, but today we got to see him up close and personal," Detective Aaron Brown, a Trump supporter, said after meeting him. "It's nice to know that he supports me and my colleagues."
At Thursday's town hall, in downtown Exeter in a building aptly named the Town Hall, Trump began the day's event with a 20-minute address of familiar refrains, lambasting the U.S. for losing at trade with international partners and for treating military veterans worse than illegal immigrants. He went after politicians for being beholden to special interests and said, "We're gonna build the wall," reviving the line about his plans for the U.S.-Mexico border from early in his candidacy.
He then took questions from seven members of the audience. The first was from a woman who said she was from California and called immigrants the "backbone" of the U.S. who do work that no American wants to do, and for a lot less money.
'Bernie Plant'
"Who told you to be here? Bernie?" he shot back, in reference to Bernie Sanders, the U.S. Senator from Vermont competing with Hillary Clinton for the Democratic nomination. "This is a Bernie plant."
"Illegal immigrants are the backbone of our country?" he continued. "I don't think so, darling."
He fielded questions about Social Security, which he promised to save; the threat posed by the Islamic State, which he promised wipe out; and companies avoiding taxes overseas: "Literally it can be solved in one day." When asked how he'd deal with an obstructionist Congress, he referenced his skills in negotiating complicated real-estate deals, including his acquisition of a soon-to-be Trump-branded hotel on Pennsylvania Avenue near the White House in Washington.
He also used the opportunity to take familiar swipes at his opponents, poking fun at Jeb Bush's failure to muster a stronger showing in Iowa and calling Cruz an "anchor baby."
He opted for even stronger language when referencing politicians in general.
"They're full of s---," he said.
Before it's here, it's on the Bloomberg Terminal.
LEARN MORE