De Blasio's Week Marred by Political Strains, Policy Setbacks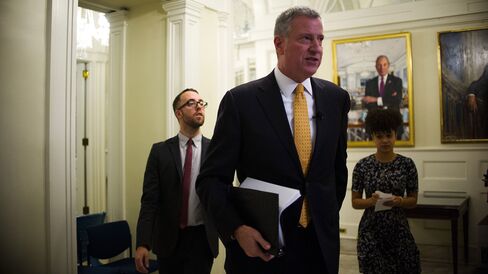 Iowa trip for the Clinton campaign spent knocking on doors

Mayor's affordable housing plan has critics among the poor
It hasn't been a great week for New York Mayor Bill de Blasio.
During an uninvited trip to Iowa to support presidential candidate Hillary Clinton, he knocked on the doors of locals who didn't recognize him. While out of town, a deal to restrict horse carriages on which de Blasio worked months was unraveling and fell apart when the drivers' union backed out Thursday.
The week included reports of a spate of subway slashings that brought tabloid ridicule upon Police Commissioner Bill Bratton for ordering officers into trains to wake up vulnerable sleeping passengers. And when de Blasio gave his State of the City speech at Lehman College in the Bronx Thursday night, he was greeted by dozens of protesters who say his housing policies would gentrify neighborhoods and push out the poor.
The serial drubbings came after months of negative press as de Blasio contended with rising homelessness, a failed effort to control Uber Technologies Inc.'s expansion and opposition to his affordable-housing plans. The headlines have corresponded with declines in his performance ratings in several opinion polls.
"This week hasn't been great, but sometimes it's good to get a bloody nose," said Democratic political consultant George Arzt, who was press secretary to former Mayor Edward Koch. "It helps you rebalance and sort out what's important."
De Blasio, 54, became the first Democrat to control City Hall in 20 years by decrying income inequality and pledging programs to serve the poor and middle class. He promised a litany of them in his speech, including a city-run retirement savings plan for New Yorkers whose jobs don't offer a pension or 401k.
One City
Throughout the 6,800-word speech, de Blasio replaced his two-year-old campaign theme of a "tale of two cities" with the slogan "One City" with services for all. He touted record low crime and traffic deaths, and talked of his aspirations to build a $2.5 billion light-rail system for some of the transit-deprived waterfront neighborhoods of Brooklyn and Queens. He remains the favorite to get re-elected in 2017 in a city where Democrats outnumber Republicans by more than 6-to-1.
"His record includes creating universal all-day pre-kindergarten, family leave for thousands of city workers, paid sick pay, a citywide ID card for undocumented residents -- that's success by any measure," said de Blasio's press secretary, Karen Hinton.
In what should have been a good-news announcement, de Blasio joined Bratton at a news conference Wednesday to announce "the safest January in our modern history," with just 22 homicides last month compared with 40 last year.
Yet the tabloids' attention this week has been riveted on a spate of seven slashings on subways this year, part of a 36 percent increase in transit crime. Bratton dismissed the incidents as an aberration.
"Even though crime is down and these incidents are a very small number, it's the kind of thing that captures peoples' imagination and fears, and the public wants to believe the police commissioner takes it seriously," said William Cunningham, a communications adviser to two governors and former Mayor Michael Bloomberg, the founder and majority owner of Bloomberg News parent, Bloomberg LP.
Hunkered Down
At City Hall on Thursday morning, de Blasio didn't appear to be rebalancing priorities after the collapse of the carriage deal. He hunkered down inside an SUV for at least 15 minutes while a crowd of carriage drivers milled about, then emerged to vow that he would press on with his goal to ban them from city streets. The issue stems from a 2013 campaign promise he made to animal-rights groups who donated hundreds of thousands of dollars and scores of street canvassing volunteers to his campaign.
De Blasio's plans for the streetcar and the development of Governors Island would each need land-use approvals from many layers of government, and wouldn't be completed for years even if proven to be feasible. The heft of these large-scale projects came in stark contrast to the petty conflict over the Central Park horse carriages that de Blasio has found himself mired in since his first day in office. It's an issue 63 percent of city voters disagree with him on, according to a Jan. 16 Quinnipiac University poll.
That poll also reported that 71 percent of the city's voters approve of Governor Andrew Cuomo while only 49 percent like de Blasio's job performance. The two have been feuding in a power struggle that worsened last June when the mayor attacked the governor for not supporting his quest for permanent control of the schools.
Now, the mayor is battling a state budget Cuomo proposes that would cut $1 billion a year in reimbursements to City University of New York and Medicaid. The state would also impose a 2 percent cap on property-tax revenue that de Blasio said could cost the city $3 billion a year out of a budget now totaling $82 billion. The governor and state legislature refused to enact a tax-abatement program that would have helped the mayor reach his goal of financing 200,000 affordable housing units by 2025.
He's also been challenged and opposed on his housing program by Democratic city Comptroller Scott Stringer and Public Advocate Tish James. They both appeared at City Hall this week for yet another protest on the issue.
"Halfway through the term, this is the year to achieve accomplishments so that when you get into an election year you have a story to tell," Cunningham said. "As an incumbent he has all the advantages -- so if he becomes vulnerable, it will be all his own doing."
Before it's here, it's on the Bloomberg Terminal.
LEARN MORE