Barbara Bush Shuffles Through the Snow for Her Boy
It's been a while since she's been on the campaign trail, but her son needs every vote he can grab.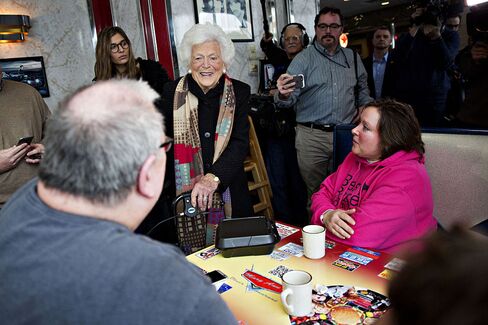 Barbara Bush gingerly shuffled behind her red rolling walker, pushing her way through the slush of a suddenly snowy New Hampshire on Friday as she made her way into a local diner to shake hands, pose for pictures and order voters to get to the polls for her son.
"I haven't seen the snow for 1,000 years," the 90-year-old former first lady said upon entering Mary Ann's Diner in Derry.
It's also been a while since the matriarch of the Bush family has been on the campaign trail, but her son, former Florida Governor Jeb Bush, needs every vote he can grab. The son and brother of the past two Republican presidents is—to the shock of donors who have plowed $140 million into his election effort—barely hanging on in his own campaign for the White House.
In midseason form, Barbara Bush wore pearl earrings, gold bracelets on each wrist and a black, woven coat buttoned all the way up.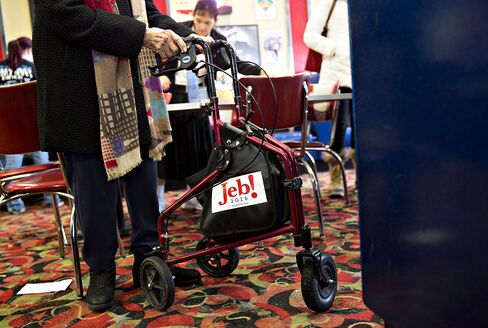 In one of the first stops in her two-day campaign swing, she rounded the restaurant while tickling babies, complaining about her husband the former president, and playfully putting her presidential candidate-son in his place.
"You get out of my way," she told him at one point.
The former first lady also needled a Bloomberg News reporter about former New York Mayor Michael R. Bloomberg. She said if the founder and majority owner of Bloomberg LP runs for president as an independent it will help elect Hillary Clinton, the front-runner for the Democratic presidential nomination.
"He was a great mayor," Barbara Bush said. "But I don't want him to run for president. That would just give the vote to Hillary."
Several voters inside the restaurant on Friday told Barbara Bush that they'd vote for her son. But she couldn't quite close the deal with Bob and Cathy Kuechler. She stopped at their table twice, the second time reaching into the pouch of her walker for a small bag full of Jeb! 2016 bumper stickers.
"I'm going to go out and watch you put them on," she told them.
When Barbara Bush walked away, Bob Kuechler said they're supporting U.S. Senator Ted Cruz's campaign. "I didn't want to say that in front of Mrs. Bush out of respect," he said.
"Nothing against the Bush family," Cathy Kuechler said.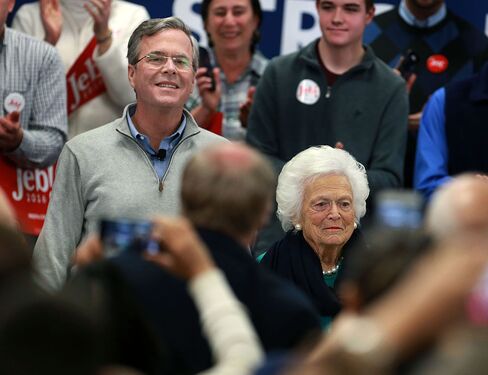 Barbara Bush also attended one of her son's town hall meetings Thursday night, where she was greeted with a long standing ovation from 300 people crowded into a middle school gymnasium. Speaking to the crowd, she acknowledged her family's long history in the state's first-in-the-nation primary, then offered a parade of compliments for her son while taking a sly shot at Donald Trump, the front-runner for her party's nomination.
"Jeb is the nicest, wisest, most caring, loyal, disciplined—not by me," she said, as the laughing crowd cut her off.
"But he's not a braggart, we don't allow that," she said, a subtle jab at Trump's outsized personality. "But he's decent and honest. And he's everything we need in a president."
She sat down next to Nancy Sununu, the wife of former New Hampshire Governor John Sununu, who served as chief of staff to former President George H.W. Bush. While her husband remains uncommitted and her son, former New Hampshire Senator John E. Sununu, backs Ohio Governor John Kasich, Nancy said she is a Jeb Bush supporter.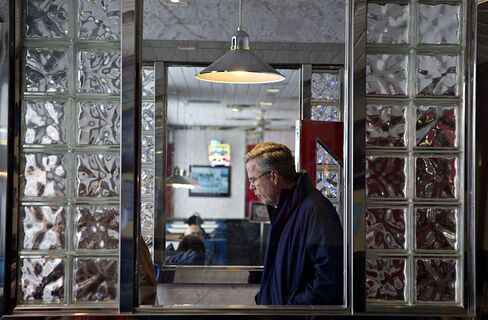 "People are talking about him," Nancy Sununu said in an interview at the town hall meeting. "That's what it takes to win here."
Bush has been following the New Hampshire playbook, grinding out town halls, attending house parties, and dropping by diners and coffee shops. But it's Trump, whose campaign has relied more on big rallies and cable news shows, atop the polls.
"It was great," Bush told Bloomberg after the town hall, when asked about having his mother at his side. "I loved it."
Bush used his mother's appearance at the restaurant to needle Trump, noting on Twitter that while the New York businessman canceled a rally in New Hampshire due to the weather, that his mother was able to handle it.
At the restaurant, she joked that her husband won't argue with her. "He may not agree, but he will not argue. That's very frustrating."
Barbara Bush said she spends "half the year, minus a day" at the family's summer home in Kennebunkport, Maine. "Taxes are big in Maine," she said.
When Cathy Kuechler introduced her two sons who were enjoying a snow day off from school, she said they are "easy" to raise. "Mine weren't," Barbara Bush replied, "in case you were interested."
"Mine occasionally fought," she continued. "Not argue. Literally fought."
Barbara Bush asked diners at the restaurant to "vote for my boy." At one table, a mother told her daughter that Barbara was first lady. "Her husband was president and her son was the president," the woman said.
"And my next son is going to be," Barbara tells them. Turning to the girl, Barbara added, "You see that your mother gets out and votes for Jeb."
Bush finished sixth in the Iowa caucuses this week. In New Hampshire, it's Bush's fellow Floridian, U.S. Senator Marco Rubio, who is surging in the state. A new poll on Thursday from CNN showed Rubio in second place with 18 percent, up 7 percentage points from the same poll last week. Bush was in fifth with 10 percent, but up 4 percentage points in the same time, the second biggest gain in the poll.
Inside the restaurant, a man named Steve approached Barbara Bush and asked for a hug. "Sure," she says, and the two embraced. "Vote for Jeb."
"Oh, yes," he said, obediently.
Before it's here, it's on the Bloomberg Terminal.
LEARN MORE