Obama Pledges $450 Million to Support Colombian Peace Deal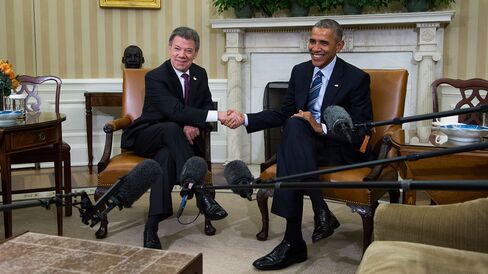 Government, leftist FARC rebels could end decades-old conflict

Money will be included in Obama's fiscal 2017 budget request
President Barack Obama said he would ask Congress for about $450 million in aid to Colombia to help the South American nation finish a peace deal with guerrillas and end a half-century of conflict.
"A country that was on the brink of collapse is now on the brink of peace," Obama said Thursday at a reception with Colombian President Juan Manuel Santos at the White House.
The president's proposal will be included in his fiscal 2017 budget request on Feb. 9. The U.S. plans to provide about $290 million in aid to Colombia this year, according to the government's foreignassistance.gov website. The additional money would help the Colombian government seal a peace agreement with the country's largest rebel group, the Revolutionary Armed Forces of Colombia, or FARC, Obama said. More than 220,000 people have died in Colombia in a conflict that dates to the 1960s.
Colombia faces a March 23 deadline to reach a peace deal with the left-wing rebel group, and the White House is using Santos' visit to claim credit for helping to resolve one of the world's longest-running conflicts. Lengthy peace talks in Havana, Cuba, paved the way for a potential accord.
"The visit recognizes one of the premier foreign policy successes for the United States in recent years, and sets the stage for continued U.S. support for Colombia," said Mark Feierstein, the National Security Council's senior director for Western Hemisphere affairs.
A group of 56 Democrats and one Republican from the House of Representatives wrote to Obama on Feb. 2 calling for more support for Colombia, as well as a tougher U.S. stance against political repression in the country.
"We urge you to raise with President Santos your deep concern regarding the increase in murders and threats against human rights defenders, labor activists, community leaders, journalists, and Afro-Colombian and indigenous leaders," the group, led by Representative Jim McGovern, a Massachusetts Democrat, wrote in the letter. "These leaders are the very human capital that Colombia needs."
Before it's here, it's on the Bloomberg Terminal.
LEARN MORE