Next President Might Well Be Wartime Chief, Christie Says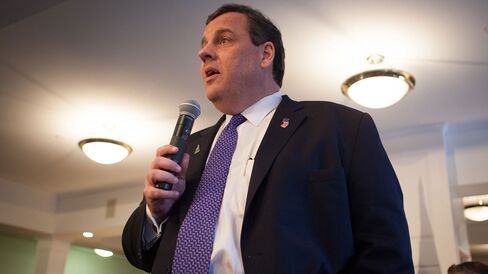 New Jersey governor pitches his know-how as key trait

Christie says Ted Cruz, Marco Rubio lack needed experience
New Jersey Governor Chris Christie has a new campaign pitch he's using against opponents such as Donald Trump and Marco Rubio: U.S. voters may well be electing a wartime president and they aren't qualified for the job.
Christie, 53, has focused his uphill campaign for the Republican presidential nomination largely on national security and in particular the threat from Islamic State militants. He's chosen New Hampshire and it's first-in-the-nation primary as his battleground, where he boasts about his pedigree as a former federal prosecutor who handled terrorism cases.
He was asked at a town hall meeting in Bow, New Hampshire, Wednesday whether he thought the next president would need to command troops into battle.
"The war on terror is something that certainly is something they're going to have to face," Christie responded. "So you've got to be ready. The American people expect you to be ready and they're are scared of what's going on."
Christie is running sixth in the New Hampshire according to the RealClearPolitics composite of recent opinion surveys taken in the state. After telling party leaders he wasn't ready for the job when some implored him to run four years ago, Christie has struggled to ignite the same level of enthusiasm.
In speeches through the Granite State, he's told crowds that Trump couldn't fire his way out of problems, a reference to his "Apprentice" reality show. As for Senators Ted Cruz and Rubio, he evoked the name of another first-term senator who Republicans castigate as unprepared for national leadership when he sought the White House -- President Barack Obama.
Christie has also repeated a story at each stop of a mother and father in Iowa who recently came up to him and told them their son was a serviceman being deployed to the Middle East. Their main criteria for president, they told him, was picking a level-headed commander-in-chief.
He exhorted voters to remember that family as they entered New Hampshire voting booths on Feb. 9.
"That's what this election is about everybody," he said. "In the end the most important job of the President of the United States is to be commander in chief of the greatest military the world has ever seen, and to understand how sober and serious that responsibility is."
Before it's here, it's on the Bloomberg Terminal.
LEARN MORE