FDA Will Act on Pain Pill Abuse After Senate Blocks Nominee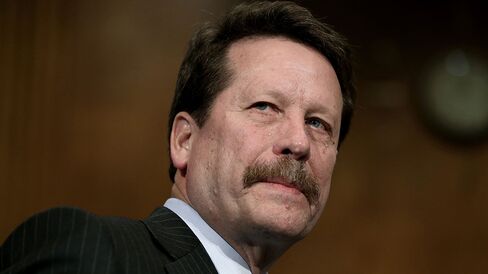 Agency wants to ease generic approvals of safer painkillers

Requiring long-term studies of drugs' effectiveness, risks
The Food and Drug Administration will change the way it deals with prescription pain medications in the face of a drug abuse epidemic in the U.S., a move that may also help get the administration's nominee to lead the agency through the Senate.
Opioid addiction has become a major issue in the presidential race, at the White House and in Congress, where Robert Califf, President Barack Obama's nominee to head the FDA, has been held up in the Senate because of concerns about how the epidemic is being handled.
"We heard what Congress had to say," said Califf, a renowned cardiologist from Duke University who is currently serving as the agency's deputy commissioner, on a conference call Thursday announcing the changes. "That kind of pressure, when it's put on for general policy issues, helps us think. So we stepped back and thought about it."
The changes require pain medicines that don't have built-in properties designed to prevent abuse to go through an advisory committee review, a process that may make it harder to win approval. The agency plans no similar requirement for drugs that do have abuse-deterrent measures. The new rules also require drugmakers to fund continuing education for doctors about the risks and appropriate use of the powerful medications, a move the agency hopes will reduce excessive prescribing.
Markey's Objections
The plan didn't impress one of the lawmakers seeking to block Califf's nomination, Democratic Senator Edward Markey of Massachusetts, who said it fell short of what is needed. Markey pledged to continue his efforts until the FDA takes broader action.
"Whether an opioid is abuse-deterrent or not hasn't prevented tens of thousands of people who have had their wisdom teeth removed or experienced lower back pain from getting addicted to these painkillers," he said. "Until the FDA commits to convene advisory committees of outside experts for all its opioid approval decisions, I will continue my hold on Dr. Califf's nomination."
Markey didn't reiterate his previous demand that the FDA rescind the approval of Purdue Pharma LP's OxyContin for children.
'Must Do More'
The agency and other parts of the U.S. Department of Health and Human Services have been working on the topic for months, Califf said. Obama plans to ask Congress for $1.1 billion in his next budget to take on the epidemic in the U.S., where 28,648 deaths were linked to opioid drugs in 2014.
The FDA's actions were welcomed by some in Congress.
"These changes are a significant step toward getting a better handle on the amount of opioids unnecessarily prescribed to people," said Senator Angus King, an independent from Maine and member of the Prescription Drug Abuse Caucus. "When we look around and see lives ruined, families splintered and communities devastated as a result of the prescriptions meant to help us, we must act."
Democratic Senator Patrick Leahy of Vermont said the measures are "a step in the right direction, but the FDA can and must do more."
Fundamental Change
The agency plans to fundamentally change the way it examines the potential risks and benefits of opioid drugs in order to ensure doctors and regulators take into account the wider public-health implications of abuse, Califf said. Opioid drugs that have been designed without abuse-deterrent properties will be required to undergo advisory panel reviews before receiving approval. A pediatric panel will weigh in on these drugs' labels before they reach the market.
Some newer painkillers include controlled-release mechanisms and other features designed to prevent abuse, and the FDA is trying to streamline approval of generic versions of these drugs, Califf said. The agency will also consider non-prescription forms of naloxone, an overdose antidote, to make it more widely available.
Drugmakers will be required to perform additional long-term studies on the risk and benefits of opioid medications, information that is now sorely lacking. The studies are aimed at helping doctors and patients understand how well the painkillers work after months or years of use, the difficulty and risks of discontinuing use, and the potential dangers of taking the pills without a prescription.
Personal Experience
Califf painted a clear picture of the need for powerful pain medicines, testifying to his personal experience of seeing patients and loved ones trying to endure pain that isn't "even touched" by over-the-counter medicines. Still, the medical community needs to acknowledge and address the damage that the drugs can do, he said.
"More Americans now die every year from drug overdoses than in motor vehicle crashes," Califf said. "The FDA is deeply concerned by this growing epidemic. And I'm personally disturbed by the toll it's taken in communities across this country."
The FDA will also add more warnings and safety information to existing immediate-release drugs, which are most likely to be abused, Califf said. Eventually, if abuse-deterrent drugs prove effective long-term, the faster-acting medicines may be found to carry an unacceptable safety risk, he said.
Before it's here, it's on the Bloomberg Terminal.
LEARN MORE