Price Hike on $750 Pill Was Shkreli's, Turing Tells Congress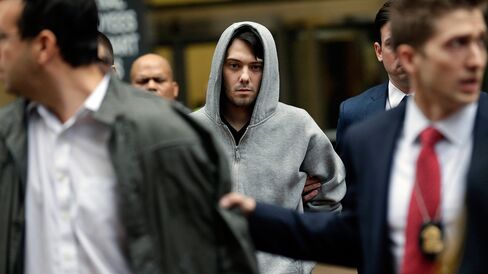 Turing, Valeant set to testify at hearing on drug pricing

Shkreli will be in Washington for hearing, lawyer says
The decision by Turing Pharmaceuticals AG to raise the price of a decades-old anti-infective drug by more than 50-fold was founder Martin Shkreli's, the company said in prepared testimony ahead of a hearing Thursday.
Before Turing bought rights to the pill last year from Impax Laboratories Inc., the drug was "still being sold for a price that was well below its market value," Nancy Retzlaff, Turing's chief commercial officer, said in the prepared remarks submitted to the House Committee on Oversight and Government Reform.
The committee meets Thursday to hear testimony from Retzlaff, as well as officials from Valeant Pharmaceuticals International Inc. and the U.S. Food and Drug Administration. Shkreli, who is no longer with Turing and faces federal fraud charges unrelated to the drugmaker, was subpoenaed to appear, but has said he plans to invoke the Fifth Amendment, which allows people to avoid incriminating themselves. His lawyer, Benjamin Brafman, said Shkreli will be at the hearing, declining to comment further.
Turing and Valeant have become the poster companies for an industry that has been increasingly in the spotlight in Washington for raising some prices so high that they're out of reach for many patients and straining state and federal budgets.
More Modest Increases
Valeant interim Chief Executive Officer Howard Schiller, in his own prepared testimony, explained why the company decided to increase the prices of two cardiac drugs by 525 percent and 212 percent, and promised to end an era of sharp hikes.
"While, like most other pharmaceutical companies, we will from time to time raise prices, I expect those price increases to be within industry norms and much more modest than the ones that drew this Committee's legitimate concern," Schiller said in his prepared remarks.
Valeant had come under fire last year after boosting the prices of the two drugs, Isuprel and Nitropress, shortly after buying them. During the acquisition process from Marathon Pharmaceuticals, Valeant commissioned a review from a pricing consultant, who found that there was still "considerable room" to increase their prices because hospitals using them were reimbursed at rates that were higher than the cost of the drugs. Valeant has since instituted a program that offers rebates to hospitals that use large volumes of the drugs, said Schiller, who was appointed interim chief last month while CEO Michael Pearson is on medical leave.
Both Turing and Valeant say pricing is complex in their industry, and that list prices don't reflect discounts and rebates.
"The list price operates much like the manufacturer's suggested retail price of a new car," Schiller said in his remarks. Yet the difference between the list price and what the buyer actually pays is greater in the pharmaceutical industry, he said.
Meanwhile, Turing distanced itself from its controversial former CEO. Retzlaff's testimony doesn't mention Shkreli by name other than in an attached press release from November. Instead, the testimony states on page 2:

"This pricing decision was spearheaded by Turing's then-chief executive officer."
Before it's here, it's on the Bloomberg Terminal.
LEARN MORE