Christie Calls for 'Tough Love' for Puerto Rico in Fiscal Crisis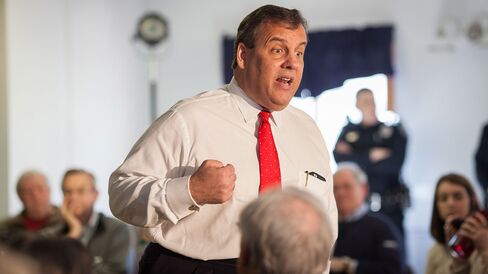 White House Republican hopeful said he'd help with debt burden

Christie said Obama administration has ignored island's woes
Republican presidential candidate Chris Christie said Barack Obama's administration has overlooked Puerto Rico's debt crisis and that he would be willing to assist in return for more oversight over the island.
Christie, New Jersey's two-term governor, said he would support some form of assistance for the territory of 3.5 million people if he were president, but cautioned it wouldn't come without "tough love." He made his comments during a town-hall meeting in Lebanon, New Hampshire, six days before that state holds the nation's first primary.
Obama in October pressed Congress to give Puerto Rico bankruptcy powers not now available to American territories in order to reduce its $70 billion debt load. He also proposed a federal oversight board to help balance its budgets and manage borrowing. The president has called for increasing health-care funding for Puerto Rico and extending tax credits to the poor.
"This has been one of the real significant neglects by the Obama administration," Christie said when asked how he would deal with the island's fiscal problems. "I would be willing to help the people of Puerto Rico, but in return I would have to have strict control over their budgets going forward."
The remarks injected one of the largest issues in the $3 trillion municipal-bond market into the Republican race for the White House. It comes as Christie struggles to gain traction with voters ahead of the Feb. 9 contest in a state he's made central to his political ambitions. During this week's Iowa caucuses, the governor finished 10th out of 12 candidates, with 1.8 percent of the votes.
In 2014, New Jersey ranked third with the most Puerto Ricans in the U.S., behind Florida and New York, according to the Center for Puerto Rican Studies at Hunter College in Manhattan.
Adding oversight of the territory would continue a pattern for Christie. As governor, he led a state takeover of schools in the impoverished city of Camden and has backed a proposal to place Atlantic City under his administration's control as it grapples with a sinking casino industry.
Puerto Rico and its agencies racked up obligations after years of deficit borrowing even as its economy has shrunk every year but one since 2006. Governor Alejandro Garcia Padilla is seeking to reduce its debt by 46 percent by asking investors to accept losses on their securities and wait longer to be repaid. Puerto Rico warned bondholders that it may stop paying principal and interest if it's unable to reach an agreement with creditors by May 1, when a $422 million Government Development Bank payment is due.
Congress has held numerous hearings on Puerto Rico's financial troubles. Republicans, who control both chambers, favor a federal control panel to oversee the island rather than giving Puerto Rico bankruptcy access alone.
"We don't want Puerto Rico to go bankrupt and we don't want those people to suffer," Christie said. "This administration turned their back on it and now we are going to have to own it."
Before it's here, it's on the Bloomberg Terminal.
LEARN MORE