Closing the Deal
Trump, Cruz, and Rubio Intensify Attacks on Eve of Iowa Caucuses
In the final hours before the Iowa caucuses, the three leading Republican candidates sharpened their arguments against one another.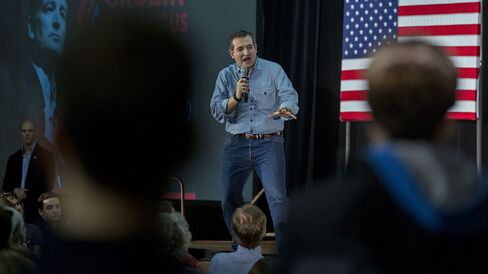 In Ted Cruz's world, it's 1979, and he's Ronald Reagan ready to upend the political order. "Scripture tells us there's nothing new under the sun," Cruz told an adoring crowd Sunday in Des Moines. "It didn't come from Washington. Washington despised Ronald Reagan."
He then pleaded with the voters to "awaken the body of Christ to pull us back from the abyss."
In the final hours before voters the Iowa caucuses, the rhetoric from Cruz and real estate developer Donald Trump was unusually heated as they made their closing pitches to voters.
"If you think things in Washington are going great, that we need to move in the same basic direction, make a deal or two, then I ain't your guy," Cruz said, calling himself the candidate for those who think "Washington is fundamentally broken" and "we need to take power out of Washington and back to we the people."
"We want Cruz!" the applauding crowd started chanting.
"You guys are incredible," the candidate responded in a humbled tone.
"You are!" a member of the audience yelled.
But it wasn't all love-fest. The Texan faced a rare heckler who interrupted and repeatedly yelled that Cruz looks "weird." The Texan's response captured some of the tension between him and his chief rival.
"Is that Donald Trump yelling in the back?" Cruz quipped as the crowd laughed and applauded and the heckler was escorted out.
The rally came one day after Trump opened up a 5-point lead over Cruz in the latest Bloomberg Politics/Des Moines Register Iowa Poll.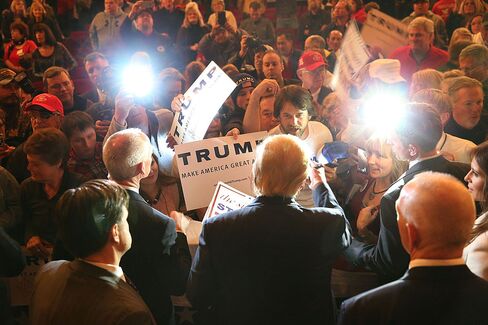 For his part, Trump whipped up a capacity crowd of about 800 people on Sunday at the historic Orpheum Theatre in downtown Sioux City.
"You've been lied to by the politicians," Trump said. "Whether it's in Iowa or anywhere... They get there [to Washington] and then they turn weak and they turn stupid."
Still, pundits question whether his supporters—many of them who haven't voted in several cycles or have never voted at all—will show up in large numbers to caucus for him on Tuesday night, especially as a blizzard is expected to begin later in the evening.
"Even if it starts a little early, who the hell cares? Go through the storm," Trump said. "If you're sick and your doctor says you cannot make it, it doesn't matter. Get up and caucus."
He predicted that if he's the nominee, he would "win states that the Republicans never put down as a possibility," mentioning New York, Florida, Michigan, and Virginia. "We're going to run the table, folks."
Trump appeared on stage with Jerry Falwell Jr., son of the late Rev. Jerry Falwell, founder of the conservative "Moral Majority" movement in the 1980s. Falwell had endorsed Trump earlier this month in what was his most notable backing within the evangelical movement, a slice of voters he's aggressively tried to pick away from Cruz.
Trump offered up one more prayer to evangelicals during his appearance Monday night, praising Falwell as a "great man" even "beyond religion, beyond Christianity, beyond evangelical."
"To have the support of Jerry and his family is an honor," Trump, a master of the humble-brag, said, adding, "I'm not a politician—remember, I'm a businessman."
After the rally, the former reality show host mingled with the crowd for nearly 30 minutes, signing autographs on red trucker hats emblazoned with his campaign's logo, "Make America Great Again."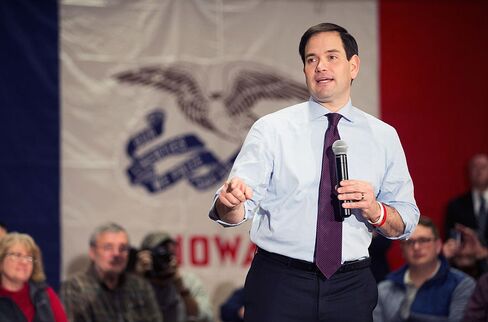 Running eight points behind Cruz, Marco Rubio and his advisers say he's content to finish third in Iowa. The Florida senator has also spent the last several days trying to raise expectations for his Texas colleague.
"Obviously, Ted is the front-runner," Rubio said on CNN's State of the Union, taking a long view for his own campaign. Arguing that Trump was beatable, Rubio predicted "a very unusual, highly contested, I think, longer-than-usual process given the size of the field and given the challenge before the country."
His aim is to try to stall Cruz's campaign and become the preferred alternative to Trump ahead of the New Hampshire primary. Besting the New York businessman there, however, seems all but impossible. In two polls released Sunday, Trump leads his competitors by margins of 18 and 25 points.
Rubio's deeper message centers on electability. He argued that he's the Republican best-positioned to defeat Hillary Clinton, implying that Trump and Cruz would be easier prey for Democrats.
In Cedar Rapids, Iowa, on Sunday, Rubio urged voters to caucus for a Republican who can win "not just the nomination" but "someone who has a chance to win the presidency."
While Cruz's surrogates argue that the Republican primary is effectively a two-person race between himself and Trump, the Texan is aiming arrows at Rubio, too, seeking to prevent him from rising and siphoning his voters.
Cruz's closing lines of attack could nearly fit on a bumper sticker.
"A vote for Marco Rubio is a vote for amnesty. And a vote for Donald Trump is a vote for Obamacare," he said on Fox News Sunday.
At the rally Sunday night, Cruz took another jab at Rubio.
"Every candidate is gonna say they oppose amnesty," he told the crowd, "even if their name is on the leading amnesty bill and they led the fight to pass it."
Before it's here, it's on the Bloomberg Terminal.
LEARN MORE