Obama's $1 Billion Cancer 'Moonshot' May Not Achieve Orbit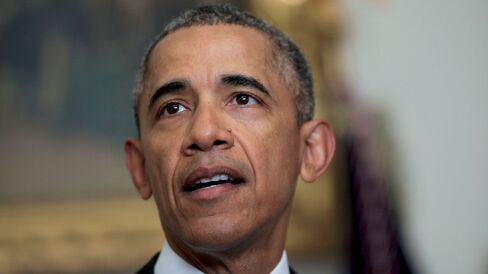 Vice President Biden leading cancer effort after son's death

Budget request represents the cost of one drug, industry says
President Barack Obama's plan to spend $1 billion to accelerate research toward cures for cancer is just a fraction of what President John F. Kennedy spent on the nation's actual moonshot.
NASA estimated in 1961 that it would cost $20 billion to put a man on the moon, or $160 billion in 2016 dollars. It costs about $1.4 billion, on average, to develop and bring to market a single new drug, according to researchers at Tufts University in Boston. Obama has proposed spending four times as much -- $4.1 billion -- over the next three years to teach schoolchildren how to write basic computer code.
"Spending only $1 billion on a so-called moonshot is an absurdity," Ted Okon, executive director of the Community Oncology Alliance, said in a phone interview. "If you're going to have a moonshot, you're talking about spending a lot more money on it. One billion dollars is not going to get you a rocket ship, much less off the ground."
The death last year of Vice President Joe Biden's son, Beau Biden, at age 46 spurred Obama to make cancer a policy and spending priority in his final year in the White House. Biden will lead a White House task force, comprised of officials from 13 federal agencies, to review and better coordinate federal spending on cancer research. The money is intended to speed research into the causes of cancer, treatment and prevention of the disease and to ultimately find cures.
"It's not enough, but it's a start," White House press secretary Josh Earnest told reporters on Monday. He said not to expect "a lot of sexy announcements" from Biden's panel, and that its work on issues such as data sharing and better organizing cancer research is "not going to move markets when it posts to the Bloomberg terminal."
Not Unwelcome
The White House said in a statement that Obama would spend $195 million on the initiative this year and request $755 million from Congress for fiscal 2017, which begins Oct. 1.
The U.S. pharmaceutical industry says it spends about $50 billion a year on research and development for drugs including those that treat cancer. That includes companies such as cancer-focused Bristol-Myers Squibb Co., which said it spent about $5.2 billion on R&D last year. The total doesn't include the billions of dollars a year spent by the biotechnology industry's smaller startups or the National Institutes of Health's $31 billion in research funding, or efforts by academic institutions and charities.
Within the National Institutes of Health, the National Cancer Institute has a budget of about $5.2 billion this year. That is not to say that an extra $1 billion is unwelcome.
"This money could be very, very effective," said David Pugach, federal relations director at the American Cancer Society's lobbying arm, the Cancer Action Network. The spending may help researchers capitalize on data from sequencing the human genome and advance new breakthroughs in immunotherapy, an approach to treating cancer that entails persuading the body's own immune system to attack tumors.
Anees Chagpar, the director of the Breast Center at Smilow Cancer Hospital at Yale-New Haven, said that $755 million would be enough for about 150 grants from the National Institutes of Health for basic cancer research, which average about $5 million each.
Flat Budget
"The investment of $755 million is a fraction of what the U.S. government spent to
put a man on the moon, and cancer research these days is expensive," she said in an e-mail. Still, "any infusion of resources (especially at a time when the NIH budget has been flat) is really welcome."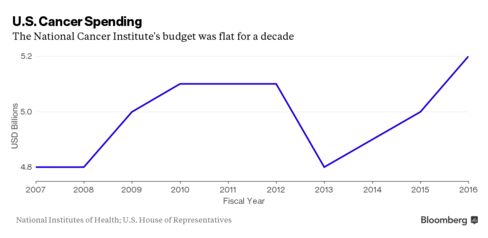 Prior to a 5 percent increase last year in the National Cancer Institute's budget, spending on the agency had been mostly stagnant during Obama's seven years as president. The money in his 2017 budget request, to be sent to Congress on Feb. 9, would be divided between the National Institutes of Health and the Food and Drug Administration, according to a White House statement.
Beau Biden, who had been the Delaware attorney general, died of brain cancer on May 30. His father cited his son's death as the main reason he decided not to undertake another bid for the Democratic nomination for president this year.
Obama plans to discuss the cancer initiative Tuesday when he meets with the U.S. House Speaker, Paul Ryan of Wisconsin, and Senate Majority Leader Mitch McConnell of Kentucky, Earnest said. Cancer spending is one of a handful of areas where Obama hopes to find agreement this year with the Republican congressional leaders, the White House has said.
Before it's here, it's on the Bloomberg Terminal.
LEARN MORE