McCarthy Cool to Second Clinton Inquiry by House Panel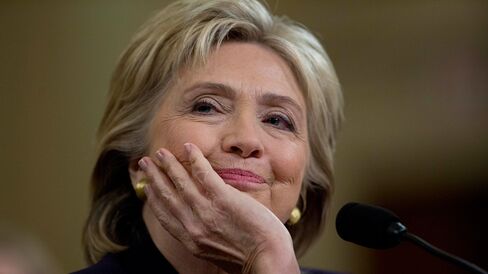 Majority leader says select Benghazi panel has jurisdiction

House Science panel launched its own investigation into e-mail
The launching of a new, second House committee inquiry into security concerns around Hillary Clinton's e-mail practices seems to have caught even the chamber's No. 2 Republican off-guard.
The Science, Space and Technology Committee, and its chairman Lamar Smith, announced Jan. 14 that it also is now scrutinizing the former secretary of state's e-mail set-up.
House Majority Leader Kevin McCarthy of California was asked Monday during a meeting with reporters about that news. He responded that it was his "impression" that the inquiry into the former secretary of state's use of a private e-mail server was under the jurisdiction of the Select Committee on Benghazi and its chairman, Representative Trey Gowdy of South Carolina.
McCarthy didn't directly answer about whether Smith, a Texas Republican, had sought pre-clearance from Speaker Paul Ryan before launching his separate committee probe -- and thus broadening the House's channels of inquiry.
Instead, McCarthy repeated that he had the same impression as did the reporter who asked the question, that the e-mails were under the jurisdiction of Gowdy's Benghazi committee. Later, McCarthy spokesman Mike Long said in an e-mail that the Benghazi panel's "only focus here is on e-mails that pertain to the attack in Benghazi."
Ryan aide AshLee Strong declined to comment on the matter. A spokesman for the Science Committee didn't respond to an inquiry on Monday about whether the new committee probe had been cleared by House Republican leaders.
Strategy Shift
The new involvement by Smith's Science panel would represent a shift in gears because previous Speaker John Boehner had deterred other chairmen, including House Oversight Chairman Jason Chaffetz of Utah, from investigating Clinton's e-mail activities. Boehner did so, in part, to limit accusations that House Republicans were stoking or expanding the number of congressional committee inquiries for political gain against the Democratic presidential candidate.
A news release that announced the science panel's inquiry said it had requested documents from several private companies that provided software and services to Clinton that enabled her to maintain a private e-mail server while serving as secretary. The companies included Datto Inc., SECNAP Network Security Corp., Platte River Networks and Fortinet Inc.
"Understanding these companies' roles in providing software and services to maintain former Secretary of State Hillary Clinton's private e-mail server is critical to improving government cybersecurity standards," said Smith in a statement.
"A high-profile government official deviating from established information security requirements raises significant concerns," he added. "The committee takes seriously its duty to ensure the NIST Cybersecurity Framework is properly equipped to safeguard our nation's information."
Before it's here, it's on the Bloomberg Terminal.
LEARN MORE