Why Cruz's Last-Minute Ads Attack Rubio, Not Trump
The Florida senator doesn't appear likely to overtake Cruz, but the new Iowa Poll suggests his supporters are more likely to switch than Trump's.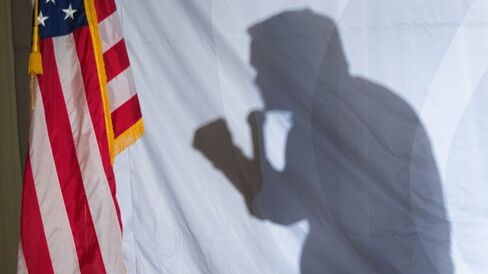 In the final week before the Iowa caucuses, Ted Cruz's campaign has quietly shifted its TV attack ads from hitting Donald Trump to hitting Marco Rubio, sparking speculation that he's worried about a late surge by his Florida colleague.
But the final Bloomberg Politics/Des Moines Register Iowa Poll shows that Cruz isn't in danger of being overtaken by the Florida senator. Rubio rose from 12 percent in early January to 15 percent among likely Republican caucus-goers, but the poll also found that he dipped by a few points over the four days that it was conducted. Cruz was in second place with 23 percent, while Trump led with 28 percent.
Cruz's strategy behind the Rubio attack is more complicated. The Floridian's supporters are more willing to switch their allegiance to another candidate than Trump's.
A whopping 71 percent of Trump's supporters say they're certain they'll vote for him, compared to just 29 percent who may yet switch, the Iowa Poll found. Among Rubio's supporters, 47 percent were committed while 53 percent said they may switch to another candidate.
The poll also found that Cruz is the clear second choice of Rubio voters, by a two-to-one margin.
"You know the song 'We Shall Not Be Moved'? That's Donald Trump supporters," said J. Ann Selzer, who conducts the Iowa Poll. "We know Rubio supporters are less likely to be locked in, and to the extent that they're looking at other candidates it's more Cruz than not."
One new Cruz ad hammers Rubio for supporting "amnesty" in 2013 after promising not to during his 2010 Senate campaign. A second ad bashes Rubio as "the Republican Obama"—showing Rubio's face on the famous President Barack Obama "hope" poster—and also knocks him over "amnesty," a significant vulnerability for Rubio on the right.
As of Friday night, Cruz spokesman Rick Tyler told Bloomberg Politics that those were the only two Rubio ads airing. He said the campaign wasn't currently running any anti-Trump ads, but wouldn't rule out changing that.
Tyler declined to comment on whether the campaign views Rubio's supporters as easier to swing than Trump's, and downplayed the overlap between Cruz and Rubio.
Tyler said part of the strategy is to correct "false claims" by Rubio that Cruz once supported legal status for undocumented immigrants.
"Rubio keeps trying to muddy the waters," Tyler said. "He's trying to make it look as if Cruz has a similar position to him [on illegal immigration], which he didn't. … We are correcting the record."
The Cruz campaign also wants to prevent Rubio from gaining traction and staying in the race, a scenario that could jeopardize Cruz's hopes of being seen as the clear alternative to Trump. A strong third-place finish for Rubio in Iowa could help him going in to New Hampshire, where he and Cruz, among several other candidates, are battling for second place behind Trump in recent polls.
Rubio sounded the alarm in a fundraising email to supporters Saturday.
"Ted Cruz and his allies are training all their attention on me in Iowa—after Thursday's debate, they know our campaign has momentum, and cheap, dishonest attacks are the only way they know to take me on," the senator wrote, adding that "we must respond right away to show we aren't going to allow the Cruz campaign to tear down my campaign."
The poll of 602 likely Republican caucus-goers was conducted Jan. 26-29 by Selzer & Company of West Des Moines, Iowa. The margin of error on the full sample is +/- 4.0 percentage points.
Before it's here, it's on the Bloomberg Terminal.
LEARN MORE