Singer, Griffin Give Combined $5 Million to Super-PAC Backing Rubio
Rubio also scored some Bush defectors.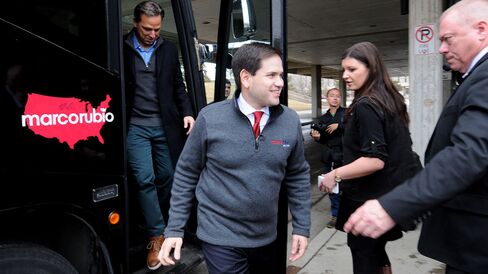 Billionaire hedge fund managers Paul Singer and Kenneth Griffin each gave $2.5 million to a super-PAC supporting Marco Rubio's run for the White House, bolstering the arsenal behind the U.S. senator as the primary season begins.
The contributions made up more than a third of Conservative Solution PAC's total haul of $14.4 million for the second half of 2015, according to a Federal Election Commission filing on Sunday. Auto dealership owner Norman Braman, who had already given $5 million to the group, added another $1 million during that time period.
Rubio has emerged as the leading Republican establishment candidate, trailing in Iowa behind Donald Trump and Ted Cruz, according to a Bloomberg Politics/Des Moines Register Iowa Poll released on Saturday. Conservative Solutions has raised more than $30 million total since the beginning of 2015.
Jeff Sadosky, spokesman for the super-PAC, said that the influx of funds allowed the group to start airing ads a month earlier than they had anticipated, at a time when Rubio faced a barrage of negative advertising. Conservative Solutions Project, a related outside group that doesn't have to disclose its donors, has also spent at least $8.1 million on ads backing Rubio.
"More money, an estimated $25.5 million nationally, has been spent attacking Marco than the rest of the GOP presidential field combined," Sadosky said in a statement.
The filing also signaled that Rubio is winning over some major donors who had previously supported former Florida Governor Jeb Bush, whose popularity has stagnated despite record fundraising by Right to Rise USA, the super-PAC backing him.
Chris Cline, the billionaire coal baron and principal owner of Cline Group, gave $500,000 to Conservative Solutions PAC. Jasper Reserves LLC, a subsidiary firm of the coal mining giant, had previously given $1 million to Right to Rise. Brian Ballard, a Florida-based lobbyist who had given $20,000 to Right to Rise earlier in the year, contributed $25,000 to the group backing Rubio.
Also among the contributions was $10,000 from Hobby Lobby, the closely held retail store that prevailed in 2014 in a Supreme Court challenge to a provision in the Affordable Care Act requiring employers to include contraception for female workers in their health plans.
The contributions from Singer and Griffin were the largest that the Conservative Solutions PAC received in the last six months of 2015. Both hedge fund managers ranked among the 50 biggest donors to federal political action committees in the last three election cycles, according to the Center for Responsive Politics.
Singer is a longtime Republican donor who gave $4 million to Restore Our Future, which supported Mitt Romney in the 2012 election. Singer also started his own super-PAC, American Unity PAC, which backed Republican candidates who supported marriage rights for same-sex couples. Singer gave the group $4.5 million.
In addition to the $2.5 million contribution to the super-PAC supporting Rubio, Griffin also gave a $2 million contribution to the Freedom Partners Action Fund, started by Charles and David Koch in the current election cycle.
In 2014, he gave more than $3 million to conservative groups, including $1.1 million to the Ending Spending Action Fund and $950,000 to American Crossroads. In the 2008 election, Griffin gave to members of both parties, and, according to the Center for Responsive Politics, raised between $100,000 and $200,000 for the presidential campaigns of Senators John McCain, a Republican, and Barack Obama, a Democrat.
Before it's here, it's on the Bloomberg Terminal.
LEARN MORE