Cash Machines
Sanders Banks More Than $20 Million in Donations in January
The Vermont senator's show of grassroots strength comes on the eve of the Iowa caucuses.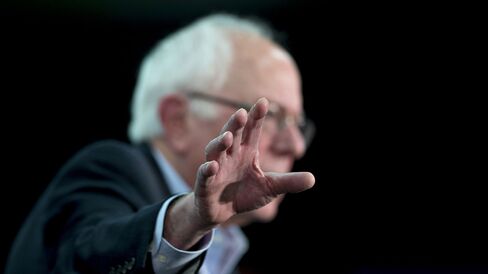 Bernie Sanders said his campaign raised more than $20 million in January, showing the depth of his grassroots support and a financial base that can fuel his presidential bid beyond the first-in-the-nation caucuses.
The announcement comes as the two Democrats are locked in a tight race for Monday's Iowa caucuses. Democratic front-runner Hillary Clinton leads Sanders, 45 percent to 42 percent, according to a Bloomberg Politics/Des Moines Register Iowa Poll of likely Democratic caucus-goers released Saturday.
Clinton's campaign has already said that it raised $37 million in the final three months of the year for the primaries, while a super-PAC supporting her, Priorities USA, said that it had raised almost $10 million in January. The group also said it has an additional $42 million in fundraising commitments and has a total of $45 million of cash on hand. Another group backing Clinton, American Bridge 21st Century, today reported that it raised $4.2 million in the fourth quarter of 2015.
Sanders is eschewing the help of super-PACs, making his support among small donors a key rallying point on the campaign trail. The money he raised last month came from more than 770,000 individual contributions, the average amount of which was $27, according to the campaign.
"The numbers we've seen since Jan. 1 put our campaign on pace to beat Secretary Clinton's goal of $50 million in the first quarter of 2016," Jeff Weaver, Sanders' campaign manager, said in a prepared statement. He added, "Bernie's campaign is built for the long haul."
Campaign committees and super-PACs must file end-of-year fundraising details by the end of today.
Before it's here, it's on the Bloomberg Terminal.
LEARN MORE