Iowa Electorate Is Sophisticated—and Impressively Modest
Politics is a basic food group in Iowa—and one that is far more sustaining than many might imagine.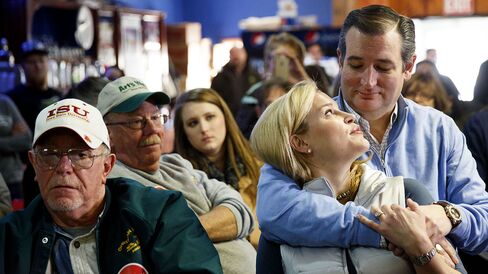 There is a general consensus, perhaps indicative of the general fatigue of anyone who has been following this insane presidential race for more than a year now, that Iowans are ready for all of this madness to pack up and go home. "The whole season of politics is super-annoying. It's like, people coming and going, and ads and stuff," one indicative Iowan told the Cedar Rapids Gazette. The theory here is that the caucus is like the Super Bowl, or the Olympics, a traveling road show that upsets the locals with a bunch of elite jackasses storming Des Moines and leaving a mess behind, infecting their airwaves with negative ads and pounding on their front doors every hour of the night.
And obviously there's an element of truth to this. Iowa's first-in-the-nation status, and the professionalism of politicking that has turned presidential campaigns into three-year sojourns rather than one-year ones, has turned the caucuses not into an Olympiad occurrence but a constant one: Many 2016 candidates started making their first appearances here not long after President Barack Obama beat Mitt Romney 38 months ago. But having driven all over this state this week, while I've certainly seen my fair share of exhaustion, I've more often seen a casual, impressive, and sneakily patriotic acceptance among Iowans of their unique status on the electoral calendar. They neither embrace nor reject all these white men in suits descending on their state and yammering on about ethanol, as if they care. They simply recognize it as part of living here, like the snow or open roads or the Hawkeyes disappointing once they reach the big stage. It simply is.
"We pretty much are in caucus season every year with the season growing longer as we get closer to the actual caucuses," says John Skipper, a political reporter for the Mason City Globe-Gazette who has covered the caucuses for 30 years (and wrote a book about them). "Iowans are more engaged. But they'll be ready for the herbicide commercials to come back next week too. Even unengaged people know more than they would have without the caucus fever."
Which is to say: Politics are a big deal everywhere else, but they are not a big deal here. That is different than saying that Iowans do not care. It just means politics is part of the backdrop of their lives, which normalizes it in a concrete way that's just not the case in the rest of the country. The vast majority of Americans will go their entire lives without being in the same room as someone running for president. Iowans have those people stick a hand in their face when they're trying to eat a slice of pizza.
It has made them smarter about politics. The charming thing about a lot of Iowa audiences is that they clearly have a blast being the center of the nation's attention for a month, and many of them go from event to event, candidate to candidate, comparison shopping, an excuse to get in out of the cold. This makes them impressively up on the issues of the day in a way a traditional American audience is not, and a lot more open-minded than one might suspect. Before a Ted Cruz event in Ottumwa on Tuesday, a man at my table, wearing overalls and a Iowa Hawkeyes hat, led a spirited conversation that hopped from topic to topic, from pharmaceutical prices to tax policy to college education to Mexico to Wall Street. Candidates were seen as of a piece, regardless of party; Donald Trump was name-checked—half the table had been interviewed at at least one Trump rally—but so were Hillary Clinton, Jeb Bush (whose reputation has been so sullied by this campaign that the mere mention of his name draws chuckles), and even Bernie Sanders. One woman said she was fed up with Trump because all his speeches were "I, I, I, I, I, me, me, me, me, me," and that "we'd had enough of that already with Obama." Her nephew, a teenager, had just come from guitar practice, agreed, and said, with the assurance of a minister, that Trump fell prey to "pride and arrogance."
But there's nothing self-conscious about this awareness, which is the best part about it. There was no sense that there was anything special about Cruz visiting the charming Bridge View Center in Ottumwa—a venue that, as soon as everyone leaves, will go back to hosting the Cow-Calf Conference and UIIC Farm Show, the Price Is Right live show, and Tru Revelation MMA—even though Cruz is one of the four humans most dominating every aspect of the national conversation right now. At one point, a Cruz staffer—most Cruz staffers, somewhat unnervingly, look like younger versions of Cruz at various points of his life—setting up a merchandise table dropped a lawn sign and then tripped on it. He composed himself, smiled, held his hands together and said to our table, "Pray for me." Everyone laughed. "He seems like a nice boy," one elderly woman said. Then conversation moved onto the weather, and Iowa's undefeated start to the Big Ten basketball season.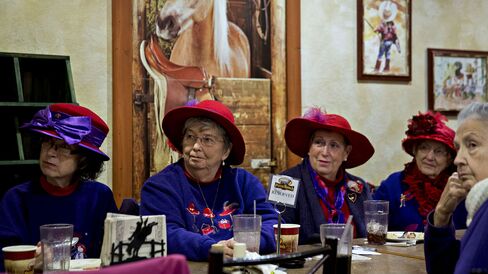 The next day, in Mason City, a group of elderly women called the "Red Hat Society"—they wear purple outfits and red hats and meet at the restaurant for lunch together once a month—ate pizza in the back of a Pizza Ranch while Rick Santorum made his pitch to voters. They carried on their conversation like he wasn't there—before, during, and after his speech. After Santorum left another table of diners, one yawned to the man next to him, "Which one was that one again?"
Politics here are merely life: Noteworthy, but no more noteworthy than anything else. Before the Cruz event, in the middle of the afternoon, I walked around the Bridge View Center, which sits on the edge of the Des Moines River. There's a section of the road nearby that's closed, which means certain segments of the parking lot are obscured on one side of the building; if you're not looking, you wouldn't think to park there. As I turned the corner to that section of the parking lot, I saw two vehicles. One was an empty oversized black SUV that I assumed was part of Cruz's security team. The other was an old brown Jetta with a bulldog panting in the backseat. I looked to the front … and saw two teenagers making out, comfortable in their secure, obscure area, hidden away for some afterschool necking. They saw me, with my notebook and long dark coat, and tried to compose themselves, startled just like I was. The dog stayed put.
(The car was gone by the time I walked back around, mercifully.)
Those kids likely knew there was a Cruz rally there that day, and they didn't really care. They had some necking to do and found a nice quiet spot to do it until I came by and accidentally ruined it. That spot just so happened to be right next door to a U.S. senator who has a non-zero chance of becoming the most powerful person in the planet in the next 365 days. Whaddya gonna do? You park where you park.
This election is a big deal for the rest of us. But here in Iowa, it's just another part of the landscape. Not something to ignore. But not something to get all that worked about, either. This strikes me, as it turns out, as the sanest way to react to this presidential election, and all of them. The trains will still run, the guitar will still need to be practiced, the car will still need to be parked, the Price Is Right live show must go on. Listen to the Iowans. Even when we're all gone.
Before it's here, it's on the Bloomberg Terminal.
LEARN MORE