Obama Assures Democrats of November Victory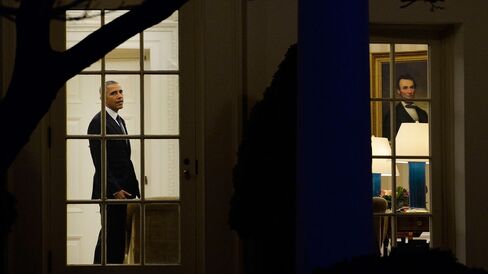 Republicans running to replace him lack ideas, president says

Obama's Asia-Pacific trade deal is opposed by many Democrats
President Barack Obama assured U.S. House Democrats that their party would win November's presidential elections, describing Republican candidates for the White House as cynics who paint a false portrait of a nation in decline.
"We're doing a lot better than we were seven or eight years ago," Obama said on Thursday in Baltimore, at the Democrats' annual retreat. "We've got a long way to go," he said, urging the House members to ensure that new policies help average American families "and not a bunch of special interests trying to either hang onto what they've already got or get more that they don't need -- that's what the Democratic Party stands for."
Beginning with his State of the Union speech earlier this month, Obama has gradually inserted himself into the campaign to succeed him in office. His speech to House Democrats in Baltimore amounted to a proposed platform for the eventual Democratic nominee.
"Democrats aren't perfect but, you know, we are on the right side of this debate, and we're not cynical," he said.
The president reiterated many of his long-held legislative aspirations, including several that have been repeatedly rejected by Republicans in the House and Senate. He said Democrats should continue to advocate for an increase in the minimum wage, paid leave from work for illness or to take care of family members, and investments in renewable energy sources at the expense of subsidies for fossil fuels.
The president also called for action on several issues that have received some bipartisan support, including a debt restructuring option for the struggling island territory of Puerto Rico.
"The most urgent tool we need right now -- a comprehensive restructuring authority -- cost taxpayers nothing and it helps more Americans regain control of their own economic security," he said. "That's the kind of thing that Democrats believe."
Obama met with House Minority Leader Nancy Pelosi and Senate Minority Leader Harry Reid on Tuesday, to discuss those and other proposals for the year ahead.
The president has yet to meet privately with House Speaker Paul Ryan since he replaced former Representative John Boehner in October.
Trade Deal

Obama will need Ryan and Republican lawmakers to pass one of his top priorities, the Trans-Pacific Partnership trade agreement. Most Democrats oppose the 12-nation Asia trade deal and the president didn't spend time on Thursday trying to sell it.
Pelosi spoke out last year against giving Obama so-called fast-track authority to negotiate the trade deal, encouraging Democrats to slow down Obama's trade agenda. She said Wednesday that members are reviewing the agreement and would not be bound by last year's opposition.
"What I've said to members is a vote on fast-track is one vote," she told reporters. "Now you review TPP in its substance and we'll see what the decisions are."
Republican leaders in Congress have threatened to postpone a vote on the trade deal until after the November elections, one indication of how this year's political contests have begun to overshadow the legislative process.
Biden's Gifts
In a speech to House Democrats earlier Thursday, Vice President Joe Biden said the Republican presidential race, led by candidates Donald Trump and Ted Cruz, may be "a gift from the Lord" for Democratic candidates in 2016.
He also said the budget proposed by Ryan in 2010 was "such a gift" to Democrats because it included a slew of cuts to popular programs. Democrats should highlight those cuts as they campaign against Republicans, he said.
"I don't know why we just don't keep pounding at this in our electoral process," Biden said.
Ryan's spokesman, Doug Andres, said that Republicans have taken control of the House and grown their majority in the years since Ryan first proposed his budget.
"The president has failed to offer solutions to the priorities of the American people, and it's left House Democrats in the political wilderness," he said in an e-mail.
Before it's here, it's on the Bloomberg Terminal.
LEARN MORE