A Trump-less Republican Debate, By the Numbers
Cruz and Rubio sparred for the debate win while no-show Trump still came out ahead.
There was no empty podium at Thursday night's Republican presidential debate, yet there might as well have been considering the "elephant not in the room," as Fox News moderator Megyn Kelly put it: billionaire Donald Trump.
By skipping the debate and hosting a rival event, Trump drastically changed the feel and substance of the final GOP face-off before the Iowa caucuses on Monday.
A Trump-Sized Opportunity
Without Trump, the stage was missing the debater who, according to data collected by Bloomberg Politics, has been the most camera-hogging, crowd-pleasing, self-referencing and plain-speaking. The average grade level for last night's debate—a measure of the sophistication of candidates' language—ticked up slightly to 7.4 from 7.2 across the previous six events. It was also a considerably less combative evening, with the number of inter-candidate attacks falling to 15 from 27 in the previous debate.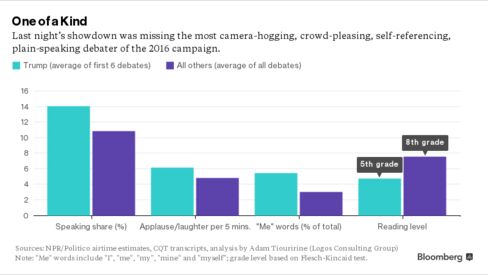 As for who won Trump's share of the limelight, it looks like a tie between Senator Ted Cruz of Texas, currently in second place in most Iowa polls, and Senator Marco Rubio of Florida, who's vying for a third-place finish. They were the only candidates whose speaking times, as measured by NPR, out-performed their expected speaking times, as calculated by Bloomberg Politics based on how much more or less they've spoken in previous debates compared to if total speaking time had been divided evenly among participating candidates.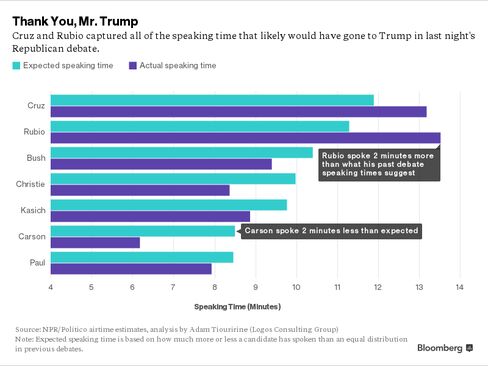 This added attention meant Cruz and Rubio also dominated on related metrics, such as the number of questions received, attacks targeted at them, and applause and laugh lines.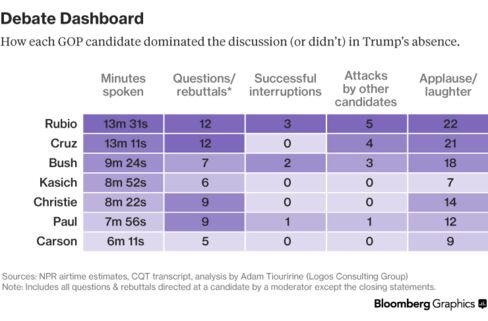 Trump vs. Fox News
Trump may have ultimately benefited from his controversial decision to avoid the main stage, commanding a lion's share of interest on social media, the broader Internet, and cable TV.
On Twitter, he represented 36 percent of the conversation surrounding the #GOPDebate hashtag, according to the company. That was more than twice as much as the two most-visible actual debaters: Cruz (16 percent) and Rubio (13 percent). Online, he was by far the most-searched candidate during the debate, according to Google Trends.
Trump's event, billed as a fundraiser for veterans, dominated CNN and MSNBC while the debate ran on Fox News. Trump accounted for 64 percent and 52 percent of coverage during the period, respectively, based on a Bloomberg Politics analysis of comparative snapshots taken at 5-minute intervals.

Lessons From Seven Debates
Over seven debates, Republican candidates' speaking times match their rises and falls in the polls. Cruz has mastered the art of grabbing airtime, threatening even Trump's early dominance. Former Florida Governor Jeb Bush slumped after lackluster early performances, while retired neurosurgeon Ben Carson failed to turn a brief polling surge and robust fundraising into lasting momentum.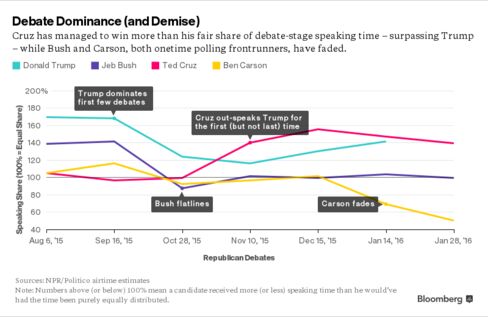 The debates have become must-see TV for millions of people, making them a key opportunity for candidates to make their cases to voters. Ohio Governor John Kasich has honed his pitch as a budget balancer while Senator Rand Paul of Kentucky touts his isolationist military stance.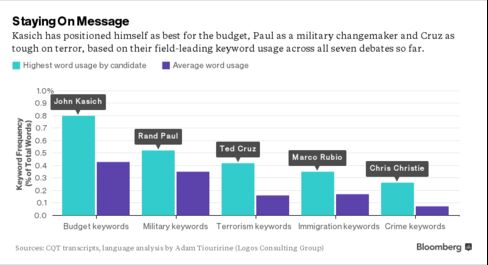 With 346 mentions of "tax" and "taxes" across seven debates, the taxman is Republican candidates' single biggest bad guy. Put together, the contenders have mentioned President Barack Obama (195) and Democratic candidate Hillary Clinton (201) even more often than taxes.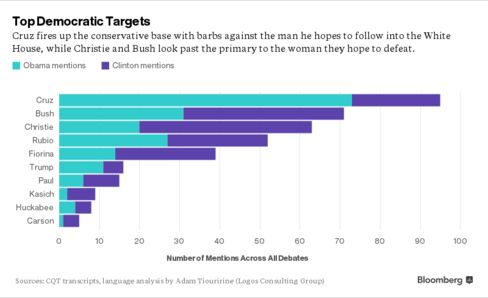 —Bloomberg contributor Adam Tiouririne of Logos Consulting Group advises senior business leaders on high-stakes communication and researches language, leadership, and the media.
(
Corrects Carson speaking time in second and third graphics.
)
Before it's here, it's on the Bloomberg Terminal.
LEARN MORE