Who Will Win Iowa? Here Are Nine Credible Predictions
Statistical models, betting markets, and the Internet weigh in. The most common pairing: Trump and Clinton.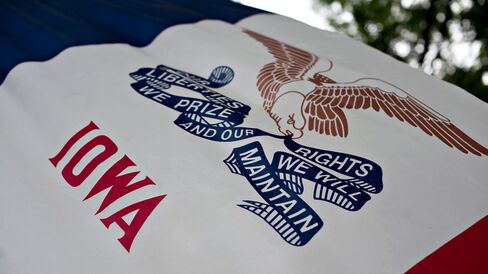 After months of campaigning, Iowans will finally cast the first votes of the 2016 presidential race on Monday. Politics fiends and casual observers alike want to know who will win. From poll aggregations and betting markets to Google search data, the predictions are stacking up. And to judge by these numbers, the race is close—and seemingly only getting closer as Monday approaches.
PredictWise: Trump and Clinton
The research project led by David Rothschild, an economist at Microsoft Research in New York City, successfully predicted the winner in 21 of the first 26 primary contests in 2012, including Iowa. This time around, he's aggregated various prediction markets to come up with a 56 percent chance of Donald Trump winning the caucus as of Thursday afternoon. After favoring Texas Senator Ted Cruz (currently seen with a 38 percent chance) for most of December and early January, the markets flipped back strongly for Trump because, as Rothschild explains, "they're looking at things beyond the polls here: the governor of Iowa strongly pushing against Ted Cruz, the question of how people may vote strategically, this question of where the establishment wants to show its support going into New Hampshire."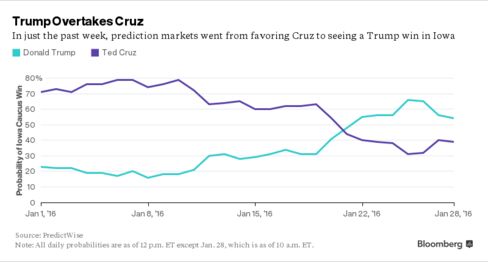 On the Democratic side, Rothschild sees an even higher 68 percent chance of Hillary Clinton pulling out a win in the end. "Markets never had Bernie winning" despite gains in recent Iowa polls, he points out, likely because of a "strong feeling there that Hillary is cementing the ground game in Iowa, plus the endorsements she's received."
FiveThirtyEight: Trump and Clinton
As of Thursday, FiveThirtyEight.com, the news organization run by former New York Times stats guru Nate Silver, gave Donald Trump a 59 percent chance of winning the caucuses with its weighting of state polls. (The site has spent months predicting a blow-up by the mogul that hasn't yet materialized.) Cruz came in second with a 32 percent chance. A more nuanced prediction, which tries to expand the model to calibrate the impact of national polls and endorsements, still showed the mogul ahead of Cruz, but put Trump at 48 percent, with a 7 point lead.
On the Democratic side, the site gave Clinton a 65 percent chance of winning the Democratic caucuses in its weighting of Iowa polls. Including national polls and endorsements, it raised Clinton's chances to 76 percent.
RealClearPolitics: Trump, and ... toss-up
The site, which aggregates polls, had Trump in the lead among Republicans, with support from 33.2 percent of those polled, and 26.7 percent going for Cruz. For the Democrats, it had Clinton leading in Iowa by just 1.1 percentage points on Thursday.
Google Trends: Trump and Sanders
Looking at Iowans' Google searches, the momentum on the Republican side is clearly behind Donald Trump, who's been the most-searched candidate every day for the past week outside of a few hours on Sunday when Marco Rubio, who'd just received the Des Moines Register Republican endorsement, grabbed the Internet spotlight. Drilling down, Trump accounted for 46 percent of the searches among the "top-searched candidates" (others, in descending order, were Cruz, Marco Rubio, Ben Carson, and Rand Paul.) Moreover Trump was the most-searched candidate in 83 of Iowa's 99 counties since the first GOP debate.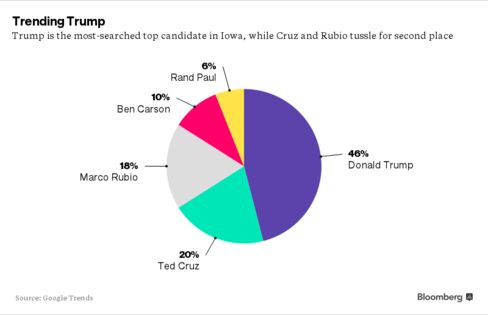 The Democratic side of the coin shows Sanders edging out his chief rival in the search stakes this past week, with 52 percent of candidate search interest in Iowa to Clinton's 42 percent.
Charlie Cook: Cruz (in the end)
Political analyst Charlie Cook, of the venerated "Cook Political Report," wrote on Jan. 8 that Cruz would consolidate conservatives because of the strength of his organization "which is para­mount in try­ing to get voters out and stick around for two hours on a very cold Monday night." Trump, he said, dominates the populist lane for now, and Cook didn't say which segment of the party would triumph in the caucuses. Ultimately, though, he thinks Republicans will get behind Cruz once they "have fin­ished vent­ing their spleens."
Ballotcraft: Cruz and Sanders
This fantasy politics game co-founded by two Stanford grads already has thousands of players, according to CEO Dennis Jiang. Players buy shares in candidates using fake money in an attempt to correctly predict debate and election results in order to eventually win. Ballotcraft puts the chances of a Cruz victory in Iowa at 44 percent as of Thursday afternoon (and ahead of Trump with 40 percent), thanks in part to player confidence in his ground game. Players also see a tight race on the Democratic side but are relatively more bullish on Sanders, giving him 52 percent odds to Clinton's 47 percent, with one possible reason being that the site's demographics slant younger, explains Jiang.
Political Insiders: Cruz and Clinton
If history is anything to go by, endorsements by sitting and former local lawmakers should count for something, even amid a seeming wave of intense anti-establishment fervor. Ironically, it's Ted Cruz who, despite seemingly having few friends among his own colleagues in the Senate, has received the only official endorsement from a member of Iowa's congressional delegation—Tea Party darling Rep. Steve King. He has also locked up the support of 12 current Iowa state lawmakers, more than any other candidate in the race, by Bloomberg's latest count. Factoring in former Iowa state legislators and members of Congress gives Bush a much-needed boost, putting him at 23 total endorsements to Cruz's 13.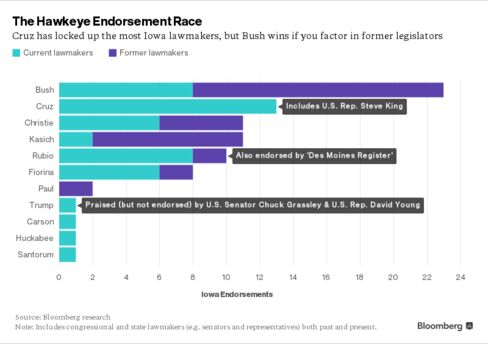 Hillary Clinton is nothing if not an endorsement juggernaut, already outpacing any Democratic nominee since at least 1984 in congressional endorsements, according to a FiveThirtyEight analysis. Of more interest to Iowa voters is her early support from the state's sole Democratic congressman, David Loebsack, and most recent Democratic senator, 5-term Tom Harkin. She recently clinched the Des Moines Register's coveted endorsement.
Google News: Trump and Clinton
With 1,164 stories written about him in Iowa over the past four weeks, Donald Trump remains the master of free media coverage going into the caucuses, according to an analysis by Google News. As for the Democrats, Hawkeye readers (and voters) will have seen nearly more headlines about Clinton (1,157 stories) than about Sanders (989).
Ken Goldstein: Depends on turnout
The University of San Francisco professor and Bloomberg Politics contributor said it will depend on how many first-time-caucus-going supporters Trump can turn out. "If you think the Iowa caucus electorate is going to be a bit over 120,000 people and have the composition that it typically does, then Cruz will likely win," he said. "If you think that both the size and shape of GOP caucus participants is likely to be larger and different, then Trump will likely win."
Before it's here, it's on the Bloomberg Terminal.
LEARN MORE