The Kids Are Alright
Sanders Pins His Iowa Hopes on Fickle Voting Bloc
Like past presidential hopefuls, the Vermont senator is eyeing the notoriously fickle college-age demographic in the Hawkeye State.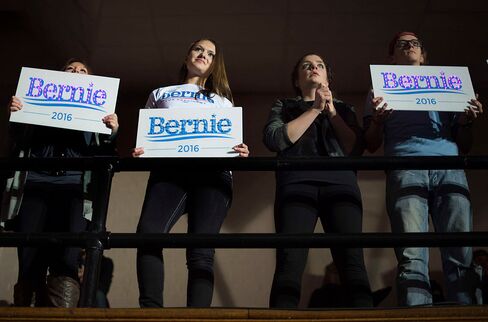 When the history of Bernie Sanders' presidential bid is written for Iowa, one factor looms large: Did young people caucus for him, and where?
With polls showing Sanders locked in a tight race with Hillary Clinton, the Vermont senator expects he'll win the first-in-the-nation caucuses on Monday if there's a high turnout. If not, "we're going to be struggling,'' he said after a campaign stop Tuesday in Des Moines.
That's why Sanders's campaign has focused so intently on mobilizing students and other young people who overwhelmingly support him in polls over Clinton, the former secretary of state and Democratic front-runner. The Sanders campaign is even arranging to drive students to their home precincts, where their backing of Sanders can be more valuable than at their campuses.
"The youth vote is critical,'' said Tad Devine, a senior advisor for Sanders, the Vermont senator. "Without overwhelming support and strong turnout from young voters, we really don't have a clear path to victory.''
Only 4 percent of eligible voters under age 30 participated in the 2012 presidential caucuses in Iowa, compared with 13 percent in 2008, when Barack Obama targeted young people and at least 30,000 supported him, according to the Center for Information & Research on Civic Learning and Engagement, a research group at Tufts University.
While the Sanders campaign isn't expecting the same number of participants that backed Obama in 2008, it hopes to reach a similar percentage in the race that also includes former Maryland Governor Martin O'Malley, Devine said.
Past presidential candidates have had mixed success wooing young voters, who are notoriously less reliable than those 45 and older. Former Vermont Governor Howard Dean tried in the 2004 Democratic Iowa race, yet only 4 percent participated and he finished a distant third behind John Kerry and John Edwards.
Sanders is counting on more enthusiasm from his youthful supporters. A Quinnipiac University poll of likely Democratic caucus participants released today showed that respondents between the ages of 18 and 44 backed Sanders by almost a 4-to-1 margin, 78 percent to 21 percent. Overall, Sanders led Clinton 49 percent to 45 percent, with O'Malley at 4 percent, the poll found.
The Vermont senator started the final week of campaigning before Monday's caucuses with events at three college campuses, imploring students and other Iowans to get involved because "Democracy is not a spectator sport.'' He also outlined his policy proposals that are appealing to young voters, including free college tuition at public colleges and universities to help students avoid crushing debt.
"He stands for a more progressive America, where young people can get a leg up,'' said Alex Lundy, 21, a senior at Grinnell College who plans to back Sanders when he participates in the caucuses for the first time.
At stops at Grinnell, Iowa State University in Ames, and Ellsworth Community College in Iowa Falls, Sanders made the case that Republicans win low-turnout elections—including the 2014 midterms, when 80 percent of young voters stayed home, he said.
"We win elections when people are not demoralized, when people have hope, when people are prepared to stand up and fight back,'' Sanders said at Ellsworth Community College.
Outside of each venue, Sanders supporters holding clipboards or manning tables with computer tablets signed up students to caucus.
The campaign is identifying and sending young voters text messages and e-mails, and targeting them with ads on Facebook and other social media, Devine said.
In an effort to encourage students to caucus away from college campuses, where support for Sanders is incredibly strong, many volunteers are pushing an initiative called "Go home for Bernie."
Students can register where they live on campus or back home elsewhere in the state, and the caucus rules require that a candidate must meet a viability threshold in each of the 1,681 precincts to be eligible to win delegates.
It remains to be seen whether students will be motivated enough to "go home for Bernie,'' especially if it's far from their campuses, said Dianne Bystrom, director of a center for women and politics at Iowa State. She noted that in 2008, the caucuses were held when school was not in session.
"I certainly understand why Sanders is doing it from a strategy point of view,'' Bystrom said. "I just don't know how successful it's going to be.''
Still, students can make the difference for Sanders in Iowa because they are more passionate than Clinton supporters, said Danny Cook, 18, a freshman at Iowa State and president of Students for Sanders on campus. She said working with the Sanders's field office in Ames, about 4,000 students there have signed commitment cards to caucus for the Vermont senator.
Cook said Sanders won her backing because of his vow to change campaign finance rules to reduce the influence of money in the political process, and, unlike Clinton, she trusts him to follow through.
"She could say a million different things, and I don't feel as though I'd really know what she'd do in office,'' said Cook, who is studying marketing. "I feel like Hillary's supporters tend to be a little more ambivalent.''
Clinton rejected that notion when a young questioner asked her about it at forum in Des Moines televised by CNN on Monday, saying millions of dollars have been spent criticizing her during her long career.
"And you have to say to yourself, why are they throwing all of that?'' she said. "Because I've been on the front lines of change and progress since I was your age.''
Before it's here, it's on the Bloomberg Terminal.
LEARN MORE