Resetting Expectations in Iowa, Cruz Braces for Long Fight With Trump
The senator's campaign is touting their long game as he barnstorms Iowa in an effort to hold off the hard-charging billionaire.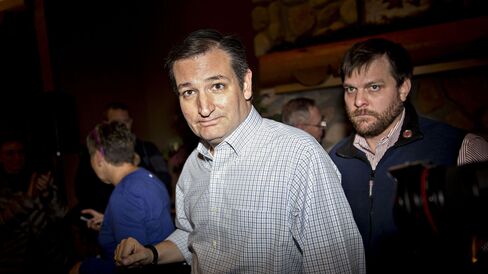 His lead in Iowa all but erased by Donald Trump, Ted Cruz's campaign is lowering expectations for the caucuses with days to go even as the Texan is still positioning himself as the only Republican who can defeat the billionaire juggernaut.
Top Cruz advisers say they are bracing for the long haul no matter what happens in Iowa, where Cruz and Trump are locked in a heated battle atop the field. Their fight took a new twist on Tuesday when Trump's campaign said he would skip the debate on Thursday night and instead host an event to raise money for veterans. Cruz seized on the move to claim Trump was "afraid" of Fox News moderator Megyn Kelly.
Cruz is "fully expecting that this will be a long, hard-fought battle to the nomination," said his chief strategist, Jason Johnson, on Tuesday as Cruz campaigned at a steakhouse in Albia, Iowa.
"We've invested in our infrastructure across the country, and focused not only on fundraising but also on reserving that cash and managing that cash," Johnson said.
When Cruz surged to the lead here in early December, expectations rose sky-high for an Iowa victory, fueled by the fact that the conservative and evangelical leaning of the electorate suited the Texan's strengths. By the end of Tuesday, however, Trump had led in eight of the last 10 Iowa polls.
"From the beginning we had every single pundit out there saying Ted Cruz couldn't win—how he's too extreme, how he didn't have the ability to win," said Cruz spokeswoman Catherine Frazier. "We've steadily climbed, we've steadily built our way to a place where we can compete to win. ... To look at where we've started, and where we've come, for someone to say that all along Ted Cruz was expected to win Iowa, they haven't been paying attention. We're playing to win everywhere."
Cruz recently warned pastors that if Trump wins Iowa and New Hampshire, where he has a large lead, "there's a very good chance he could be unstoppable and be our nominee," according to the Washington Post. Cruz told them that "the simple reality is there is only one campaign that can beat Trump."
Cruz also trivialized the campaign of Marco Rubio, who is stuck in third place and continues to battle for that position with Jeb Bush and Chris Christie. When asked at a town hall in Ottumwa, Iowa, about Rubio's criticism of his tax plan, Cruz began by referring to his colleague as "some other candidate...I didn't recognize the name."
The two front-runners, meanwhile, remain locked in a war of words that has grown more intense by the day. Trump has assailed Cruz as a "nasty guy" who's unable to work with his colleagues, while the Texan portrays the New Yorker as a closet liberal and sock puppet for conservatism.
"It's down to two men," Bob Vander Plaats, an influential Iowa evangelical, told a crowd on Tuesday as he introduced Cruz. "It's between Donald Trump and Ted Cruz."
Vander Plaats, who endorsed the Iowa caucus winners in 2008 and 2012 and has thrown his weight behind Cruz in 2016, launched fierce attacks on Trump's "arrogance." He assailed Trump for degrading John McCain's military service, for "judging and mocking" a disabled reporter, and for joking recently that he could "shoot someone" in the middle of New York City and still not lose supporters.
He said America needs leaders who "fear God" rather than "believe they are God."
Cruz was also joined at campaign events on Tuesday by former Texas Governor Rick Perry and Representative Steve King, both of whom have endorsed him. King, seeking to unite conservatives behind Cruz, urged them not to vote for a third candidate because the primary has become "a binary decision" between the Cruz and Trump.
Meanwhile, flailing candidates Rick Santorum and Mike Huckabee are also hammering Cruz as they struggle to recreate the magic with Iowa evangelicals that won them the 2012 and 2008 caucuses, respectively. In a lighthearted display of frustration, Cruz joked to voters that mailers attacking him "make really good kindling in your fireplace."
Before it's here, it's on the Bloomberg Terminal.
LEARN MORE