Ad Inflation
Local TV Prices Push Super-PACs to Go National
Spending on national ads this cycle may be four times more than in 2012.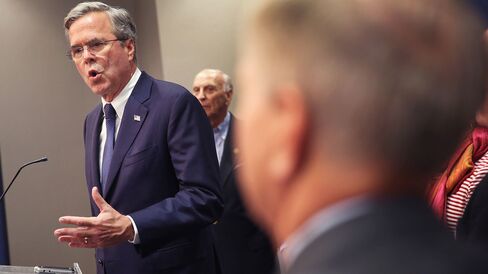 The competition for the most valuable TV time in early voting states has driven up the price for political advertising so much that some groups have concluded they may as well buy national ad spots.
The shift to the broader and more expensive ad campaigns is a byproduct of the vast wealth fueling the 2016 race for the White House. And while most ads are expected to remain at the local level, spending on national spots on cable and network TV combined will nearly quadruple to $300 million in this cycle from $76 million in 2012, according to Kantar Media's CMAG, which studies political ads.
"Even buying it piece by piece in really small states, it's getting so expensive that at some point it makes sense to just go national," Ken Goldstein, a professor at the University of San Francisco and an analyst for Bloomberg Politics, said. "I think there's going to be more."
While political campaigns get lower rates to advertise on local broadcast TV, outside political groups aren't given such price breaks and are subject to the forces of supply and demand.
For example, Right to Rise USA, a super-PAC supporting Jeb Bush, had a contract to pay $80,000 for a 30-second ad on WBZ-TV in Boston during the New England Patriots game on Dec. 27, and was billed $26,000 for a 30-second ad that ran during prime time on Jan. 11 on the same CBS affiliate, which also serves New Hampshire, Federal Communications Commission records show. In comparison, 30-second national ads during The O'Reilly Factor on Fox News are going for between $35,000 and $42,000, according to a person with knowledge of the prices.

Political ad spending is already outpacing previous cycles. According to CMAG, more than 150,000 ads have been purchased since the beginning of 2015 in the presidential race. That's 41 percent more than had been bought by this point in the 2012 cycle. So far, most of the ads have run on stations in New Hampshire and Iowa, which holds the first-in-the-nation caucuses on Feb. 1. On national cable TV, more than 2,000 spots have already run, compared with 841 that had appeared at this point in the 2012 contest, according to CMAG.

"The markets that they need to be in really are saturated," Elizabeth Wilner, a senior vice president for Kantar Media, said. "It may not be about price but it may be about placement and reach."
Some of that rise can be attributed to Republican candidates who want to air ads on Fox News, which has accounted for more than 80 percent of national cable ads, according to CMAG. "Because the Republican primary is so crowded, it's been more important to try to use advertising to target the opinion elite," she said.
A national strategy also makes more sense this cycle because of the number of Republican candidates still vying for the nomination. That means the early voting states could prove less decisive in winnowing the field to one or two contenders, raising the number of states that could prove important in the nominating process. So while airing ads in Democratic strongholds such as New York doesn't make sense during a general election for Republicans, its makes more sense when they're fighting for delegates during the state's April 19 primary.
"New York, Illinois and California don't matter for Republicans in the general election, but do in primaries," Goldstein said. "You buy national cable and that's a good way to reach people in all of those big states."
It's still early stages, and there are signs that prices haven't peaked. During the 2014 mid-terms, the influx of super PAC money into some TV markets pushed rates sky high. The ABC-affiliate in Little Rock was reportedly charging $50,000 for a spot ad on Wheel of Fortune during the final weeks before the general election for a U.S. Senate seat. Goldstein estimated that it would've cost $120,000 to buy an ad to air nationally during the game show rather than in that lone market, which ranks as 57th largest in the country.
A possible tipping point was seen in 2012 when during the final two weeks of the general election, anecdotal examples showed it was cheaper to purchase national broadcast ads compared to putting spot ads in nine TV markets in swing states. Goldstein pointed to data showing it would've cost a total of $158,000 for a 30-second spot ad on those nine local broadcast stations during ABC's "Dancing With the Stars" compared to $157,500 for national ads on the broadcast network.
"This pattern will repeat and likely be more pronounced in the presidential swings states this year," Goldstein said.
Before it's here, it's on the Bloomberg Terminal.
LEARN MORE