Christie's 'Mop' Joke Angers Flooded New Jersey Shore Residents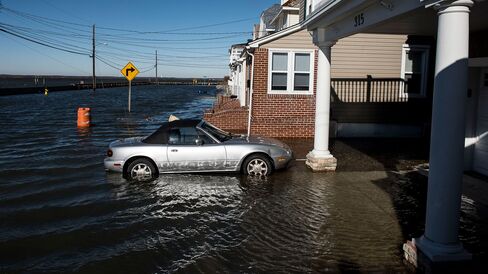 Republican governor defends his response to historic storm

Booker says administration is eager partner in recovery
Governor Chris Christie's joke about heading to southernmost New Jersey with a mop for blizzard clean-up duty has residents seething in beachfront towns that once embraced him as a hero.
On the presidential campaign trail, Christie denied that the weekend storm had significantly harmed the New Jersey coast, which was devastated in 2012 by Hurricane Sandy. As photos of streets underwater were posted on social media, Christie said the event was over. Still, he found himself on the defensive during a press conference Tuesday, where he said he had apologized to a mayor he called crazy and that the mop remark was meant in fun.
"I don't know how he can be running for president and go around saying that," T.F. McCallum, owner of Stone Harbor's Eco Alley crafts store, said Tuesday before Christie spoke to reporters.
McCallum, 55, said flooding wiped out as much as $15,000 in inventory. If 25 decorative baskets can't be restored, that'll be another $5,000.
"He just lost," McCallum said of Christie. "He should hang it up. He's out of touch."
The storm headed toward New Jersey as Christie, 53, was courting voters for the Feb. 9 New Hampshire Republican primary. Lieutenant Governor Kim Guadagno and other administration officials were charged with visiting areas that once were Christie's power base. Christie got 72 percent of the Cape May County vote in the 2013 election.
Jersey Style
After receiving criticism from Democrats for plans to stay in New Hampshire, he returned home Friday. Two days later, as residents dug out, he was back in the Granite State.
In Hooksett, New Hampshire, a woman Monday asked the governor why he wasn't in New Jersey.
"Do you want me to go down there with a mop?" he said.
During the same town hall, Christie called North Wildwood Mayor Patrick Rosenello, a Republican, "crazy" for saying that damage was worse than from Sandy. Christie, during Tuesday's press conference, said he saw "not a thing" that resembled Sandy damage. He did, however, get "carried away" with his "crazy" comment, and said he apologized to the mayor, whom he called a friend.
"I take heat for what I say all the time, sometimes it's deserved and sometimes it's not," Christie told reporters. "It's not the first time that I've gotten carried away and said something that I later apologized for."
The mop comment, he said, was a joke.
Road Trips
Christie's New Jersey job approval, which reached 72 percent in November 2012 after Sandy, has dropped to about 30 percent as the governor spends more than half his days out of state campaigning.
Donald Trump and Ted Cruz of Texas dominate the race with 31 percent and 29 percent, respectively. Christie at 3 percent, behind Marco Rubio, Ben Carson, Rand Paul and Jeb Bush, according to a Quinnipiac University poll of likely Iowa Republican caucus participants published Tuesday.
Senator Cory Booker, between stops in West Wildwood and Sea Isle City on Tuesday, said that the state's congressional delegation was working with Christie's office to determine whether damage qualifies for federal relief.
"I have been in touch with him directly," said Booker, a Democrat. "I talked to his chief of staff three times today. We're all working together in a scrum. There's no time for politics or questioning another leader's role."
Paul Jeffrey, the 62-year-old president of the Ortley Beach Voters and Taxpayers Association, in Ocean County, said the tidal surge wiped out two dunes built after Sandy, and most of a third. They protected the barrier island as designed, he said, a testament to Christie's post-Sandy leadership.
But the governor needs to be present now, he said.
"He abandoned the state months ago," Jeffrey said. "Christie goes back to New Hampshire and says: The storm is over, what's the problem, where's the damage? He needs to get down there and help them and decide if he's going to ask for federal aid."
Scott Chambers, 47, owner of Zippy's Bikes in Wildwood, said he lost tools and vintage and rental bicycles in two feet of water that swept his warehouse space. Outside his shop, he's displaying a mop, bucket and a Dunkin' Donuts box alongside a sign: "Reserved parking for Gov. Christie."
"I'm not expecting him to put a mop in his hand, but I am expecting him to fight for his people," Chambers said. "We put him up on that stage and now he's forgetting about his people."
Before it's here, it's on the Bloomberg Terminal.
LEARN MORE