Atlantic City's Road Out of Distress Clouded by State's Control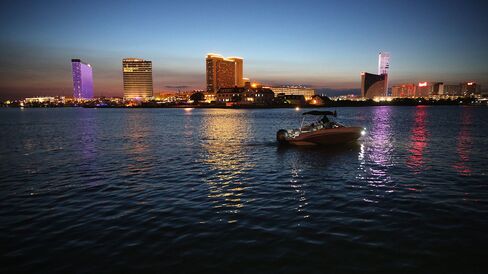 Bond investors are dubious that a state takeover is a plan

City's tax base has been cut by more than half in five years
Bond investors are calling New Jersey's actions to control Atlantic City's teetering finances "bizarre" and "confusing" as the mayor says bankruptcy may be its best option.
In just the past week, there's been a flurry of moves:
--Governor Chris Christie rejecting measures that would have kept Atlantic City solvent past April, even after Democrats made changes he requested;
--State officials pushing a ballot question that would ask voters to end Atlantic City's gambling monopoly, which would probably cause even more casinos there to shutter, Moody's Investors Service said in a report last week;
--Lawmakers seeking a takeover of the seaside community at a time when state oversight of cities nationwide is under scrutiny amid a water crisis in the emergency-manager-run town of Flint, Michigan.
Local leaders, leery of state control, are meeting Tuesday to discuss bankruptcy. New Jersey, which has policies aimed at steering cities from financial disaster, must approve a municipal bankruptcy, which hasn't happened since the 1930s. Senate President Steve Sweeney, the top Democratic legislator, says a takeover will help solve the city's problems outside of the courts -- but investors say that isn't a plan to reverse its fortunes.
A takeover is a "black box," said Jason Diefenthaler, who runs a high-yield muni fund at Wasmer Schroeder & Co. in Naples, Florida, that holds some city water securities. "What else can they propose that hasn't already been proposed that might move the needle for the city?"
Credit-rating companies are watching closely. On Friday, Standard & Poor's cut Atlantic City's debt four levels to CCC-, a rating it reserves for borrowers that are "currently vulnerable to nonpayment." Recent state actions "call into question the city's ability to meet payments on its obligations," S&P said in a statement.
Atlantic City's fate is tied to the actions of the state, which in 1976 established its casino monopoly. Tourists flocked to the city, which become the second-largest U.S. market after Las Vegas. Then competition from neighboring states led to nine straight years of declines, and four of its 12 casinos closed in 2014. Its gambling revenue last year was less than half the 2006 peak.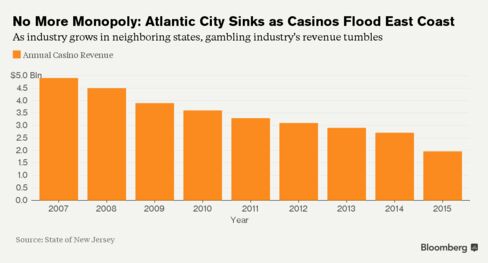 The slump opened up a $120 million hole in the city's budget. It has about $240 million in debt outstanding and faces more than $150 million in tax appeals from casinos.
Legislation that the city was counting on would have diverted some gambling funds and set up fixed payments from casinos to prevent real-estate tax appeals that strain the city's finances. Although lawmakers made changes Christie requested, he rejected them, saying through a spokesman that the city hasn't dealt with its "excessive spending."
The inconsistent measures toward Atlantic City are undermining its reputation, said Howard Cure, head of municipal research in New York at Evercore Wealth Management, which oversees $5.9 billion of investments.
"It makes you, as an investor, start to question the efficacy of the state programs," Cure said.
No Shelter
Dan Solender, head of municipal debt at Lord Abbett & Co., pointed to the example of Detroit as showing how a takeover can lead to bondholder losses: it too fell under a state-appointed emergency manager, Kevyn Orr, who months later filed its record bankruptcy.
An emergency manager was also in charge in Flint when the city changed its drinking water source to a polluted local river system from Detroit's to cut costs. Michigan's emergency managers have more authority than those in New Jersey, where Atlantic City's manager largely makes recommendations that need local approval.
Manager Kevin Lavin released a report this month recommending that Atlantic City take control of its water system, regionalize police services and consider privatizing the fire department, saying those moves may be easier under state control. Sweeney's proposal would empower New Jersey's Local Finance Board for 15 years to oversee and implement such decisions.
Sweeney didn't respond to a question on whether bondholders should expect losses if there is a takeover. In a statement, he said control by state officials would be a better outcome than bankruptcy.
"The state can work with city officials, community organizations and investors," he said. "It is a better solution than having a bankruptcy court dictate the terms and conditions of any financial settlements that will likely to be far less favorable to everyone."
Kevin Roberts, a spokesman for Christie, declined to comment on investors' concerns and pointed to the governor's remarks while campaigning for president in Iowa, where he said, "I appreciate the efforts of the senate president, in particular in his outspoken advocacy for change in what's happening governmentally in Atlantic City."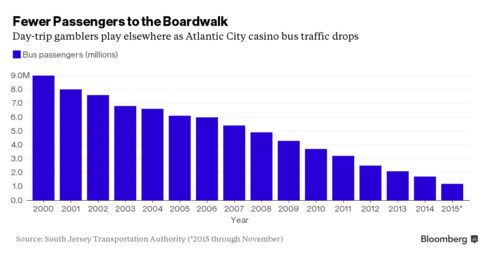 Carl Thompson, a municipal analyst in Boston at Eaton Vance, said he's unsure if state control would solve Atlantic City's problems -- which he said increased "immensely" because of Christie's veto.
Casinos and tourism remain its primary revenue source and they're floundering, said Thompson, whose firm holds $30.7 billion of local debt including city securities.
"I'm not sure what the control board can do," he said. "You can make cuts but I don't think you can make cuts far enough to fix the problem."
Before it's here, it's on the Bloomberg Terminal.
LEARN MORE