Commentary
Palin's Waldorf Tastes Are Fed by Queens Bus Driver: Read My Lips
She needs more money to help her raise more money.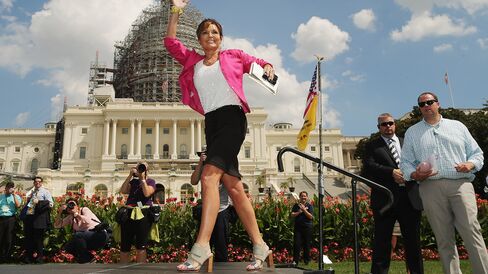 Here's a case of wealth inequality so glaring that even Bernie Sanders might not believe it.
A lucrative enterprise with a proven taste for high fashion and luxe accommodations is receiving regular payments from retirees, teachers and at least one New York City bus driver. Who is this reverse Robin Hood? It's SarahPAC, and it's hungry for more.
When Sarah Palin popped back up last week to endorse Donald Trump, she did more than give linguists new fodder for their studies. Her political action committee used the occasion to ask her supporters -- those "fellow patriots" -- to reach deep and give more, "in order to get Sarah to political events to support endorsed candidates."
Giving money to political figures who don't hold, and aren't seeking, any elected office is, one assumes, one of those treasured American rights. But this particular political figure carries some baggage -- Tumi, probably.
Doesn't anybody remember 2008? "$150,000 Wardrobe for Palin May Alter Tailor-Made Image." "Sarah Palin spent $290,000 on clothes and grooming." In the eight years since then, the self-professed "average hockey mom" shed that pesky job of governing Alaska so that she could concentrate on earning $75,000 to $100,000 for each speech she gave, on top of the income from her books and television shows.
Over the years there's been ample speculation about her swelling wealth -- $10 million to $12 million in just her first year as a poli-celebrity, enough to easily cover the price of the $1.7 million Arizona estate she bought in 2011 and listed, for $2.5 million, just weeks ago.
As Henry Ford is said to have said, "Money doesn't change men, it merely unmasks them." Does that apply to Palin, too? In 2008, a Washington Post reporter praised the "exceptionally ordinary" style Palin brought to the 2008 Republican ticket. Last week, the same reporter wrote that the "bedazzled choir robe" Palin wore to endorse Trump was "vaguely gaudy, with a hint of kitsch" -- the mark of "someone who has come to steal the spotlight rather than share it."
So it seems fair to cast a questioning eye on the PAC that's asking the public for more money to help Palin help her country. What does it do with its money?
As of Nov. 16, SarahPAC had given $25,000 to congressional Republicans this election cycle, according to the Center for Responsive Politics. In the same period it spent 15 times as much -- $394,000 -- on fundraising, and almost $72,000 on administrative costs, such as accountants, lawyers, travel and website management.
The PAC pays three speechwriters as well as a consultant for coalitions, a consultant for fundraising and three (3) consultants for logistics. That's according to its midyear 2015 report, which also lists payments for lodging at the Venetian Resort in Las Vegas, the Waldorf-Astoria in New York and La Playa Hotel in Naples, Florida, as well as the Courtyard by Marriott in Monroe, Louisiana. (Probably an unexpected layover.)
In the 2012 election cycle, Palin's PAC was one of a select few that managed the nifty feat of spending more than $1 million while devoting less than 10 percent of that to help elect candidates, according to the Center for Responsive Politics.
In the 2014 cycle, the PAC spent $3.1 million, of which $218,500 -- 7 percent -- went to candidates. Almost the same amount went to administrative travel and lodging, while the bulk went to fundraising.
One of the PAC's biggest beneficiaries -- to the tune of hundreds of thousands of dollars -- is HSP Direct of Ashburn, Virginia, which handles its direct-mail appeals. The company's website carries an endorsement from Palin's treasurer: "HSP continues to produce stellar results, which allows us to support conservative candidates and their campaigns at a critical time."
More striking than the PAC's spending is the number of people, of seemingly modest means, whose regular donations prime the Palin Pump.
There's the retired teacher in Annapolis, Maryland, and the homemaker in Riverton, Wyoming, who each gave $100 a month in the first half of 2015, the latest figures available. The retired NYPD officer in Lewisburg, Pennsylvania, who gave $200 a month. The housewife in Stone Mountain, Georgia, whose monthly donations ranged from $25 to $150. The Acme Markets clerk from Clark, New Jersey, who gave $120 monthly. And that bus driver from Flushing, Queens? He chipped in $45 each month.
As an unelected citizen, accountable to no constituents, Palin owes the public no explanation for how she raises and spends her money. It's all perfectly legal.
(Read My Lips is a column dedicated to the proposition that men and women in a position of power, or the pursuit of it, will say or do things for which they will be sorry.)
Before it's here, it's on the Bloomberg Terminal.
LEARN MORE