Obama Says Clinton's Strengths Are Also Weaknesses as Sanders Surges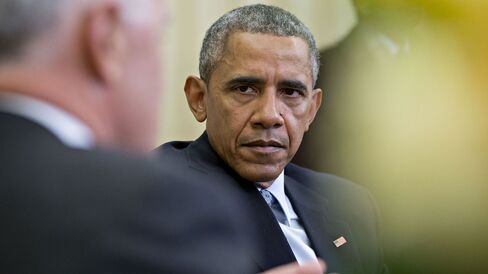 Sanders has `the luxury of being a complete long shot': Obama

Clinton under more scrutiny as frontrunner, he tells Politico
President Barack Obama said that while Hillary Clinton has the most experience among candidates vying to succeed him, her strengths can sometimes be her weaknesses, allowing Bernie Sanders to make an appeal to the main concerns of the Democratic Party's core voters.
"Bernie came in with the luxury of being a complete long shot, and just let loose. I think Hillary came in with the both privilege and burden of being perceived as the front-runner," Obama said in an interview with Politico released Monday morning. "If you are a front-runner, then you're under more scrutiny and everybody's going to pick you apart."
The president said Sanders would likely be subjected to more rigorous vetting if he wins early nominating contests. Polls show Sanders competitive with Clinton in the Feb. 1 Iowa caucuses, the opening contest in the nomination race, and leading in New Hampshire, which holds a primary the following week.
"The longer you go in the process, the more you're going to have to pass a series of hurdles that the voters are going to put in front of you," he said. "This job, right here, you don't have the luxury of just focusing on one thing."
No Endorsement
Obama didn't give an endorsement of either Sanders or Clinton for the Democratic nomination. Still, he said Sanders, who has largely campaigned on addressing economic inequality, as president wouldn't have luxury of only focusing on that issue. He described Clinton as experienced, "wicked smart, knows every policy inside and out."
Obama rejected the assertion that the 2016 Democratic primary contest is a rerun of 2008, when he was the insurgent candidate who defeated then front-runner Clinton. He told Politico that the gulf between the Democratic and Republican candidates has widened since 2008, when he won the presidency. He said the real contrast in the 2016 race isn't between Clinton and Sanders but between them and the Republican candidates, particularly Donald Trump and Ted Cruz.
"The Republican rhetoric and Republican vision has moved not just to the right but has moved to a place that is unrecognizable," he said.
The president said Trump and Cruz are exploiting the anger and frustration among many Republicans but expressed hope that voters eventually will "settle down" and consider what sort of person they want in the Oval Office.
Obama recalled that his Republican opponent in 2008, Arizona Senator John McCain, "didn't call for banning Muslims from the United States." McCain "was a conservative, but he was well within, you know, the mainstream of not just the Republican Party but within our political dialogue."
Before it's here, it's on the Bloomberg Terminal.
LEARN MORE