What? Me Worry?
Hillary Clinton Insists She's Not Feeling 2008 Déjà Vu
Even as she sticks to messaging she used eight years ago, Clinton says she's not worried the primary race is playing out the same.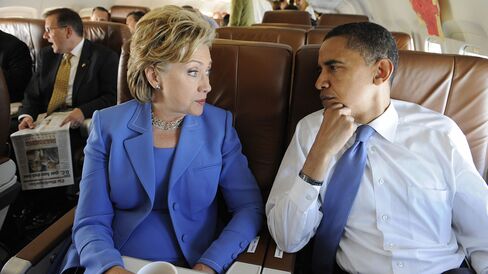 Yes, an idealistic senator has again managed an incredible polling surge against her, and Iowa is becoming a close race, but Hillary Clinton said she's not having flashbacks to her bruising, ultimately unsuccessful, Democratic primary 2008 bid against Barack Obama.
"I feel great that we have the level of enthusiasm that we do," Clinton said on NBC's Meet the Press on Sunday, referring to the similarities between her contest with Bernie Sanders and the Democratic primary eight years ago. "We also have a really good team on the ground that has been working for months to make sure that it's not just here today, gone tomorrow but that people are involved, they are really reached out to, and yes, we believe they're going to come caucus."
The former secretary of state, vying to become the first woman president of the U.S., has been focusing on what she portrays as experience that surpasses Sanders', in much the same way she criticized Obama in 2008 when he was a freshman senator from Illinois and she was a former first lady and second-term U.S. senator from New York.
"People look and they think, you know, 'Can we imagine this person to be president and commander-in-chief?'" she said. "Because of my experience, and particularly my years as secretary of state working with President Obama, I think that's something that people really take into account."
Recent polling show Sanders tightening the race in Iowa, which will hold its first-in-the-nation presidential nominating caucus on Feb. 1, and leading in New Hampshire, which will hold the first primary Feb. 9.
Sanders, an independent from Vermont who has caucused with the Democratic Party during his time in the Senate, commented later on the program on the lack of endorsements for him from Democratic senators or governors.
"Yes, we have the establishment supporting Secretary Clinton," he said. "People think it's time that we take on the establishment, take on Wall Street, take on big money interests."
Before it's here, it's on the Bloomberg Terminal.
LEARN MORE