Freedom to Sled Returns to Capitol Hill for Promised Epic Storm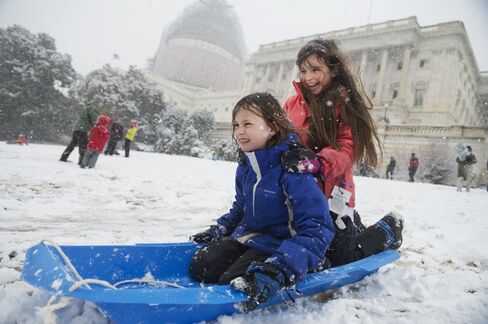 Congress suspends prohibition, but police could still limit

Most of the city shutting down but anti-abortion march goes on
It may not be as precious as, say, freedom of speech, but the freedom to sled has returned to Capitol Hill for the first time in years -- just in time for what forecasters are promising will be an epic storm.
Thanks to a provision included in last month's $1.1 trillion spending bill, the Capitol Police have stated they will allow sledding on America's signature hill -- up to a point.
Congress instructed the police to stop enforcing a 140-year-old ban protecting Capitol Hill's grass from injury when encountering sledders.
But the U.S. Capitol Police warned they might still have to limit the fun.
"Please note that if the conditions are unsafe for the public and/or the congressional community, USCP officers will limit the amount of sledding in the best interest of the public," police said.
There's at least a decent chance that will happen given expectations of blizzard conditions and snow potentially measured in feet over the next two days in the U.S. capital.
An end to the sledding ban had been championed by Eleanor Holmes Norton, the non-voting delegate who represents the District of Columbia, and came after acts of sledding disobedience last year when parents and kids challenged the ban and sledded anyway as the Capitol Police largely looked the other way.
Shutting Down
The rest of the city has already started shutting down for the storm, with the federal government closing at noon. Washington Metro is halting rail travel at 11 p.m. and will remain closed throughout the weekend.
White House Press Secretary Josh Earnest's daily briefing was canceled early on Friday. A ceremony to award national medals of science and technology was canceled on Thursday. Public tours scheduled for Saturday were called off.
"My guess is the president will stay warm and toasty here inside the White House," Earnest said on Thursday. "I suspect we'll all be doing that."
Obama has already been inconvenienced once this week by snow. After returning to Washington from Detroit on Jan. 20, his motorcade required nearly 90 minutes to transport him from Andrews Air Force Base to the White House on roads iced over by an inch of snow. The trip is normally a 10-minute helicopter ride.
March for Life
Abortion opponents meanwhile planned to proceed with a large annual protest on the National Mall.
"Snow will not stop Friday's March for Life," organizers said in a news release on Thursday.
Marchers -- expected to number in the thousands -- will head from the Washington Monument to the Supreme Court. Several Republicans, including presidential candidate Carly Fiorina, Senator Joni Ernst of Iowa and Representative Chris Smith of New Jersey, are scheduled to speak.
The march has been held every year since 1974 on Jan. 22, the anniversary of the Supreme Court's 1973 Roe v. Wade decision that made abortion legal in every state.
Before it's here, it's on the Bloomberg Terminal.
LEARN MORE