'Historic' Snowstorm Strikes U.S. East, Paralyzing Washington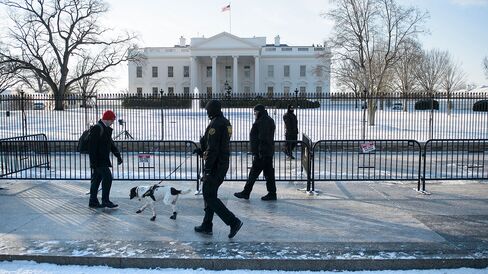 Thousands of flights cancelled as storm shuts schools, offices

New York may see 18 inches of snow, weather service says
A paralyzing winter storm forced the cancellation of thousands of flights, knocked out power to homes and threatened Washington with one of its heaviest snowfalls on record as it moved up the U.S. East Coast.
Snow started to fall in Washington early Friday afternoon. The city, along with Baltimore, may get more than 2 feet (61 centimeters), according to the National Weather Service. New York and Long Island may see as much as 18 inches.
"There are blizzard warnings for the whole corridor from Washington to Philadelphia, New York and Long Island," said Dan Petersen, a meteorologist with the U.S. Weather Prediction Center in College Park, Maryland. "It is going to put us in the top couple of snowstorms down here. It's a historic snowstorm."
The heaviest three-day snow to fall in the Washington area was 28 inches in January 1922, according to the weather service. Baltimore received 26.8 inches in February 2003. While the East Coast cities bear the brunt of some of the heaviest snow, the storm is a national event, spawning a tornado and severe thunderstorms across the South and an ice storm stretching from Kentucky into North Carolina.
Alerts Posted
Winter storm warnings and advisories stretched from Alabama to Massachusetts. The storm's reach seemed to be a little bigger than forecast, so areas on its northern side, such as New York, might get more snow, Petersen said.
"The city and Long Island will have the highest totals in the Tri-State region," which includes New Jersey and Connecticut, said Jeffrey Tongue, a weather service meteorologist in Upton, New York.
Winter storms caused 15 percent of all insured home, auto and business catastrophic losses in 2014, according to the Insurance Information Institute in New York.
Travel Trouble
New York City Mayor Bill de Blasio declared a winter weather emergency and urged people to avoid traveling Saturday. The weather service issued a coastal flood warning for the Bronx, northern Queens and shoreline areas of Long Island Sound for Saturday.
Federal offices in Washington closed Friday, according to the Office of Personnel Management's website. Public schools also shut, and Washington Metro said both bus and subway services would remain closed through Sunday.
More than 7,200 flights around the U.S. were grounded through Sunday as of 7:20 p.m. New York time Friday, according to Houston-based FlightAware, an airline tracking service.
Amtrak canceled several trains in the East Coast and across the South. Philadelphia planned to shut regional rail and bus service starting at 4 a.m. Saturday, and all flights for the day at Philadelphia International Airport were halted. North Carolina, South Carolina, Virginia, West Virginia and Georgia lifted some trucking restrictions to help expedite fuel deliveries.
About 138,000 homes and businesses had lost power across the Southeast and East as of about 4:30 p.m. Friday, according to the U.S. Department of Energy. Most were in Georgia, North Carolina and South Carolina, where ice began falling Friday morning.
NYC Outlook
In addition to the heavy snow in New York, wind gusts of 55 miles per hour are possible in Manhattan and the rest of New York starting Saturday into Sunday, the weather service said. "That could lead to power outages," Tongue said.
The line between heavy snow and not much at all will be a fine one in the New York area, so the area just north of the city will probably have amounts drop off sharply. At the same time, New Jersey could end up with as much as 18 inches, the weather service said.
It's possible that areas in the Hudson Valley north of New York will get nothing at all, Tongue said.
After the storm passes, the weather should improve with temperatures in the mid-30s Fahrenheit (2 Celsius). "The sun will be out on Sunday for the cleanup," Tongue said.
Before it's here, it's on the Bloomberg Terminal.
LEARN MORE