Race for New Hampshire
At Gun Plant, Jeb Bush Targets Mass Shootings for Bipartisanship
Contrasting himself to Donald Trump, the former Florida governor touts bipartisanship and his knowledge of the federal bureaucracy.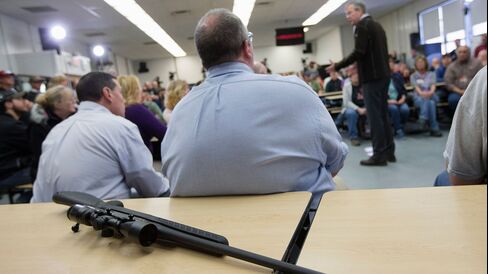 In a Republican presidential primary race that has rewarded political tirades and displays of obstinance, former Florida Governor Jeb Bush is making the case for bipartisanship, portraying himself as a "steady hand" who can break through the gridlock that has defined Washington for a decade.
Bush made his case in an unusual way on Thursday: Identifying gun violence—one of the most controversial issues in Congress—as an topic ripe for consensus. At a gun factory.
"Look at the front-running candidate for our Republican nomination: Can you imagine him trying to forge consensus with people that may not agree with him?," Bush said, referring to Donald Trump during a town hall meeting at Strum Ruger & Co.'s Newport, New Hampshire, plant.
"I can tell you first-hand what he does. He calls you an idiot," Bush, one of Trump's frequent political targets, continued. "We need someone who will try to build consensus."
Portraying Trump as incapable of handling the responsibilities of the nation's highest office has emerged as a top line of attack against the New York businessman and reality TV star, who has dominated Republican presidential polls since July. New Jersey Governor Chris Christie told New Hampshire voters on Thursday that they should ask Trump for specifics.
"I tell everybody who goes to a Donald Trump event, 'If you get to ask a question, just ask him how,'" Christie said in Derry, according to a news release from his campaign. "I don't care which of the things he talks about, just ask him, 'How?'"
But it remains to be seen whether that approach will convince any Trump supporters.
"Even if Trump wasn't in the race, I wouldn't vote for Bush," said Mark Schoeler, who works at the Ruger plant. "I like what he said about needing to find unity. I just think Trump will be different."
There is little disagreement among the Republican candidates when it comes to protecting gun rights.
The industry has thrived under President Barack Obama, whose calls for tougher gun control have only triggered more gun sales. Ruger is on pace for about $530 million in revenue this year, up from $181.5 million in 2008, according to data compiled by Bloomberg. Still, Steve Sanetti, president of the National Shooting Sports Foundation, signaled at an industry event in Las Vegas this week that gun enthusiasts need to rally behind whomever the Republican Party nominates for president.
Bush, who on Thursday was given a Ruger Precision Rifle, a weapon capable of hitting a target 1,600 yards away, promised no compromise on gun rights.
He said there was enough consensus around mental health issues to find a deal that may slow the pace of high-profile mass shootings that have defined Obama's two terms in office.
"There is a belief now on the left and right that we don't have the infrastructure to deal with mental health challenges in this country," Bush said. "You see the gun violence that plays out when people spiral out of control, and you have a person accessing guns that shouldn't have that. But we have privacy laws—we have all sorts of rules that make it hard for people to actually identify someone before they get to the point where they're just totally lost and deranged and they commit these tragic multi-killings in public places."
Bush didn't offer any specific mental health policy, but he expounded on his reasons for making it a top priority on Wednesday in Keene, New Hampshire.
At a town hall there, Bush called the nation's mental health system "disjointed" and promised to re-prioritize federal research dollars. He said the "funder of innovation" should be the Substance Abuse and Mental Health Services Administration, an arm of the U.S. Department of Health and Human Services.
"Here's a moon shot: Let's launch a discovery of the mystery of the greatest computer ever created, the human brain," Bush said in Keene.
"Why is it that we're going to have this avalanche of dementia?" he continued. "Why it is certain people are more prone to be addicted than others, and what's the solution to that? And why it is when you have schizophrenia or other mental health challenges, why can't we identify that early enough to be able to deal with it before people spiral out of control?"
Before it's here, it's on the Bloomberg Terminal.
LEARN MORE