Obama's Swing Through Detroit Car Show Leaves Out Flint Stop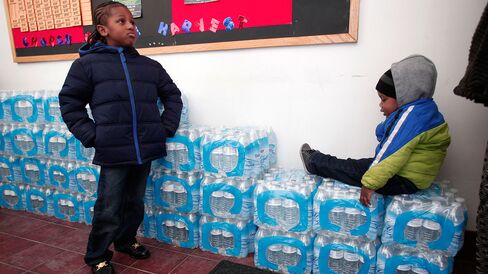 President celebrates rebound of U.S. car sales during his term

Water contamination in Flint, Michigan, draws federal response
President Barack Obama took a victory lap for righting the U.S. auto industry today, as he toured the North American International Auto Show and spoke to auto workers in Detroit after the best year ever for car sales.
The trip is a touchstone as Obama establishes his legacy, including bailouts of General Motors Co. and Chrysler Group LLC in 2009 that were among the first actions of his presidency. Unemployment in Detroit is at its lowest since 2003, and domestic manufacturers produced 12 million vehicles in 2015, double the 6 million built at the industry's ebb, according to the White House.
"Today, factories are humming, business is booming, the American automobile industry is all the way back," Obama said in Detroit. "Seven years ago sales hit a 27-year low. Last year they hit an all-time high."
Obama didn't plan to stop in Flint, Michigan, a little more than an hour's drive north of Detroit, where a crisis over contaminated drinking water has enveloped the state and local governments and drawn in the administration. Residents of the city are suing in state court over water contamination, including lead and copper, that turned up after the state switched the city's water supply from Lake Huron to the polluted Flint River.
Governor's Apology
The state's governor, Republican Rick Snyder, acknowledged mistakes by state officials and apologized for the catastrophe in his state of the state address on Tuesday. The federal Environmental Protection Agency also has been criticized for its response.
Obama issued an emergency declaration authorizing federal agencies to assist in relief efforts and he met Tuesday with Flint's mayor, Karen Weaver, at the White House. Also Tuesday, the administration named a top official from the Health and Human Services Department, Nicole Lurie, to lead a team that will examine the extent of contamination in Flint's water system and create plans to care for people in the city exposed to lead, which is particularly dangerous to children.
If he lived in Flint, "I would be beside myself that my kid's health could be at risk," Obama said. "You can't short-change basic services that we provide to our people and that we together provide as a government to make sure public health and safety is preserved."
A petition by filmmaker Michael Moore, a Flint native, pleading with Obama to visit Flint had garnered more than 125,000 signatures by Wednesday morning. Moore has also called for Snyder to be arrested and has criticized federal aid for the city, which he says has so far been insufficient.
Detroit Show
The Detroit auto show is the marquee car show in the U.S. Obama arrived on the show's "education day," when schoolchildren arrive in buses to learn about the importance of the industry to the region. It was the first visit to the car show by a president since 1999.
Obama stopped at booths for ZF Friedrichshafen AG, the German parts maker that bought TRW Automotive Holdings Corp. last year, Fiat Chrysler Automobile NV, General Motors and Ford. At the Chrysler booth, Obama learned about technology that may lead to autonomous vehicles, and a Chrysler representative touted the new Pacifica minivan -- bigger than the previous model, but more aerodynamic.
The president dug out a movie reference for reporters following him at the show. "You guys remember 'Get Shorty,' right? It's cool driving a minivan," Obama said.
Obama's visit to the Ford booth was closed to reporters, unlike his other stops. Ford opposes the 12-nation Trans-Pacific Partnership, a trade deal that is one of Obama's top legislative priorities this year. Ford has complained that the deal doesn't include stronger curbs on currency manipulation by U.S. trading partners and has lobbied against it.
Despite record 2015 sales, the auto industry faces a challenge on the horizon as fewer young people buy cars or even get drivers' licenses. According to a University of Michigan study released Tuesday, in 2014 77 percent of people ages 20 to 24 in the U.S. had drivers' licenses, compared with 92 percent in 1983.
Before it's here, it's on the Bloomberg Terminal.
LEARN MORE