Food Fight
Michelle Obama's School Lunch Legacy Survives Republican Assault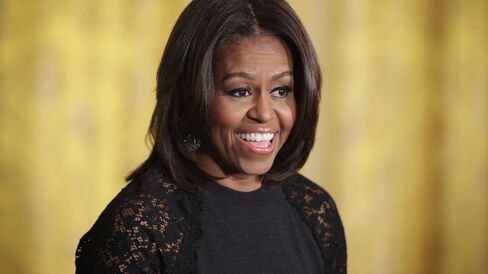 Republicans compromise with Democrats on school nutrition bill

Whole grain, sodium rules relaxed while summer lunches expand
After half-a-decade of trying to dismember Michelle Obama's signature effort to make school lunches healthier, Republicans compromised with Democrats to preserve much of what the first lady wants while loosening some rules in ways that benefit major food companies.
An agreement on a five-year bill covering $30 billion annually for school nutrition and related programs eases whole-grain requirements and sodium limits while preserving fruit and vegetable standards and keeping junk food off menus. The Senate Agriculture Committee approved the 200-page plan Wednesday. Both sides claimed victory, urging Congress to pass the rare bipartisan deal and move on.
"School nutrition policy can't thrive with just part of the country behind it," said Parke Wilde, a nutrition-policy professor at Tufts University in Boston. "Even if some of the compromises were painful, it seems hugely beneficial for the kids involved to have bipartisan legislation moving forward. This still is better off than where we started."
The compromise keeps most of a nutrition policy that's a key part of the first lady's legacy. Tighter rules that she championed took effect with the last child nutrition legislation, which was passed by a Democratic Congress in 2010. Food processing giants including Hormel Foods Corp., Pepsico Inc., General Mills Inc. and closely held frozen foods packager Schwan Food Co. have spent millions of dollars lobbying on the latest legislation, according to their disclosure reports.
'True Compromise'
"Folks said we couldn't come to an agreement on child nutrition reauthorization -- let alone a bipartisan agreement -- but we did," Senator Pat Roberts, the Republican head of the Senate Agriculture Committee, said in a statement. "This bipartisan legislation is a true compromise. Not everyone got everything they wanted, but a lot of folks have a lot to be happy about," said Roberts, who crafted the deal with the panel's top Democrat, Senator Debbie Stabenow of Michigan.
Republicans have fought the regulations, which began to be implemented in 2012, calling the rules federal overreach that cost schools too much money and discouraged children from eating the meals. The School Nutrition Association, an organization of food-service professionals and the main lobbying group on school food aid, allied with Republicans.
The deal also lowers the requirements of what portion of grain products must be whole grain to 80 percent from 100 percent. For the past two years, schools claiming hardship could receive a waiver for 50 percent, leading many to follow a lower standard.
Sodium Limits
Sodium also gained breathing room in the proposal. Under the 2010 law, the amount allowed in meals was to be cut in half. The pace of the reduction has been slowed by two years but it is still scheduled to take effect. The government must also study the effects of such a move on cost and product availability, with a report due in 2020 before the next nutrition bill debate.
Both changes make it easier for food companies to sell schools inexpensive food while meeting nutrition standards.
Other rules were preserved, including a mandate that schools serve a half-cup of fruit and vegetables with each meal. Reimbursement for meals served in summer school-feeding programs was expanded, a top administration priority.
Top Chef
The White House has signed off on the compromise, according to Agriculture Committee staff. The first lady's office referred questions to the White House, where an official, who wasn't authorized to give a statement, said that while the administration was still reviewing the legislation, it shares the goals that Roberts and Stabenow have set out.
The nutrition association said in a statement that the agreement "eases operational challenges and provides school meal programs critical flexibility to help them plan healthy school meals that appeal to students."
Meanwhile, Food Policy Action, a healthy eating advocacy group founded by "Top Chef" head judge Tom Colicchio, said in a statement the deal was "a huge step in the right direction" that "protects the progress we made on nutrition standards in 2010."
Support from the School Nutrition Association, which represents educators who have to follow the federal rules, was probably key to winning Republicans over, Wilde said. "Once there was enough compromise for to get their support, attacking the program ran the risk of a legislator looking anti-child," he said.
Combating Obesity
Michelle Obama has actively sought ways to combat obesity, which now affects more than one-third of American adults and 17 percent of children, according to the U.S. Centers for Disease Control and Prevention.
Her Let's Move! initiative is geared toward making kids more physically active, while the nutrition guidelines show her involvement in policy that affects initiatives including the school lunch program, which offers nutritionally balanced, low‐cost or free lunches to more than 31 million children each school day, according to the U.S. Department of Agriculture.
The reauthorization of nutrition programs also includes the $8 billion a year Women, Infants & Children program, which gives low-income families money to buy food. Federal spending is meant to be unchanged under the plan, although a congressional budget estimate for the measure hasn't been issued yet.
Similar Proposal
The full Senate may take up the bill as soon as next month. The Senate bill closely resembles a joint House-Senate proposal that was almost included in spending legislation passed in December. The House may simply take up the Senate version, though Republicans haven't been clear on that, according to a Democratic committee aide who requested anonymity to discuss legislative strategy.
Critics have pledged to cease fire for the next five years, Stabenow said. The School Nutrition Association and other groups have committed not to use the annual spending process to water down the new standards once the new law takes effect, she told reporters after the legislation was approved. The nutrition association confirmed its pledge in an e-mail.
Still, some compromises, notably on sodium, are simply pushing back deadlines rather than resolutions, Wilde said. And school districts, which won't have their federal meal reimbursements raised under the compromise, legitimately struggle to offer quality meals that kids will like under current funding of up to $3.30 per lunch in most parts of the U.S., he said.
"It really was true there was a pushback from kids and parents who feared tasteless, dietitian-designed food," he said. "Simultaneously offering healthy meals that are highly desired by kids, at a low price, while meeting school-nutrition standards is challenging," he said.
"This is a truce rather than a final peace. But a truce is still pretty good news."