Hispanic Voting Power Swells to Record for 2016, Pew Study Says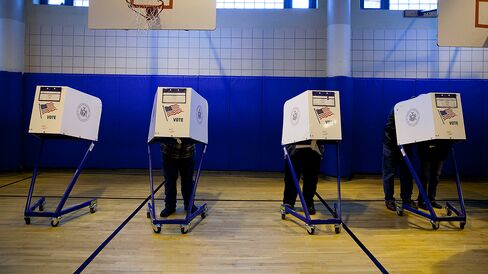 Millennial apathy threatens strong turnout in coveted bloc

Latino anger at Donald Trump could rouse `sleeping giant'
A record number of Hispanics will be eligible to vote in the 2016 presidential election, yet the group's high share of young voters could blunt its potential political clout.
A study released Tuesday by the Pew Research Center estimated that a growing population of U.S.-born Latinos coming of age and immigrants becoming naturalized citizens will bring the number of eligible Hispanic voters to 27.3 million, a 40 percent increase since 2008 and the most ever. They will compose 12 percent of all U.S. voters on Nov. 8.
As the largest minority in the U.S., Hispanics have long been eyed by politicians on both sides eager to cash in on the sheer number of potential voters. Establishment Republicans see the group as crucial to regaining the White House, while Democrats are banking on retaining the support they've had in presidential elections spanning three decades.
"The impact of the Latino vote will depend on who the candidates are," said Mark Lopez, director of Hispanic research at Pew and a co-author of the report. "Once we know that, it will reveal a lot."
Republican frontrunner Donald Trump's repeated promises to build a wall to keep out undocumented immigrants have made him into a literal pinata. The party also has put forth Marco Rubio and Ted Cruz, both of Cuban descent, though Rubio's past support for a comprehensive immigration overhaul is a stumbling block in a primary race that has made nativism a fresh force. Former Florida governor Jeb Bushspeaks fluent Spanish, has a Mexican-born wife and has made rewriting immigration laws a priority. His campaign has floundered.
Democratic frontrunner Hillary Clinton already holds a wide lead with Hispanics among her Republican and Democratic rivals, who include Bernie Sanders and Martin O'Malley, according to a recent bipartisan poll by Univision.
Voter Participation
Turning Latinos into voters continues to vex politicians. Fewer than half of eligible Hispanics cast a ballot in 2012, compared with 64 percent of whites and 67 percent of blacks, Pew data show.
That's partly a function of economics, because Hispanics tend to be poorer and wealth is an indicator of voter participation. It's also a reality of modern presidential campaigns, which need to spend most of their money on voter turnout in battleground states. Yet Florida is the only competitive state among the seven that comprise the bulk of Latinos, said Sylvia Manzano, principal at the consulting firm Latino Decisions in Seattle.
"The accidents of geography wind up playing against Latino voter registration and turnout," she said.
This time around, the demographic makeup of the group could spell even greater trouble. Nearly half the projected eligible Hispanic voters in 2016 will be 18 to 35, a group known as "millennials" that historically votes at lower rates across racial and ethnic groups, and particularly low among Hispanics, the report says.
One potential bright spot for turnout efforts is the fact that a growing segment of eligible Hispanic voters comes from immigrants who have become naturalized citizens, Pew researchers found. That demographic tends to have higher-voter turnout rates. In 2012, almost 54 percent of immigrant Latinos voted, compared to just over 46 percent of U.S.-born Latinos.
Trump Effect
The migration of Puerto Ricans fleeing economic turmoil on the island is another driver of growth among Hispanic voters that could affect the 2016 election. Since 2008, nearly 230,000 Puerto Rican adults have migrated to the mainland, according to Pew, making them eligible to vote in the U.S. general presidential election.
The newly arrived Puerto Ricans, who tend to lean Democratic or independent, are mostly settling in Florida where the Republican-leaning Cuban population has long dominated the political scene. The number of Puerto Ricans now in the Sunshine State is almost equal the number of Cubans, Lopez said.
Trump remains a wild card. His name on the November ballot could mobilize Hispanics, said Mike Madrid, a Republican political consultant in California.
"We've talked about the sleeping giant awakening -- it only awakens when it's attacked," Madrid said. "Donald Trump has done a very good job making himself a bullseye for the Latino community."
Before it's here, it's on the Bloomberg Terminal.
LEARN MORE