Pulling the Trigger
Sanders Backs Gun Control Legislation Ahead of Democratic Debate
Hillary Clinton's campaign calls her rival's move a "debate-eve conversion."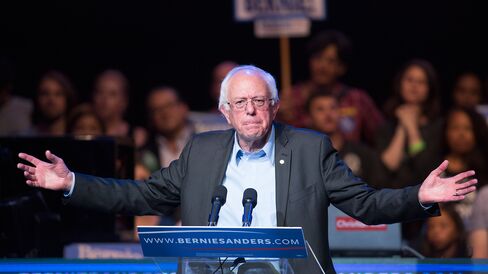 One night before they were to meet in the Democratic presidential candidates' fourth debate of the campaign season, Bernie Sanders attempted to neutralize one of Hillary Clinton's most effective attacks against him: his voting record on gun control.
In a press release Saturday, Sanders backed legislation that would weaken a 2005 law protecting gun manufacturers and dealers from lawsuits when their firearms are used in crimes. His vote for the law, the Protection of Lawful Commerce in Arms Act, has been a sore spot for gun control activists and a gift to Clinton, who this week called him "a pretty reliable vote for the gun lobby."
Sanders has defended his vote for the act, saying that while he supported some parts of the law, particularly the protections it offers rural mom-and-pop gun sellers, he was willing to take a look at the more controversial parts. He reiterated that in his statement of support for legislation drafted by two of his Democratic colleagues in Congress that they say is aimed at ending legal immunity gun sellers and makers.
"I'm pleased that this legislation is being introduced," Sanders said in the statement. "As I have said for many months now, we need to look at the underlying law and tighten it up." Sanders noted that the new legislation, proposed by U.S. Senator Richard Blumenthal of Connecticut and Representative Adam Schiff of California, would leave in place the parts of the 2005 law that require child safety locks and ban armor-piercing ammunition. "Those were important provisions that I did support," said the senator. Sanders added that he will support the Blumenthal-Schiff bill but would "work to make sure it includes a provision" requiring the government to monitor the impact on "small gun stores in rural America that serve the hunting community."
Clinton has been criticizing Sanders's vote for the 2005 bill since October, but her criticisms—and his desire to shore up his credibility with on an issue that resonates with many Democratic primary voters—gained new urgency as Sanders gained on Clinton in the polls. A Bloomberg Politics/Des Moines Register Iowa Poll released earlier this week showed Sanders and Clinton in a statistical dead heat in the state that will hold the first contest of the 2016 presidential campaign on Feb. 1. But Sanders's vote to protect gun makers and sellers from lawsuits, along with his vote against the 1993 Brady bill—which required background checks and a waiting period on gun purchases, is a liability with Democratic voters. According to an October Bloomberg/Des Moines Register Iowa poll, 60 percent of likely voters said Sanders gun record made them less likely to support him.
While the Sanders campaign is painting his support for the new proposed legislation as a fulfillment of his promise to look more closely at the 2005 law, the Clinton campaign is characterizing it as a last minute, pre-debate flip-flop.
"The Clinton campaign welcomes Senator Sanders' debate-eve conversion, reversing his vote to immunize gun manufacturers," tweeted Hillary for America chairman John Podesta.
Before it's here, it's on the Bloomberg Terminal.
LEARN MORE