Conflict Resolution
Obama Says Iran Deal Backs Diplomacy, U.S. Sets New Sanction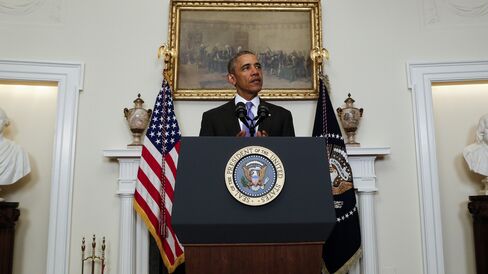 President speaks after implementation of nuclear accord

Agreement, swap won't resolve all issues with Iran, he says
President Barack Obama said the nuclear accord with Iran vindicates his emphasis on tough diplomacy over military confrontation, even as some conflicts between the U.S. and the Islamic Republic remain unresolved.
"This is a good day," Obama said Sunday from the Cabinet Room at the White House. "Because once again we're seeing what's possible with strong American diplomacy."
The deal -- and the release of five Americans held in Iran -- doesn't fully mend fences between Washington and Tehran. On Sunday, the U.S. levied new sanctions on 11 companies and individuals for their ties to Iran's ballistic missile program. And other penalties imposed unilaterally by the U.S., related to Iran's missile development and support for terrorist groups, remain in place.
'Never Been Afraid'
Obama spoke hours as a plane from Tehran, carrying a group of Iranian-Americans who had been held as prisoners, headed for Geneva. The implementation of a historic agreement to curb Iran's nuclear weapons development was announced a day earlier.
The nuclear accord and the prisoner swap is a milestone for Obama, who has argued that his approach succeeded in keeping the U.S. out of a potential military conflict in the Middle East. The nuclear deal capped more than two years of wrangling between Iran and the U.S., China, Russia, Germany, France and the U.K.
Over multiple presidential administrations and through the Cold War, "the United States has never been afraid to pursue diplomacy with our adversaries," Obama said.
Money Unfrozen
Obama said the U.S. and its international partners will be "steadfast" in confronting Iran over actions to destabilize the region, as well as threats to Israel, which has been an outspoken opponent of the nuclear deal.
The State Department on Sunday also announced the U.S. and Iran had reached a settlement over Iran's claim to some $400 million, plus interest, frozen by the U.S. since it severed diplomatic ties in 1980. The money had been in a trust used by Iran before the 1979 Islamic Revolution to purchase arms from the U.S.
U.S. officials said on Saturday that completion of the prisoner swap deal and the verification of the nuclear deal weren't linked. Months of negotiations over the swap were conducted in secret, mostly in Switzerland. Senior administration officials said Sunday those talks emerged "out of the nuclear channel," though were conducted separately from the nuclear deal.
Brett McGurk, Obama's special envoy to the coalition to counter Islamic State,
was in Geneva on Sunday to welcome the Americans. "Overwhelmed to greet Jason Rezaian, his wife, Yegi, mother, Mary and Saeed Abedini and Amir Hekmati to Geneva after safely departing Iran," McGurk wrote on Twitter.
Clemency, Pardons
As part of the deal leading to the Americans' release, the U.S. granted clemency or pardons to seven Iranians, six of them dual U.S.-Iranian citizens, who were convicted or awaiting trial in the U.S.
None was associated with terrorism-related offenses or violent crimes, according to the administration. Three were charged in April with illegally exporting technology to Iran in violation of U.S. sanctions. A fourth was sentenced in 2013 for money laundering and conspiring to illegally provide satellite services to Iran.
The agreement drew criticism on Sunday from Texas Senator Ted Cruz, a Republican presidential candidate. "This deal is a really problematic deal," Cruz said on Fox News Sunday. "We released seven terrorists who had helped Iran with their nuclear program."
A senior administration official, speaking on a conference call with reporters, said negotiations with foreign powers to release Americans held abroad was nothing new under Obama. If critics want to say they were in favor of leaving the Americans in prison, they should say so, the official said.
The Americans released included Rezaian, the Washington Post reporter imprisoned since July 2014; Idaho-based pastor Abedini; and former U.S. Marine Hekmati. A fourth prisoner, Nosratollah Khosrawi, whose detention had not been previously announced, wasn't on the plane, the New York Times reported. The reason wasn't clear. A fifth American, Matthew Trevithick, was released independent of the exchange, his family said in a statement issued through the U.S. Institute of Peace.
Before it's here, it's on the Bloomberg Terminal.
LEARN MORE