Race for South Carolina
Hillary Clinton Asks South's First Primary State for 'Defense'
She appeared to be attempting a course correction on the eve of her next debate with Bernie Sanders.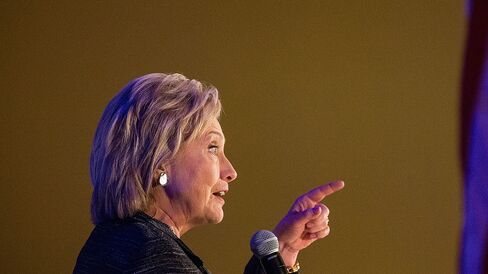 After days of intensifying attacks on Bernie Sanders, Hillary Clinton sought Saturday to recast her critiques of the Vermont senator in a more positive tone, and to remind South Carolina Democrats that their votes for her will only be more important if Sanders maintains his momentum in Iowa and New Hampshire.
"South Carolina, you don't need me to tell you how important you are in this election. You are the first in the South. That is a serious responsibility. And this year, you are one of our first lines of defense," Clinton told Democrats gathered in a Charleston hotel ballroom the night before the party's fourth presidential debate. "You have the power to make sure we choose a nominee who will protect everything we've achieved and stop the Republicans from dragging us backwards."
The former secretary of state had a 36 percentage point lead over Sanders in the most recent poll of likely South Carolina Democratic primary voters, conducted in December by CBS News, and Saturday's crowd of party stalwarts appeared heavily in the Clinton camp, rising nearly universally for standing ovations, while just a few people stood to cheer for Sanders. Even with such strong support in the Palmetto State, Clinton vowed to work hard.
"We cannot afford to be complacent. We can't afford to let them outwork us. And let me tell you: I won't let anyone outwork me. I'm not taking anyone for granted. I want to earn your vote, I want to hear your concerns and priorities," she said.
Clinton spoke after spending much of the week criticizing Sanders's 2005 vote protecting gun manufacturers from legal liability, questioning the feasibility of his plan for single-payer health care, and demanding that he explain how he'll pay for trillions of dollars of new spending.
But after days of grumbling from allies outside the campaign that Clinton and her team were overreacting to tightening Iowa polls and other shifts in the race—including a New York Times story that could've been written in 2008 if all the Bernie Sanders references were changed to Barack Obama—the candidate appeared to be attempting a course correction on the eve of her next face-off with Sanders and former Maryland Governor Martin O'Malley, set for 9 p.m. Sunday in Charleston.
"I've proposed plans on all of these issues and I hope that voters are going to really pay attention because Democrats have a real choice in this election," she said. "That's a good thing. That's what it should be. You know, it's a big question, a big decision and we need a spirited debate about how to move America forward."
Then, she both linked her politics to Sanders' and suggested she'd be better at executing them. "I'll just say this: I'm a progressive who likes to get things done."
Sanders, speaking before Clinton, generally steered away from her in his comments, but did offer a defense of single-payer health care, the policy position she's most recently questioned.
Citing the aspirations of Presidents Franklin Delano Roosevelt and Harry Truman, Sanders said that all Americans have a right to health care. "And that is ... why I strongly support a Medicare-for-all, single payer program. And that program, by taking private insurance companies out of our health care system, will save the average middle class family thousands of dollars a year," he said. "We should not continue to be spending far, far more per capita on health care than the people of any other country. We can do better than that."
Sanders made no allusions to the four Sunday talk shows on which he and Clinton will both appear, nor to the debate, the last before the Iowa caucuses and New Hampshire primary. But Clinton, after signaling a shift in tone, did.
"We candidates actually agree on a lot. We share many of the same goals and values. But we do have differences. I'm sure we'll explore those more at the debate tomorrow," she said.
Before it's here, it's on the Bloomberg Terminal.
LEARN MORE