New Yorkers React to Cruz's Diss With a Chorus of Bronx Cheers
Mayor de Blasio demands an apology from the Texas senator

#NewYorkValues becomes top-trending hashtag with 48,000 Tweets
Bronx cheers in harmony? Who knew?
It was the sound heard around the most populous U.S. city a day after Ted Cruz, the Texas senator running for president, criticized Donald Trump for holding "New York values" that were inconsistent with those held by Republicans. Trump, the Queens-born real estate mogul leading the party's primary race, called it an insult and demanded an apology.
Trump then invoked memories of the city's heroic response to the 9-11 attacks, drawing audience applause during Thursday's Republican debate in South Carolina when he said, "I saw something no place on Earth could have handled more beautifully, more humanely." His response won rare praise from some of his biggest critics, including Democratic frontrunner Hillary Clinton and New York Mayor Bill de Blasio.
The morning after, Cruz was greeted with "Drop Dead Ted" on the front page of the New York Daily News, featuring a cartoon of the Statue of Liberty giving him the finger. "Go back to Canada!" the paper said, a reference to Cruz's birthplace.
Twitter: New York Daily News on Twitter
"Diversity, culture, creative energy and innovation: Those are all New York values," said David Pollock, who handles political issues for the Jewish Community Relations Council of New York.
Iowa Votes
Cruz's comment came as he was trying to score political points against Trump ahead of Iowa's Feb. 1 caucuses marking the first official delegate-selection event.
The junior senator described New York values as "socially liberal or pro-abortion, or pro- gay-marriage" with a "focus around money and the media."
De Blasio, the self-described progressive, who has repeatedly blasted Trump for months as someone who doesn't typify the city's tolerance for immigrants, demanded an apology from Cruz.
Cruz "does not hesitate" to visit New York for political fundraising, the mayor told reporters on Friday. "People are going to see this as hypocrisy of the highest order," he said.
The words "New York" were uttered at least 30 times during the debate, mostly in discussing a New York Times article this week reporting that Cruz had obtained a loan of at least $500,000 from Goldman Sachs Inc., where his wife is a managing director on leave, without reporting it in all campaign-finance documents. Cruz described the matter as a "paperwork error." Andrew Williams, a Goldman Sachs spokesman, declined to comment.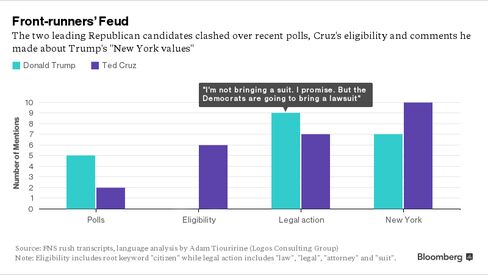 Canada Questions
For Cruz, who's been answering questions about whether he's constitutionally eligible to be president because he was born outside the U.S., the discussion about Trump's hometown gave him an opportunity to again assert his mainstream American bonafides.
"I think most people know exactly what New York values are," Cruz said, playing to the crowd. "I promise you, in the state of South Carolina, they do."
Among others with definitions of New York values, former Mayor David Dinkins is often quoted as describing them as derived from its ethnic and political diversity.
"I see New York as a gorgeous mosaic of race and religious faith, of national origin and sexual orientation," Dinkins famously said during his 1990 inauguration as the city's first and only black mayor.
Cruz's criticisms gave City Council Speaker Melissa Mark-Viveritoan opportunity to take to Twitter and revel in the values for which he has contempt. "Yup. & that's what makes us great. & what makes our country great," she said.
By 2 p.m. local time, #NewYorkValues had attracted more than 48,000 Tweets and the hashtag was the most popular, according to the Twitter website. Actress Mia Farrow tweeted a photo of first responders hoisting a flag over the devastation on 9-11.
"New York values? Think Lin-Manuel Miranda telling the story of Alexander Hamilton as a hip-hop musical to thousands of kids," said Pollock, of the Jewish coalition. He cited the city's contribution of eight U.S. Supreme Court justices and 100 Nobel Prize laureates.
It's what makes food in the city so great, said Drew Nieporent, who founded the Nobu and Tribeca Grill restaurants. "It's this tremendous panorama of foods from all over the world, and when immigrants come here to open restaurants that show off their native foods, and people flock to them, that's a New York value and an American dream, and why would you denigrate it?"
Michael Long, chairman of the New York State Conservative Party, said Cruz uttered his statement inartfully, when he really meant to attack the state's two most powerful Democrats, de Blasio and Governor Andrew Cuomo.
"Cruz could have articulated it a little better," Long said. "All New Yorkers aren't bankrupt when it comes to values, but most of our political leaders are."
Some New Yorkers voiced agreement with at least a portion of what Cruz said, picking out small segments of his statement.
"An obsession with money and media is certainly a big component of what a sizable population of New York is about," said Vittorio Peluso, 43, who works in the food and beverage industry, as he walked along Marcy Street in Williamsburg, Brooklyn. "More so in Manhattan than in the outer boroughs. Is this a predominantly liberal town? Sure!"
Before it's here, it's on the Bloomberg Terminal.
LEARN MORE